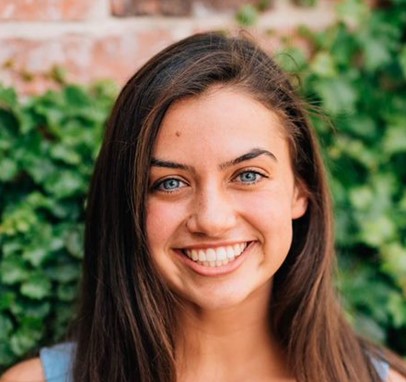 Steph Guyor
(she/her)
k18sg01@kzoo.edu
Hometown: Ann Arbor, Michigan
Majors: Women, Gender, and Sexuality, Psychology
Best Adjective to Describe You: Quirky
---
In 20 words or less, what is the best thing about being part of this department?
WGS classes are great because the interdisciplinary composition of the field allows you to make connections across various subject matters.
What is your advice to first years and sophomores about getting connected to this department?
The best way to know if you are interested in WGS is to take WGS 101 ASAP. Don't hesitate to try out classes in a variety of different subjects. K's open curriculum is great for this so make sure to take advantage of that!
What is the most valuable thing you've learned at K?
Try to avoid getting sucked into the stress culture and develop healthy habits early on so that sticking to a groove becomes easier.
What has been your favorite class at K? Why?
The best class I have taken at K so far has been a qualitative psych class: Interviewing and Narrative Analysis with Gary Gregg. He is super passionate about what he does, gives great feedback and you get to learn a ton about how people make meaning in their lives not only by reading but also by conducting interviews!
How have you taken advantage of the open curriculum or experienced breadth in your education?
I strongly advise taking advantage of K's open curriculum. If you already have your whole life planned out, then you still have the rest of your life to do those things. Take this opportunity to explore, you have the time, there are some really cool courses in several different departments.
What experiential education opportunities have you participated in?
I am a K-team body positive workout facilitator. I took an Educational Psychology class where I got to work with kids at a Kalamazoo elementary school to supplement my learning. I also took Feminist Psychology of Women with Karen Boatwright which connected me to volunteer work at Planned Parenthood. Over the last year I have been interning as a sexual assault supportive at the YWCA of Kalamazoo. This summer I will be beginning my SIP and working with Dr. Langeland to help her expand her private practice.
What is your SIP?
I am doing a psychology SIP that will incorporate qualitative interviewing. I am doing my SIP on deservingness attributions among young adults to see what people our age think makes a person deserving of particular outcomes.
What are your career aspirations/next steps after K?
After I finish my senior year at K, I think I am going to take a gap year before going to grad school. After grad school, I'd like to become a therapist and maybe eventually even a professor. I'm not yet sure on what I want to do during my gap year, but I am thinking that some kind of experiential learning or work experience could be really neat.