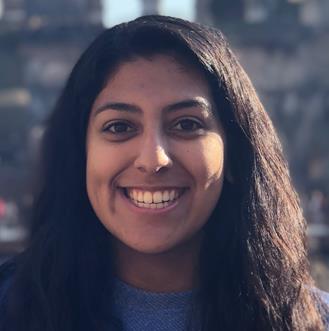 Karina Pantoja
k16kp01@kzoo.edu
Hometown: Paw Paw, Michigan
Major: English
Concentration: Women, Gender & Sexuality
Study Abroad: Càceres, Spain
Best Adjective to Describe You: Generous
---
In 20 words or less, what is the best thing about being part of this department?
I enjoy that the department is smaller because it allows for more intimate connections to be made.
What is your advice to first years and sophomores about getting connected to this department?
Take WGS 101 as early as possible. A lot of different majors don't think that WGS, in general, transcends departments but it does. It is a good start to critical discussion and reflection.
What is the most valuable thing you've learned at K?
That you can say "no" to people, to professors, to assignments, to the stress culture. You're allowed to only do as much as you can handle.
What has been your favorite class at K? Why?
My favorite class at K has been Feminist and Queer Inquiry (WGS 390) with Ryan Fong. It was only a class of seven students, but it never felt "too small." The syllabus is very well thought-out. I found myself enjoying every reading. Also, many of the readings were ones that overlapped with content I had discussed in other classes and also inspired parts of my SIP.
How have you taken advantage of the open curriculum or experienced breadth in your education?
Since my first year at K, I have taken classes from various departments including: Art, Religion, History, ANSO, and Psychology. Some of the classes in different departments were taken to help fulfill requirements specifically for my WGS concentration, while others were chosen to simply branch outside of my major and concentration.
What experiential education opportunities have you participated in?
During my first year at K, I took the class Feminist Psychology of Women which had a civic engagement component. The class partnered with Planned Parenthood to put on the Abortion Monologues. This is an event where real stories of those who had abortions or had considered getting an abortion were shared and performed. The event also had a panel where various individuals spoke on the topic of abortion and reproductive justice.
During the summer of 2018, I interned at Read and Write Kalamazoo (RAWK) as the Executive Assistant Intern. At RAWK, I helped plan and facilitate drop-in writing workshops for youth in third through eighth grade in Kalamazoo County, gathered supplies for different workshops and programs that serve pre-K to 12th grade youth, researched grants, advertised and promoted the organization via RAWK's social media platforms, wrote blog posts for the organization's website, and facilitated the Youth Advisory Council— a group of high school students who create a literary magazine.
On campus, I am one of the five facilitators of K Team—a mind-body-wellness group on campus. I sit on the Kalamazoo College Council of Student Representatives as the President. I have served as one of the Co-Directors of the Kalamazoo Poetry Collective.
What is your SIP?
My SIP will be in the English department and will be a hybrid SIP consisting of creative nonfiction and poetry. The project will explore discourse and perceptions of brownness in Southwest Michigan through narrative, experience, and conversation.
What are your career aspirations/next steps after K?
After interning at RAWK, I have become interested in working at a literacy nonprofit. Especially one where there is bilingual programming or one that works with native Spanish speakers. I would like to do that for a few years, travel, and then pursue my MFA in either poetry or creative nonfiction.