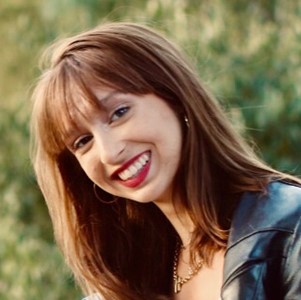 Natalie Price
k17np01@kzoo.edu
Hometown: Grand Rapids, Michigan
Majors: WGS and Psychology
Concentration: Community and Global Health
Study Abroad: Rome, Italy
Best Adjective to Describe You: Imaginative
---
In 20 words or less, what is the best thing about being part of this department?
I enjoy that the WGS department is interdisciplinary, combining multiple themes and courses relevant to real world issues.
What is your advice to first years and sophomores about getting connected to this department?
Take WGS 101, the earlier the better! Take classes in departments that you aren't as familiar with and seek out new and interesting courses that could potentially be part of the WGS major.
What is the most valuable thing you've learned at K?
Self-care is not just limited to academics; check in with yourself daily about your mental well-being outside of your schoolwork. The only way you can be at your best is with reflection on your own habits and routine.
What has been your favorite class at K? Why?
My favorite class at K has been Early Modern Women's Lit (ENGL 324) with Amy Smith. This was the first English class I had taken at K, and I can easily say it was the best English class I've ever taken. Components of gender and sexuality were woven into class discussions and overlapped with my sophomore seminar, Global Shakespeares. I enjoyed the readings, especially since they encouraged me to think more about women's role in literature and the impact it left on gender roles today.
How have you taken advantage of the open curriculum or experienced breadth in your education?
I came to K to pursue a biology major and spent the majority of my freshman year taking classes in the biology, chemistry, and math department. After declaring Psychology and WGS as my majors, I took classes in the Religion, Psychology, Philosophy, and ANSO departments. Some of these courses contributed to the WGS major while others I took just for enjoyment.
What experiential education opportunities have you participated in?
I took Feminist Psychology of Women my sophomore year that used a civic engagement component to direct learning outside of the classroom. In tandem with the regular course structure, I dedicated time outside of class as an intern at Planned Parenthood and participated in an independent study to assemble and perform an Abortion Monologue and Abortion Stigma presentation. This event was open to my class as well as some faculty from The Center for Civic Engagement. I am also a research assistant for Dr. Gregg in the Psychology department, where I help transcribe interviews for research on sexual scripts. During the summer of 2019, I completed a research internship at the University of Chicago and continued to interview and transcribe interviews for Dr. Gregg's study. On campus, I am a member of SPEAK and Students for Reproductive Freedom.
What is your SIP?
My SIP will be in the WGS department and will be a hybrid of public health and WGS research. The project will explore the experiences of trans men who obtain or attempt to obtain fertility and reproductive services in West Michigan, and the barriers and stigma associated with these experiences.
What are your career aspirations/next steps after K?
I plan on joining the Peace Corps after graduation to get more experience in public health and teaching before applying to graduate school for my MPH. My time on study abroad inspired me to apply to the Peace Corps because I enjoy traveling and learning about how gender influences public health discourse in other countries.