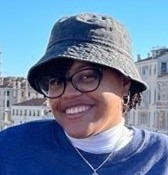 Skai Williams
(she/her/hers)
k19sw02@kzoo.edu
Hometown: Portage, MI
Major: Spanish
Minor: Psychology
Concentration: Women, Gender, and Sexuality
Study Abroad: Caceres, Spain
Best Adjective to Describe You: Indecisive
---
In 20 words or less, what is the best thing about being part of this department?
The classroom experience, there hasn't been a single WGS class where I didn't feel comfortable.
What is your advice to first years and sophomores about getting connected to this department?
Take classes that interest you.
What is the most valuable thing you've learned at K?
It's far easier to travel than what it's made out to be.
What has been your favorite class at K? Why?
Fem Psych. The class was so open, and the discussions were comfortable. It was a safe space without any judgment.
How have you taken advantage of the open curriculum or experienced breadth in your education?
In my first year, I was able to take classes that interested me which made it easier for me to choose my major/minor/concentration.
What experiential education opportunities have you participated in?
Study abroad.
What is your SIP?
My SIP is on uplifting the voices of women of color on the topic of womanhood.
What are your career aspirations/next steps after K?
I hope to travel.
What is a random fun fact about you?
I have 2 dogs and 1 cat.