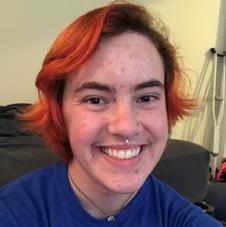 Mars Wilson
k16mw01@kzoo.edu
Hometown: Petoskey, Michigan
Major: Theatre Arts
Concentration: Women, Gender & Sexuality
Study Away: New York Arts Program
Best Adjective to Describe You: Compassionate
---
In 20 words or less, what is the best thing about being part of this department?
The Theatre Arts Department allows students to explore every aspect of theatre, not just the performance side.
What is your advice to first years and sophomores about getting connected to this department?
There are many ways of getting involved in theatre, and you don't have to be a theatre major to participate in our productions.
What is the most valuable thing you've learned at K?
School doesn't always have to come first. Your mental health is more important.
What has been your favorite class at K? Why?
My favorite class, if I had to pick only one, would be Developing a Character with Bianca Washington. It made me become more conscious about the choices I make as a performer.
How have you taken advantage of the open curriculum or experienced breadth in your education?
Yes I have! My first-year seminar was in the classics department and I have had to take quite a few history courses and English courses with my WGS concentration. I've also had the opportunity to take a course within the Ethics department as well.
What experiential education opportunities have you participated in?
I have interned with Bianca Washington's theatre company, Face-Off Theatre, here in Kalamazoo as community outreach and as a stage manager. I also interned with a small experimental theatre in New York City called WOW Café.
What is your SIP?
I am doing a playwriting SIP with the Theatre Arts Department while also engaging what I have learned with my WGS concentration.
What are your career aspirations/next steps after K?
I am hoping to create more plays and to submit them to festivals around the country in hopes of getting them produced. Eventually, I do plan on looking into graduate school for playwriting.