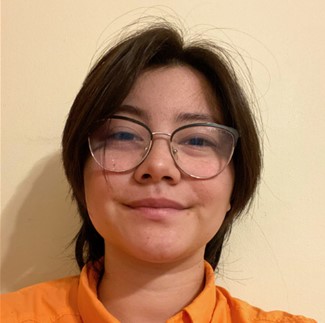 Rebecca Chan
(they/them or she/her)
k18rc02@kzoo.edu
Hometown: Howell, Michigan
Major: Theatre Arts
Minor: English
Study Away: New York Arts Program
Best Adjective to Describe You: Constructive
---
In 20 words or less, what is the best thing about being part of this department?
Crafting stories, practicing empathy, and exploring self, all in a supportive community!
What is your advice to first years and sophomores about getting connected to this department?
Participate in a play! We have all kinds of positions with all different time requirements. We can train you through anything.
What is the most valuable thing you've learned at K?
Let yourself disagree. If we all think the same, we'll never make progress.
What has been your favorite class at K? Why?
I really loved Stagecraft with Jon Reeves. It was a good challenge, so many hands-on projects and a ton of practical skills.
How have you taken advantage of the open curriculum or experienced breadth in your education?
As well as Theatre Arts courses, I've been able to take courses with the English, Music, French, and Chinese departments. Building my language skills and my musicianship has helped me create theatre projects that integrate music and deliver their messages very concisely and specifically.
What experiential education opportunities have you participated in?
I went on Study Away to the New York Arts Program, where I developed my playwriting skills and interned with the off-Broadway company HERE Arts Center. I am also the president of K's creative writing club, Balderdash, and I was a member of K's improv comedy team, Monkapult.
What is your SIP?
For my SIP, I'm performing an original one-person piece titled Unzipped. The show uses alternating music and monologues to explore the perception of East Asians by the United States' mainstream culture and my own coming-of-age as a queer Chinese-American.
What are your career aspirations/next steps after K?
I hope to do freelancing for a year and see where I want to go after that! I've actually already been able to do some freelancing with music production, so I'll see where that, as well as my own music and content creation on other platforms, can take me!