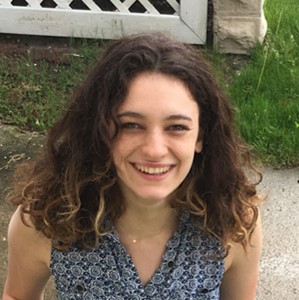 Lukia Artemakis
k17la01@kzoo.edu
Hometown: Chicago, Illinois
Majors: Theatre Arts and English
Concentration: Media Studies
Study Abroad: Aberdeen, Scotland
Best Adjective to Describe You: Curious
---
In 20 words or less, what is the best thing about being part of this department?
The sense of community that develops when we are working together towards a single goal: putting on thoughtful, important theatre.
What is your advice to first years and sophomores about getting connected to this department?
Just try new things! A lot of folks end up getting a degree in theatre because they walked into Fundamentals of Acting first year and loved it, or worked on designing an element for one of our shows. I became interested in the department after being a last-minute spotlight operator for Fun Home my first year. By working on a show you can really develop relationships to the faculty and students quickly.
What is the most valuable thing you've learned at K?
I've learned how crucial it is to engage with one another. A lot of students at K are passionate about social change whether it is through racial justice, food justice, environmental justice or other fields of social activism. All these fields connect, and all it takes is to listen and show solidarity to be someone who wants to make a change. Show up to events at the Arcus Center or continue classroom conversations with your friends. These things have only forced me to interrogate and strengthen my belief systems.
What has been your favorite class at K? Why?
My first-year seminar 'Against the Current' took us through the controversial and socially progressive plays of 20th century American history, but also asked us to engage with them critically. The best classes at K have open and honest discussion and debate. We read plays aloud, wrote our own scenes, workshopped our writing skills, and brought out the best in each other. I've met some of my closest friends in that class!
How have you taken advantage of the open curriculum or experienced breadth in your education?
I took a class called 'Global Shakespeares' with Professor Amy Smith which interrogated and helped me thoroughly understand how colonized Shakespeare is. Part of the class is a service-learning element where we taught scenes of Macbeth to students at an alternative middle school. The class really emphasized for me how the ways we teach classic texts is flawed. In building relationships with the students, I learned that it is no use to study things if we don't find ways to engage with them in the real world.
What experiential education opportunities have you participated in?
Working on the Play Selection Advisory committee has been really beneficial to expanding my play reading. We meet biweekly in fall term to read plays and consider them for next year's season. After studying abroad, I interned with a social justice theatre called Collaboraction.
What is your SIP?
I'm writing and revising a one-act play about the climate crisis. If we're back on campus, I hope to have it produced as part of the Senior Performance Series.
What are your career aspirations/next steps after K?
I'm not sure! I would love to eventually work as a director for social justice oriented theatre but I'm also interested in combining my studies in Theatre and English to pursue theatre criticism. Also, I have interest working on education reform or maybe grad school? My time at K has taught me I can experiment with careers and continue to engage with these different subjects in interdisciplinary ways.