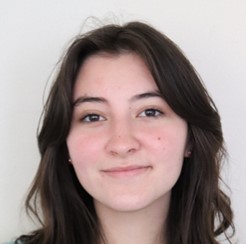 Sedona Coleman
(she/her/hers)
k19sc01@kzoo.edu
Hometown: Chicago, IL
Majors: Theatre Arts and Psychology
Study Abroad: Queen's University in Belfast, Ireland
Best Adjective to Describe You: Open-minded
---
In 20 words or less, what is the best thing about being part of this department?
The community you become a part of, the ways in which we uplift and support each other, and the creative collaboration.
What is your advice to first years and sophomores about getting connected to this department?
Come to the events that the theatre department hosts! It's a great way to meet other students and get involved in theatre, even if you're not planning on majoring in it. It's a friendly department, and they love welcoming new people into the community in whatever way they'd like to be involved.
What is the most valuable thing you've learned at K?
Self-advocacy. In the past, I have often been too anxious to reach out for help or resources when I needed them. However, throughout my time at K, I have gained confidence and improved my self-advocacy skills, and taken advantage of the resources and support offered to me.
What has been your favorite class at K? Why?
Directing! I was originally quite apprehensive to take this course, and often shied away from directing more than any other aspect of theatre. However, it quickly became my favorite class, and inspired me to keep directing. As well as learning about the subject matter, I gained a new-found confidence. I grew both as a director and as a person.
How have you taken advantage of the open curriculum or experienced breadth in your education?
I have been able to take classes that I am interested in, and invest my time in the subject areas I know will help me in my future endeavors. I have also been able to take courses that I would not usually seek out, but which I enjoyed and gained a great amount of knowledge from – such as Classical Hollywood or Rock Climbing.
What experiential education opportunities have you participated in?
I worked in the scene shop throughout my sophomore year, where I gained a breadth of knowledge regarding the technical side of theatre. I also had the opportunity to study abroad at Queen's University in Belfast, which was an amazing experience.
What is your SIP?
I will be working on a video montage that showcases the impact that the performing arts has on the disability community, as well as elevating their voices – specifically, focusing on the Chicago based organization ABLE Ensemble. ABLE is a non-profit that I have volunteered with in the past. It provides performing arts opportunities to those with Down syndrome or other developmental disabilities. I will be conducting interviews with actors, teaching artists, and administrators from ABLE in order to highlight the impact that it has within both the disability community and the Chicago theatre community as a whole.
What are your career aspirations/next steps after K?
I would like to continue working within both the theatre arts and the disability community, and hope to work with other companies such as ABLE after I graduate. I have participated in programs through Steppenwolf Theatre, Goodman Theatre, and Lookingglass Theatre, and aspire to continue working within the Chicago theatre community.
What is a random fun fact about you?
My name is Sedona because my parents got married in Sedona, Arizona!