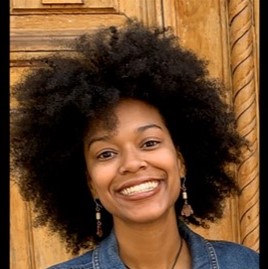 Maya Banks
k17mb02@kzoo.edu
Hometown: Southfield, Michigan
Majors: Spanish and Anthropology/Sociology
Study Abroad: Santiago, Chile
Best Adjective to Describe You: Dynamic
---
In 20 words or less, what is the best thing about being part of this department?
Every person involved in the department has a unique experience with the Spanish language, but all share a passion.
What is your advice to first years and sophomores about getting connected to this department?
Take a class! It's the best way to truly immerse yourself in the department because there is a Spanish class for you no matter what your skill level is.
What is the most valuable thing you've learned at K?
Be highly critical! K is a space that provides us with so much information and what we chose to do with that information matters. It is okay to question and challenge the things that you hear and see.
What has been your favorite class at K? Why?
I took Philosophy of Language with Chris Latiolais my first year and really enjoyed it because I have always been interested in linguistics and speech/language, hence my Spanish major. It was fascinating to learn not only about the semantics of language, but the literal power that words have.
How have you taken advantage of the open curriculum or experienced breadth in your education?
During my first year at K, I had a major in mind but was not 100% sure it was right for me. I wanted to take classes in various departments in order to better determine what I was truly interested in studying. Outside of my majors, I have taken classes in the Theater, English, Economics, Psychology, and Philosophy departments and all have aided me in deciding what I'm most interested in.
What experiential education opportunities have you participated in?
While studying abroad in Chile, I served as an English tutor to graduate students. Here at K, I created my own event through the CIP which was meant to focus on the experiences of students of color studying abroad. I have also participated in several leadership conferences through K. I am also a member of BSO, as well as two acapella groups.
What is your SIP?
I intend to study the racism against Black bodies that limits their ability to be viewed as equal and belonging in certain spaces, specifically within the United States and Chile
What are your career aspirations/next steps after K?
I hope to be able to work in a museum that focuses on Black culture within the United States, specifically doing archival research and maintaining cultural heritage.