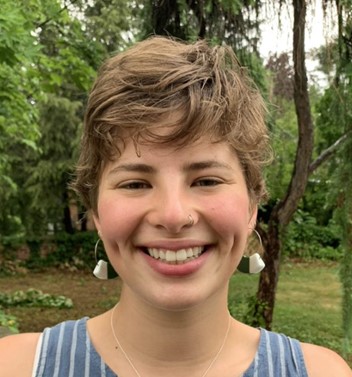 Greta Farley
(she/hers)
k18gf01@kzoo.edu
Hometown: Minneapolis, Minnesota
Majors: Spanish and Psychology
Best Adjective to Describe You: Joyful
---
In 20 words or less, what is the best thing about being part of this department?
Learning Spanish has helped grow my connection with people. The Spanish Department has given me the tools to do this in a global context.
What is your advice to first years and sophomores about getting connected to this department?
One of my favorite parts about language courses at K is that they are incredibly collaborative. Make friends with people in your class! It's likely that you will be in more than one language course together, especially if you take consecutive levels (like 102 then 201) in consecutive quarters. I had a lot of fun growing friendships over the course of a few terms, and it made classes all the more fun and engaging.
What is the most valuable thing you've learned at K?
One of the most valuable things I've learned during my time at K is adaptability. The quick pace of classes and the turnaround time between quarters means you have to be ready to shift gears quite a bit. I also learned to be more adaptable by leading LandSea, working jobs on and off campus, and meeting new people each quarter as students return from away/abroad.
What has been your favorite class at K? Why?
This is tough. One of my favorite classes at K was Hispanic Health and Diseases. I loved this class because of how much practice we got interpreting, how useful it is outside of K, and because I loved learning about how to have more cultural humility, especially surrounding medicine and healthcare. It was also such a joy to go to El Sol and work closely with one student and experience someone learning from you and looking up to you.
How have you taken advantage of the open curriculum or experienced breadth in your education?
Coming into K College without an intended major really pushed me to take a lot of different classes during my first two years. I found myself really gravitating towards the humanities, so I took a wide variety of Spanish, Psychology, English, and ANSO classes at K. As a rising senior, I have completed a lot of my major requirements, so I look forward to taking a Political Science class in the Fall and a Classics class in the Winter. Taking this variety of classes has really pushed me to be a critical reader and improved my writing.
What experiential education opportunities have you participated in?
I have been involved in Outdoor Programs quite a bit; I did LandSea both as a participant and a leader and I am on the board for the Kalamazoo Outing Club. I also worked for ClubGrub after-school program at Woodward, and have spent a lot of time at El Sol for various Service Learning classes.
What is your SIP?
My SIP is in the Spanish Department with Dr. Rábago. I will be doing a literature-based paper looking at the literary representation of social class during the Mexican Revolution.
What are your career aspirations/next steps after K?
I will be applying for the Peace Corps after K. Following that, I'd like to get a teaching degree and teach Spanish at the high school level.