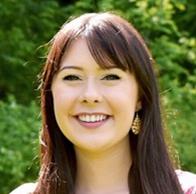 Jenna Sherman
k16js03@kzoo.edu
Hometown: Rochester Hills, Michigan
Majors: Spanish, Music
Study Abroad: Quito, Ecuador
Best Adjective to Describe You: Dedicated
---
In 20 words or less, what is the best thing about being part of this department?
The Spanish department allows you to connect with others who are passionate about studying different languages and cultures.
What is your advice to first years and sophomores about getting connected to this department?
Get involved! Go to events held by the Spanish Department, form study groups, and take Spanish electives to get to know others involved in the department. There are so many great opportunities to make connections!
What is the most valuable thing you've learned at K?
Sometimes it's easy (especially for us K students!) to forget that there is so much more to life than just academics. I've learned to prioritize people, to take advantage of more experiences outside of the classroom, and to not let the stress of getting perfect grades get in the way of what's really important.
What has been your favorite class at K? Why?
Conducting; it is extremely useful because it utilizes aspects from many different courses at K. It also helps you become more a well-rounded individual by developing leadership skills, critical thinking, musicality, and more!
How have you taken advantage of the open curriculum or experienced breadth in your education?
Before coming to K, I had two subjects that I was already passionate about, music and Spanish. Not only have I been able to continue studying both of these, but because of K's open curriculum, I even found a third subject, psychology! In addition to this, I've also been able to experiment in completely different disciplines like computer science and theatre, and even participate in the Bronco Marching Band at Western Michigan University.
What experiential education opportunities have you participated in?
When I studied abroad in Ecuador, I volunteered to teach English at a school called El Hogar Cristo Rey. I have also worked as a music teacher for the Gilmore Keyboard Festival's After School Piano programs.  Both of these were fun and rewarding opportunities and were related to my majors!
What is your SIP?
I will be doing a piano performance SIP through the music department in the spring!
What are your career aspirations/next steps after K?
I hope to eventually pursue a degree in music education. It is also a dream of mine to move back to Quito, Ecuador for a few years before coming back to the United States to teach.