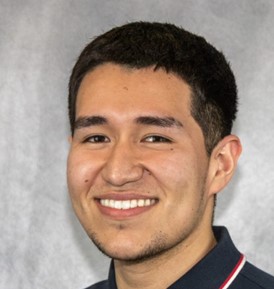 Gustavo Gonzalez-Martinez
(he/him)
k19gg04@kzoo.edu
Hometown: Watsonville, CA
Majors: Spanish and Business
Study Away: Washington, D.C.
Best Adjective to Describe You: Futuristic
---
In 20 words or less, what is the best thing about being part of this department?
Being a part of the department allows one to explore a new world of rich language, culture, people, histories, alongside great peers and supportive professors.
What is your advice to first years and sophomores about getting connected to this department?
Connecting with instructors in the Spanish department is something I advise first- and second-year students to do. The professors in the department are more than happy to help you, whether it's with a concept you need further clarification on or something more personal.
What is the most valuable thing you've learned at K?
Stepping outside one's comfort zone is the most valuable takeaway I've learnt while attending Kalamazoo College.
What has been your favorite class at K? Why?
BUSN 370: Negotiation & Persuasion has been my favorite course at K. This course will teach you skills that will give you a competitive advantage in instances where you may have to influence others. I encourage all students take this course because the teachings go beyond the classroom and are applicable not only to a business context, but also to everyday life.
How have you taken advantage of the open curriculum or experienced breadth in your education?
The open curriculum at Kalamazoo College has allowed me to take a diverse range of courses, which has introduced me to new ideas, interests, hobbies, and skills. Photography, religion, and ethnographic work are a few examples.
What experiential education opportunities have you participated in?
Through K's partnership program with the Washington Center, I completed an internship and academic seminar in Washington, D.C. I worked at the Council for Opportunity in Education, where I advocated for college access and achievement for low-income students, first-generation students, and students with disabilities. While working with the public policy group, I investigated different pedagogical approaches for heritage Spanish language learners.
What is your SIP?
My SIP is an investigation on heritage Spanish-Language learners and their experiences in the Spanish Language and Literature department.
What are your career aspirations/next steps after K?
My current career aspirations lie in the Spanish linguistics field or working international business.
What is a random fun fact about you?
I'm 6 ft on a good day.