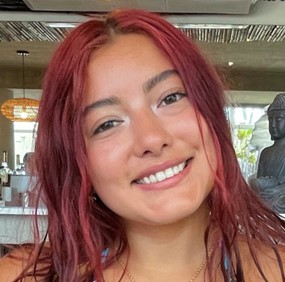 Sydney Salgado
(she/her)
k20ss02@kzoo.edu
Hometown: Wadsworth, IL
Majors: Spanish, Religion, and International & Area Studies
Study Abroad: Valparaiso, Chile
Best Adjective to Describe You: Colorful
---
In 20 words or less, what is the best thing about being part of this department?
I have really enjoyed connecting with various professors in the department.
What is your biggest piece of advice to first years and sophomores about getting connected to this department?
I would say attend the Spanish events that the department hosts! It's a great way to meet your peers who are also interested in Spanish. I definitely think everyone should try at least one Spanish class during their time at K! The professors make each class super fun!
What is the most valuable thing you've learned at K?
Branch out! Your time at K flies by so fast so take random classes that you wouldn't think you'd be interested in. Go to that first club meeting, be as active as you can/want with the campus. You'll meet so many new people in each year.
What has been your favorite class at K?
My favorite class has been Devotional Stuff with Dr. Maldonado-Estrada. Through this class, I was able to learn more about myself and my artistic abilities and how mundane things can be used as devotional objects. It was such a fascinating class and very entertaining.
How have you taken advantage of the open curriculum or experienced breadth in your education?
I started off at K as undecided and began just taking classes I was genuinely interested in. After my first year, I started to look at what classes I had taken. I took note of what majors I was on track for, which ended up being Spanish, IAS, and Religion.
What experiential education opportunities have you participated in?
My Sophomore year I was a Spanish intern for the department and had the opportunity to host Noches de Cine and tutoring sessions for students. I'm an active member on campus and have enjoyed being a member of Students for Justice in Palestine, Latinx Student Organization, and Arab Student Union.
What is your SIP?
I will be conducting ethnographic research on cemeteries in Mexico and how cemeteries are converted into more than just spaces of mourning through sociality.
What are your career aspirations/next steps after K?
I would like to apply for a Fulbright to do research in Colombia and then hopefully attend grad school for Latin American Religions.
What is a random fun fact about you?
I can drive stick-shift cars.