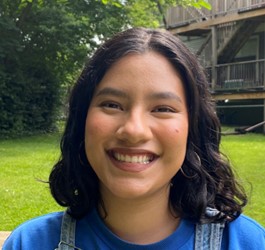 Milagros Robelo
(she/her)
k19mr04@kzoo.edu
Hometown: Los Angeles, CA
Majors: Religion and Anthropology & Sociology
Study Abroad: Costa Rica
Best Adjective to Describe You: Hardworking
---
In 20 words or less, what is the best thing about being part of this department?
The religion department has some of the most unique classes at K that allows you to explore different topics that you may never have learned about.
What is your advice to first years and sophomores about getting connected to this department?
Do not be afraid to go to office hours. Professors in the religion department are very welcoming and are there to help you.
What is the most valuable thing you've learned at K?
You have plenty of time to finish your major. Take classes that interest you.
What has been your favorite class at K? Why?
Religion, Bollywood, and Beyond has been my favorite class so far. I got to watch amazing films and broaden my knowledge about different groups and religions through the lens of film.
How have you taken advantage of the open curriculum or experienced breadth in your education?
Through the open curriculum I took a religion class and fell in love with the major.
What experiential education opportunities have you participated in?
I work at El Sol Elementary School and the Kalamazoo County ID Program through the CCE. I am the Upper-Classman Co-President for the Latinx Student Organization. I am the CES for the KCID Program for 2022-2023.
What is your SIP?
I am doing a SIP in the ANSO Department about how Mexican food impacts Mexican identity.
What are your career aspirations/next steps after K?
I want to go on to get my PhD in Food Anthropology and eventually become a professor.
What is a random fun fact about you?
I can move my ears.