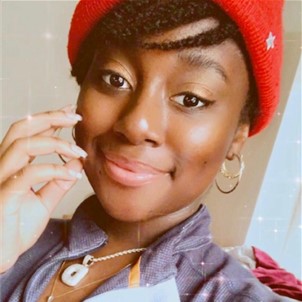 Destiny Hutcherson
k17dh01@kzoo.edu
Hometown: Chicago, Illinois
Majors: Religion and Political Science
Minor: Theatre Arts
Study Away: New York City
Best Adjective to Describe You: Witty
---
In 20 words or less, what is the best thing about being part of this department?
The best thing about being a part of the Religion Department is having the freedom to question everything without judgment.
What is your advice to first years and sophomores about getting connected to this department?
Taking a religion class, at Kalamazoo College, does not automatically mean that you need to become a Preacher or Rabbi directly after graduation. Being a religion major/minor or taking a few classes does not serve as a conversion process. It is valuable to note that getting connected to the Religion department means something totally different for everyone AND that is a good thing. We are here not to force you to think a certain way, but are here to welcome more conversations about the topics that our world has deemed taboo. With that being said, if you strive to further understand the concepts of intersectionality and equality, please take a religion class. I am the first to acknowledge that religion has been historically used as a weapon, but it also has been used to uplift, change, and protest. The academic study of religion is a luxury that many people would never receive the opportunity to do, so I encourage you to take advantage of it because you will never know how it could help you when acknowledging the differences of others and the nuances of yourself.
What is the most valuable thing you've learned at K?
The most valuable things I have learned at Kalamazoo College have been recognizing the meaningfulness behind fighting for what is right, bringing awareness to the causes I truly care about, and serving as a voice for the voiceless.
What has been your favorite class at K? Why?
My favorite class at K was definitely Urban Religion with Dr. Maldonado-Estrada. Growing up in the city of Chicago, I have witnessed, first hand, how creative people could get when finding ways to practice their religion and spirituality. Oftentimes, we forget how much people are required to adapt to their new surroundings especially if they are migrants from other states and countries. Religious practice could vary based on one's location and I found that it was quite necessary to acknowledge that in our ever changing and diverse world. As I took this class, I was personally interested in how indigenous religious traditions are practiced in a modernized setting especially as individuals are taking steps towards a more decolonized lifestyle. I learned a lot about how Judaism, Catholicism, and Islam are practiced in an urban environment, but also about how Voodooism was practiced in a New York City bathtub, for example, in place of a swamp. This class taught me the importance of religious resilience and using the resources you have around you to honor your faith.
How have you taken advantage of the open curriculum or experienced breadth in your education?
I would say I have taken advantage of the open curriculum experience because I am a double major in Political Science and Religion with a minor in Theatre. If that is not an example of an open curriculum, I do not know what is. But in all seriousness, throughout my duration at K, I have tried my best to push my limits and participate in activities outside of my comfort zone. I had conversations outside of my comfort zone. I have majored in majors that I never would have expected. Every opportunity that was presented, my way, I cherished it and that is what the breadth of the liberal arts education is all about.
What experiential education opportunities have you participated in?
Community Arts Programming/School of Dance Intern at Ballet Hispanico, Peer Leader, Interfaith Leader, H.I.V.E. Member, and KCCSR Representative (Diversity & Inclusion Committee & Student Affairs).
What is your SIP?
Em & Tray: A piece of Hagiographical Fiction that calls into question whether or not Black Lives Matter is truly the new Civil Rights Movement.
What are your career aspirations/next steps after K?
Honestly, my current career aspirations are up in the air due to the financial strain COVID-19 produced for my family and myself; however, I would love to try my hand at Journalism and Field Reporting. Hopefully, in the future, I hope to become an alderwoman for my district, start a fashion brand, become a chef, and perform, as a dancer, around the world…who knows.