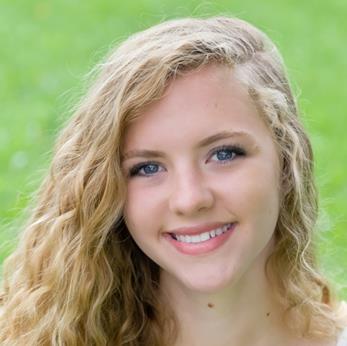 Aly Homminga
k16ah01@kzoo.edu
Hometown: East Lansing, Michigan
Majors: Religion, Theatre Arts
Study Away: New York Arts Program
Best Adjective to Describe You: Hardworking
---
In 20 words or less, what is the best thing about being part of this department?
The faculty. Everyone who works in the department is very knowledgeable in many ways. It is a pleasure to learn from them.
What is your advice to first years and sophomores about getting connected to this department?
In addition to taking intro classes, there are free books on the shelves in Humphrey House. You can cross paths with faculty and staff members while also looking for good reads!
What is the most valuable thing you've learned at K?
It is very important to be independent and self-sufficient in the 'real world,' but that doesn't mean you can't ask for help. Your professors might not always remind you that you have an assignment. You should read the syllabus to know when assignments are due. Your professors will (probably) always be happy to help you with essays or other projects. Always be proud of the work that you do.
What has been your favorite class at K? Why?
Dr. Anderson's course, Buddhism in South Asia. This was the first class I took that taught me to think critically about the subject of religion and helped me open my eyes to how limited a mindset I had about religious standards and norms. Not only did I learn about Buddhism, but I also became a better writer and more critical thinker.
How have you taken advantage of the open curriculum or experienced breadth in your education?
For starters, I am a theatre arts and religion double major. Without K's open curriculum, I would not be able to do that. I have also taken advantage by taking classes in a lot of different departments including psychology, ANSO, music, and philosophy. Many of the courses at K end up being interdepartmental because of the contents of the courses.
What experiential education opportunities have you participated in?
I was an orientation peer leader for two years. During the first two summers of college (before my sophomore and junior years), I did two theatre internships. One was at an educational performing arts center and one at a professional Michigan theatre the following year. I also work in the Theatre Arts Office as Web Coordinator and office assistant. This summer, I was hired at the Lee Strasberg Theatre and Film Institute (the theatre in which I was an intern at for the NY Arts program) to be their Office Coordinator for the summer.
What is your SIP?
For the project, I will be assistant directing Camelot at Farmers Alley Theatre in downtown Kalamazoo. I will be writing about the growth in my directing through the 3 shows I have directed in Kalamazoo.
What are your career aspirations/next steps after K?
I would like to pursue professional theatre by doing acting or directing. Further down the road, I would like to go to seminary and become ordained.