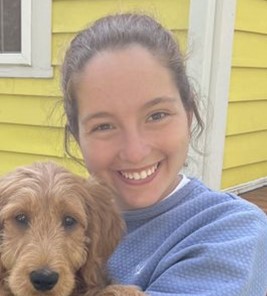 Ellie Jones
(she/her)
k18ej01@kzoo.edu
Hometown: Mackinac Island, Michigan
Majors: Psychology and Spanish
Best Adjective to Describe You: Sweet
---
In 20 words or less, what is the best thing about being part of this department?
The best thing about being a part of the psychology department is how engaging and passionate the professors are. They make learning fun!
What is your advice to first years and sophomores about getting connected to this department?
Drop by at office hours!
What is the most valuable thing you've learned at K?
Get out of your comfort zone…… that is where the most valuable learning occurs.
What has been your favorite class at K? Why?
I loved Educational Psychology because of the service-learning component.
How have you taken advantage of the open curriculum or experienced breadth in your education?
I have taken a lot of different classes in different departments. I have taken history classes, political science classes and religion classes.
What experiential education opportunities have you participated in?
I am a part of the El Sol and YAP programs.
What is your SIP?
I am doing an independent SIP where I am creating a support group for women and non-men in my hometown.
What are your career aspirations/next steps after K?
I would love to be an elementary school teacher, applying my knowledge that I have learned in my psych classes to a school setting.