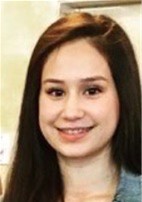 Juanita Ledesma
k17jl01@kzoo.edu
Hometown: Chicago, Illinois
Major: Psychology
Minor: Anthropology/Sociology
Best Adjective to Describe You: Resilient
---
In 20 words or less, what is the best thing about being part of this department?
The best thing about being a part of the psychology department is the way that we are able to critically examine the motives behind what people do and how these motives are the result of not only internal but also external influences.
What is your advice to first years and sophomores about getting connected to this department?
My biggest advice would be to encourage them to develop meaningful relationships with their professors. Small class sizes at K allow professors to know their students by name unlike bigger schools. Although it can be intimidating to put yourself out there your first two years, some of the best life advice I have received has been from some of my favorite professors.
What is the most valuable thing you've learned at K?
The most valuable thing I have learned at K is that it is crucial to be aware of who you are and what your position in society is. Many of the classes I have taken across many departments have challenged me to critically reflect about this as it becomes important not only in the work that one decides to engage in while enrolled at K but the career that one pursues post-graduation.
What has been your favorite class at K? Why?
My favorite at K so far is without a doubt Race and Racism taught by Francisco Villegas in the anthropology/sociology department. This class is so powerful as it not only examines but challenges the systems that run our society while also emphasizing the power of being hopeful in one day seeing a world that is better than the one we currently live in. Through a wide-variety of topics and methods, Villegas pushes his class to question our participation in the education system, the ways that media shapes and delivers certain narratives, as well as thinking about the importance of dialogue as a means of starting and engaging in meaningful conversations. While I recommend this class to every student at K, I will say that Villegas speaks the truth to the race problem but does so in a way that makes his students want to continue these conversations outside his classroom. I think this is what makes this class so powerful.
How have you taken advantage of the open curriculum or experienced breadth in your education?
Because I took advantage of taking a wide variety of classes coming in as a first year, I was able to learn so much more than if I were to have come in with one particular major in mind. Even as a junior, I have continued to push myself to take classes in areas of study outside of my major and minor because it has opened my eyes to many topics that are often left out of elementary and high school curriculum.
What experiential education opportunities have you participated in?
I have been fortunate enough to be able to work at El Sol elementary school through the civic engagement program at K. Coming from a predominantly Hispanic elementary school and high school, I have seen the ways in which these schools are often underfunded. As I have worked at El Sol these past three years, I have seen the potential of trying to give these students the education they deserve. I have been a mentor for two different students as well as providing classroom support. It has been one of my favorite parts of K so far!
What is your SIP?
Many things are in the air, but I hope to be able to continue my passion for social justice in the education system.
What are your career aspirations/next steps after K?