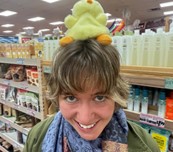 Emmy Braunohler
(she/her)
k20eb05@kzoo.edu
Hometown: Grand Rapids, MI
Major: Psychology
Minor: Philosophy
Study Abroad: Costa Rica
Best Adjective to Describe You: Balanced
---
In 20 words or less, what is the best thing about being part of this department?
The best thing about the Psychology department is the people in it. I adore all of my classmates and how supportive they are.
What is your biggest piece of advice to first years and sophomores about getting connected to this department?
Talk to your professors! They have endless resources that can help you get involved in the department.
What is the most valuable thing you've learned at K?
The most valuable thing I've learned at K is the importance of sharing. K is a very hard school. If you feel like you are struggling, it's important to know you are not alone. Sharing can be freeing and helpful. Also, K has a big variety of perspectives. It's always important to be aware of other's perspectives and to share your own. You can learn so much from others.
What has been your favorite class at K?
My favorite class at K has been Feminist Psychology. I made some very close friendships in that class, learned a ton, and learned more about myself. I also think that class gave me a very good perspective of what the Psychological field is lacking when it comes to women's studies, and how there is so much room for growth as I plan to go into the field.
How have you taken advantage of the open curriculum or experienced breadth in your education?
I have studied philosophy, religion, biology, and chemistry at K so far. I am super thankful for my widespread education and how I can apply all of these topics to the study of psychology.
What experiential education opportunities have you participated in?
I am currently working with Centrica Hospice Center and leading LandSea!
What is your SIP?
A reflection of my time working with Hospice Patients
What are your career aspirations/next steps after K?
Therapy
What is a random fun fact about you?
Pickled beets are my favorite snack.