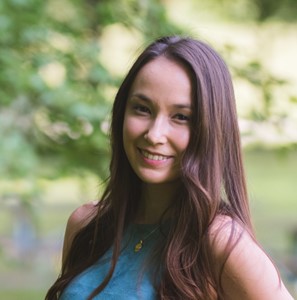 Heather Muir
k17hm01@kzoo.edu
Hometown: Plymouth, Michigan
Major: Economics
Minor: Japanese
Concentration: Public Policy & Urban Affairs
Study Abroad: Kyoto, Japan
Best Adjective to Describe You: Compassionate
---
In 20 words or less, what is the best thing about being part of this department?
I love that the professors really encourage us to explore issues from different perspectives and be creative in our analysis and problem solving.
What is your advice to first years and sophomores about getting connected to this department?
Even if you're not really sure what Public Policy & Urban Affairs is, I highly encourage you to reach out! Professors and other students want to help facilitate your decisions here on campus and we're committed to being honest and sincere with you throughout the process.
What is the most valuable thing you've learned at K?
The most valuable thing I've learned at K is that nothing ever truly goes according to plan. This taught me how to take "rejections/failed attempts" and turn them into motivation. It also helped me understand that having fun and self-care are just as important as studying/working.
What has been your favorite class at K? Why?
I have two: "Law & Economics" with Prof. Stull and "Fiscal Policy and Urban Affairs" with Prof. Apps. Before taking these classes, I wasn't really sure what I wanted to do with my degree in Economics and concentration in PPUA. These classes and the professors really helped me set clear goals for myself and find the things that I'm most passionate about: public policy and the law.
How have you taken advantage of the open curriculum or experienced breadth in your education?
I am so grateful that the open curriculum has given me the flexibility to explore different departments. When I came to K, I thought I was going to be a Biology major. From there, I explored Math, English, Japanese, Political Science, Sociology, and Economics. I think that it was through experiencing classes in all of these different departments that I was able to decide upon my decision to focus my studies in public policy.
What experiential education opportunities have you participated in?
I volunteer with JFON (Spanish interpretation for immigration law), co-founded the Title IX advocacy group, been a Researcher/Focus Group Leader for the Campus' Racial Climate Study, and have had the opportunity to participate in two internships: one with BASF Chemical Co. doing market research & translation, and one with Yazaki North America doing statistical data analysis.
What is your SIP?
For my SIP, I am doing a study on the regional & personal, economic & moral, effects of US Immigration policy and procedures at the US-Mexico Border. My work will focus mostly on the economic & moral impact of Detention in Monterrey, Mexico.
What are your career aspirations/next steps after K?
I'm planning on attending law school and continuing my public policy studies. Ideally, I'd like to work in immigration law, but we'll see where life takes me. I'll be happy as long as I know I'm doing whatever I can to help the people around me.