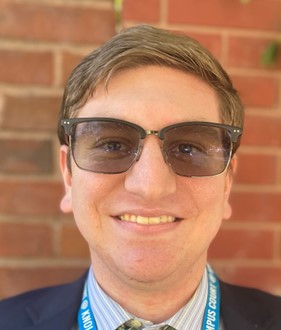 Thomas Lichtenberg
(he/him/his)
k19tl01@kzoo.edu
Hometown: Farmington, MI
Majors: Political Science and Philosophy
Minor: Mathematics
Study Away: Washington, D.C.
Best Adjective to Describe You: Enthusiastic
---
In 20 words or less, what is the best thing about being part of this department?
The best part about Political Science is being able to apply what you learn directly to current events and society.
What is your advice to first years and sophomores about getting connected to this department?
Use the time outside of class just as well as the time in class. Going to office hours, actively engaging with the readings assigned, and conducting further research when you do not understand something are great ways to show our professors how committed you are to the work, and trust me, they will notice.
What is the most valuable thing you've learned at K?
Kalamazoo has taught me that where I want to go in life is achievable and how to act on my passions in productive ways. I have been able to participate in several internships while at K mostly because I took a chance and applied for them. I also have received opportunities with K to do things like spending a fall term in Washington, D.C. working for a law firm and using a quarter to take an independent study on how to write policy consistent with the philosophical principles of the Star Trek franchise. The experiences I have enjoyed, both in the real world and in the courses, intersect amazingly well with each other and show me that there are viable ways to pursue my passions. At this point in my academic career and employment career, I have had opportunities to be a part of things that I never would have believed were possible before.
What has been your favorite class at K? Why?
Constitutional Law (POLS-225). The course offers an amazing look into the history of civil rights and is designed to give you the agency and knowledge to successfully make legal arguments surrounding the cases that we look at. The course also gives you a glance into what attending law school looks like, down to assignments that are modeled after ones found in law school courses.
How have you taken advantage of the open curriculum or experienced breadth in your education?
In high school, I really only had opportunities to take courses in STEM fields, and while I still enjoy these types of courses (after all, I am a Math Minor), the open curriculum has given me the opportunity to explore areas such as Philosophy, History, and Psychology, not to mention Political Science. This has enabled me to find courses and subjects I have become extremely passionate about and see where these subjects can lead to in terms of employment.
What experiential education opportunities have you participated in?
I have been able to expand my experience to several internships, leadership positions, and employment opportunities. In my first year, I interned for a congressional campaign, which eventually led to a fall job in my sophomore year working for the campaign part-time as a Fellow for a related organization. Also, in my first year, I created and led Kalamazoo's Star Trek Club, where we would watch episodes and discuss themes, philosophies, and political ideologies explored in the episodes. In the summer following my sophomore year, the Political Science department hired me to work on a research grant with a professor. In my junior year, I spent the fall quarter in Washington, D.C. as an intern for the Bazelon Center for Mental Health Law and got to take advantage of several amazing opportunities, including learning more about voting rights organizations, attending congressional and White House briefings, contributing to the outcome of a Supreme Court case, and organizing a successful fundraising campaign. As of a few weeks ago (of the time of writing this), I will be interning for the Kalamazoo Circuit Court this summer to further my understanding of criminal law. As I said before, take advantage of the opportunities Kalamazoo provides you with; you never know where they could lead!
What is your SIP?
I am writing a two-quarter SIP on the implementation of mental health law on college campuses. I was diagnosed with Autism when I was young, and the civil rights we have in terms of our mental health is a particularly important subject to me. While I haven't done much extensive research yet, I plan to primarily focus on ADA (American Disability Act) and Section 504 (of the Rehabilitation Act of 1973) lawsuits and attempt to discover what civil rights a college student has in terms of their mental health and what the most viable strategy of protecting those rights is.
What are your career aspirations/next steps after K?
I would like to go to law school after finishing K. I want to get involved in civil rights law, especially voting rights. Thanks to Kalamazoo, I have a strong start to getting there!
What is a random fun fact about you?
I once walked 20 miles to buy a LEGO set. Unfortunately, the store I went that day to didn't have it in stock.