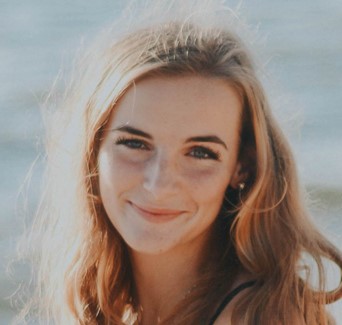 Claire McCall
(she/her/hers)
k20cm05@kzoo.edu
Hometown: North Muskegon, MI
Major: Political Science
Minor/Concentration: English and American Studies
Study Abroad: Athens, Greece
Best Adjective to Describe You: Approachable
---
In 20 words or less, what is the best thing about being part of this department?
The constant real world application of subject matter and incredible class discussions.
What is your biggest piece of advice to first years and sophomores about getting connected to this department?
The best way to get connected to the Political Science department is to take an introductory course. All three intro courses are engaging and can spur further interest in the department. My biggest piece of advice to those potentially interested in the department is to not psych yourself out; political science classes may initially appear daunting, but the professors design their intro classes to accommodate a range of students' interests.
What is the most valuable thing you've learned at K?
As a 2020 high school graduate, my first year of college was all online. The classes went by quickly and before I knew it, I was entering my sophomore year. That year seemed to fly by, though it was because I was on campus and enjoying all the moments I missed my first year. The most valuable thing I've learned at K is simply that every moment passes. Bad times will always end, but the good ones will too; savoring the moment is so important, especially for college students who have an "expiration date" on their time here at K.
What has been your favorite class at K?
My favorite class at K was Constitutional Law which I took during the spring term of my sophomore year with Dr. Berry. While taking this class, the draft opinion on Dobbs v. Jackson Women's Health Organization was leaked. The outcome of such an opinion was then constitutionally analyzed by politicians, reporters, and citizens alike. Being able to write and talk about the details of the impending decision in correct constitutional law terms was exciting and important. The class was the clearest example to me of school lessons being applied to matters of the real world.
How have you taken advantage of the open curriculum or experienced breadth in your education?
Like many students entering college, I had a slight idea of what I wanted to major in but was generally unsure. I somehow thought I might be required to take science classes so I took Sustainable Energy (a physics course) and really enjoyed it! Though it was the only STEM class I've taken, I am glad I could break up the humanities courses with a different subject matter. Even within humanities—the area I gravitate toward the most—I have taken advantage of the ability to explore. The classes I have taken in economics, history, French, and anthropology/sociology have never been a mistake.
What experiential education opportunities have you participated in?
After studying abroad in Athens, Greece during the fall/winter terms, I held an internship with the Michigan House of Representatives where I focused on constituent outreach initiatives. I have been a part of multiple local campaigns as a social media director, organizer, and canvasser. On campus I have held positions in KCCSR and K Dems (which is currently not meeting, though I hope it will begin again). My sophomore year, I was a Peer Leader and I will return to the new and improved position as a First Year Experience Mentor this fall!
What is your SIP?
My SIP focuses on the affect book bans have on the social and political atmosphere in Florida. Specifically researching how such literary restrictions either bolster or silence voters falls under political behavioral analysis.
What are your career aspirations/next steps after K?
My current career aspiration is to become a political journalist. I love to write and I enjoy keeping up with what affects people politically. Journalism can capture both of those interests! I have always been interested in law, too, and think at some point I would like to go to law school.
What is a random fun fact about you?
My twin brother and I were both born with extra fingers! (We do not have them anymore, unfortunately).