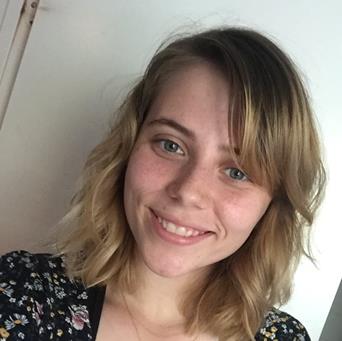 Adriana Vance
k16av01@kzoo.edu
Hometown: Alexandria, Virginia
Majors: Political Science, French
Study Abroad: Clermont-Ferrand, France
Best Adjective to Describe You: Optimistic
---
In 20 words or less, what is the best thing about being part of this department?
You can really make the major your own—there are many courses/disciplines to choose from.
What is your advice to first years and sophomores about getting connected to this department?
Go to office hours with questions! All of the professors are more than willing to speak about their courses, your ideas for projects and papers, or anything else that you would want to discuss.
What is the most valuable thing you've learned at K?
Confidence goes a long way in achieving your goals.
What has been your favorite class at K? Why?
Constitutional Law. I loved reading the cases and learning about how the law impacts social and political life, and vice versa.
How have you taken advantage of the open curriculum or experienced breadth in your education?
I've taken a few economics courses that I feel have given me a useful foundation in political science. I've also taken a few philosophy courses which I think are really important for writing and argumentative skills.
What experiential education opportunities have you participated in?
I participated in a civic engagement program my freshman year (Young Women's Leadership). I had an internship with State Senator Sean McCann's office the summer after my junior year.
What is your SIP?
My SIP is about recent cases on gerrymandering law and how these affect local politics and racial discrimination.
What are your career aspirations/next steps after K?
I would love to get a policy job in Washington, D.C. after I graduate and attend graduate school.