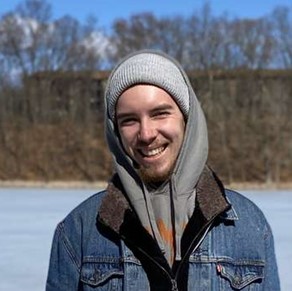 Jonah Bolton
k18jb05@kzoo.edu
Hometown: Kalamazoo, Michigan
Majors: Political Science and International & Area Studies
Study Abroad: Cali, Colombia
Best Adjective to Describe You: Friendly
---
In 20 words or less, what is the best thing about being part of this department?
It has given me examples and confidence to voice my opinion in a way that is both respectful and challenging.
What is your advice to first years and sophomores about getting connected to this department?
I think that the most important thing to remember if you want to get connected with the Political Science department is that you don't need to be a policy expert, or know every institutional structure in government. You don't have to be a student that took AP Government or AP Comparative Government in high school. I think that the most important thing to get connected with political science is just to care about other people and to recognize that political systems affect everyone, for better and for worse.
What is the most valuable thing you've learned at K?
The most valuable thing that I have learned at K has been how important this small community is to me. With Kalamazoo being a smaller college, I have come to love and to know so many different people at a more personal level. That gives me more reason to be personally involved at the college and also see the value that my peers bring to campus, and that this college is everything that it is because the students make it that way, through student organizations, student government, and community events.
What has been your favorite class at K? Why?
My favorite class at K was Latin America in a Global Context with Professor Garriga-Lopez. In this class, I had some of my favorite classmates that brought to the table a lot of different perspectives in terms of race, gender, age, hometown, sense of humor, etc., and a professor who was willing to let all of these be heard and valued. We read some great books, my favorite being The Open Veins of Latin America, which I feel prepared me better than anything for my study abroad, and helped explain the structures of power I had unknowingly been interacting with against Latin America as a US citizen.
How have you taken advantage of the open curriculum or experienced breadth in your education?
The open curriculum has allowed me to graduate on time, as I am a transfer student that could have been in a serious hole coming to K had I needed to fulfill a bunch of general education requirements. As a transfer student with two majors, I haven't been able to experiment with too many different departments. However, I look forward to using the credits I have saved to do just that, and take the Instrumental Methods class that is almost a rite of passage for seniors!
What experiential education opportunities have you participated in?
I studied abroad in Cali, Colombia, which was one of the most incredible experiences of my life. I have a Community Building Internship this summer with an organization called Building Blocks that I am able to be a part of through the school. I am a member of Kalamazoo College Council of Student Representatives and serve on three committees. I think that these opportunities have been and will be some of my most important and influential activities that have helped me become a part of this community.
What is your SIP?
My SIP (although not fully developed at the time of me writing this) will be a foreign policy SIP exploring the relationships between the United States, Colombia, and Venezuela, and the resulting decline of the Venezuelan state in the past 20 years.
What are your career aspirations/next steps after K?
I am planning on applying to the Fulbright program and hopefully using that as a gap year before I may go on to a foreign policy graduate school program.