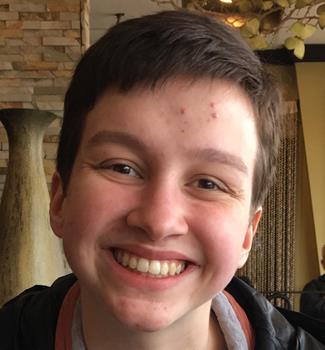 Erin Radermacher
k16er01@kzoo.edu
Hometown: Park Ridge, Illinois
Majors: Physics, Math
Study Abroad: Strasbourg, France
Best Adjective to Describe You: Goofy
---
In 20 words or less, what is the best thing about being part of this department?
Professors truly want you to learn and succeed and are always there to help. There's also great comradery among students.
What is your advice to first years and sophomores about getting connected to this department?
Reach out to your professors! Talk to them about research or discuss life after K. Also make sure to ask them about their experiences. Sometimes hearing what someone else's journey was like can help you with your own. Additionally, I recommend popping into the MPC, the math and physics center. You can find some amazing tutors and it's a great place to work on or get help with physics (or math)!
What is the most valuable thing you've learned at K?
It is okay to take care of yourself, both mentally and physically. If you're sick, then it's okay to rest. If you're having a hard time mentally, then it's okay to reach out and set time aside for that. There's nothing wrong with needing to set aside time to take care of yourself, in whatever way you may need to.
What has been your favorite class at K? Why?
My favorite class at K was Advanced Electricity and Magnetism, or Physics 410. I loved the material and it tied together a lot of concepts from previous classes. It was also just a lot fun! We worked through new problems everyday which made class very exciting for me.
How have you taken advantage of the open curriculum or experienced breadth in your education?
I think the biggest way I have taken advantage of the open curriculum was by being able to come into K my first year not knowing which major I was going to decide on. I was able to explore a lot of different departments. I even took a very short-lived hiatus from physics before realizing it was what I truly loved doing. Not only that, but I have also just been able to take a lot of classes because they just interested me. This year I started taking painting classes and I've loved them!
What experiential education opportunities have you participated in?
My first two years at K, I participated in Swim for Success. This is a civic engagement program that provides swim lessons and tutoring to kids whose families would normally not be able to afford them. Additionally, the summer after my first year, I participated in a psychology externship at Daily Behavioral Health. Last summer, I did research with Dr. Cole at Kalamazoo College. This summer I am participating in an REU in space physics at the University of Colorado Boulder.
What is your SIP?
My SIP is in space physics at the University of Colorado Boulder. I am investigating electromagnetic waves in Earth's magnetosphere using data from NASA's magnetospheric multiscale satellites.
What are your career aspirations/next steps after K?
I'm honestly not entirely sure yet. I think I'm going to take a couple gap years and then go to graduate school in either physics or astronomy, but I'm still figuring it out!