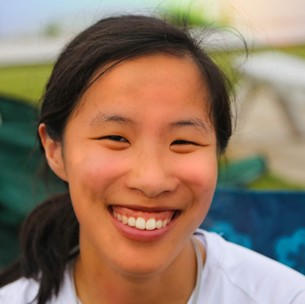 Emily Eringaard
k17ee01@kzoo.edu
Hometown: Traverse City, Michigan
Major: Physics
Minors: Mathematics and German
Study Abroad: Erlangen, Germany
Best Adjective to Describe You: Vigorous
---
In 20 words or less, what is the best thing about being part of this department?
The best parts of the physics department are the labs and the professors. The labs are interactive and the professors have a unique area of expertise in which they are highly recognized and wonderful educators as well.
What is your advice to first years and sophomores about getting connected to this department?
My biggest piece of advice is to go to office hours of professors and join the Wednesday tea time (a 4pm-ish snacks and drinks social time in the common area of 2nd floor OU).
What is the most valuable thing you've learned at K?
I have learned how to expand my network through K. I have been surprised many times by who knows who and through all of my interactions at K, I have learned how to connect with people at Kalamazoo.
What has been your favorite class at K? Why?
It's hard to choose a favorite class; as every semester, every school year, I have a new favorite class. Each one is more intriguing than the last and has never failed to grasp my attention.
How have you taken advantage of the open curriculum or experienced breadth in your education?
Before K, I had taken college classes in a range of subjects. The open curriculum at K has enabled me to continue to take class outside the sciences.
What experiential education opportunities have you participated in?
During studying abroad, I did my ICRP at Waldorfschule Erlangen in Germany. During my time at the elementary school, I helped 2nd graders in the classroom and interacted with 1st thru 4th graders in their after-school activities.
What are your career aspirations/next steps after K?
I do not have specific career aspirations after K, but I have many ideas of possible next steps. The possibilities include continue my education on to a masters at another college, getting a teaching degree to teach at a school, or using my networking abilities to start a job at a well-established company.