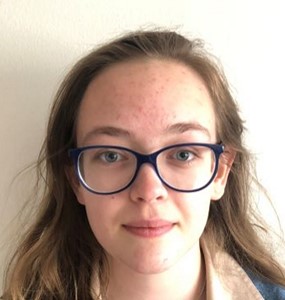 Claire Kvande
(she/her/hers)
k19ck01@kzoo.edu
Hometown: Memphis, TN
Majors: Physics and Chemistry
Minors: French and Mathematics
Study Abroad: Lyon, France
Best Adjective to Describe You: Curious
---
In 20 words or less, what is the best thing about being part of this department?
I love that the small classes give me the chance to work closely with my professors and peers.
What is your advice to first years and sophomores about getting connected to this department?
Try to go to events hosted by the department to meet the professors and go to the MPC and clubs like Sukuma and SPS to meet other students.
What is the most valuable thing you've learned at K?
I have learned to be proactive about when I need help.
What has been your favorite class at K? Why?
I really enjoyed quantum mechanics. I am fascinated by some of the unexpected physical phenomena that happen on this small scale.
How have you taken advantage of the open curriculum or experienced breadth in your education?
I have enjoyed taking a variety of classes in other departments, especially French and history.
What experiential education opportunities have you participated in?
I studied abroad in Lyon, France for two terms. I also did an REU after my sophomore year at the University of Oklahoma that let me experience physics research. On campus, I am a leader for the Society of Physics Students and work in the Math & Physics Center.
What is your SIP?
My SIP will expand on research done through an REU at UC Davis on quantum Monte Carlo simulations.
What are your career aspirations/next steps after K?
I hope to go to graduate school for a PhD in theoretical physics.
What is a random fun fact about you?
I was once an arts & crafts director at a summer camp – ask me how to make friendship bracelets!