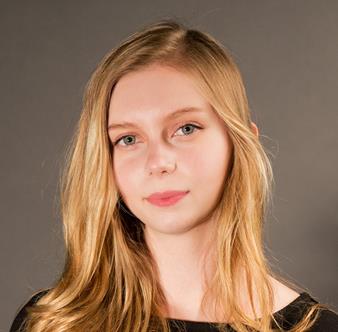 Grace Marie Barrett
k16gb01@kzoo.edu
Hometown: Iowa City, Iowa
Major: Philosophy
Study Abroad: Seoul, South Korea
Best Adjective to Describe You: "dreamy"
---
In 20 words or less, what is the best thing about being part of this department?
The shared desire to contemplate existence creatively and honestly.
What is your advice to first years and sophomores about getting connected to this department?
Participate thoughtfully in discussions and stick with the reading schedule. Philosophy is a small department, so it is not difficult to make connections if you invest yourself in learning.
What is the most valuable thing you've learned at K?
Dr. Carol Anderson said, "start where you are" and that small piece of advice has followed me throughout my time at K. Learning to be methodical and calm in the moments you feel overwhelmed is a crucial skill here.
What has been your favorite class at K? Why?
Philosophy of Language. It was there that I fully realized my passion for linguistics. Additionally, I adore Madam Farrell's ballet classes and have taken them religiously throughout my time here.
How have you taken advantage of the open curriculum or experienced breadth in your education?
I encourage everyone to take advantage of the wonderful language departments at K and seriously pursue fluency in a language other than English. For me, this is the most crucial aspect of the open curriculum. I have found tremendous fulfillment in Spanish and Arabic. Additionally, I have pursued Korean language on my own time.
What experiential education opportunities have you participated in?
I have volunteered as a classroom assistant in a local middle school's ESL classes. I was also a member of the Welcome Team for international students last year and will be a TA in Philosophy of Language in the spring of 2020.
What is your SIP?
My SIP is a sociolinguistics study on language ideologies, language hegemony, language policy and foreign language pedagogy in the South Korean context.
What are your career aspirations/next steps after K?
After K, I intend to begin working as an English teacher in South Korea. After this, I see myself going to graduate school for linguistics or English language education and perhaps working towards professorship in a foreign university. I am very interested in seeing comprehensive change in English as a second or foreign language standardized testing, and would love to be a part of revision teams at TOEFL someday.