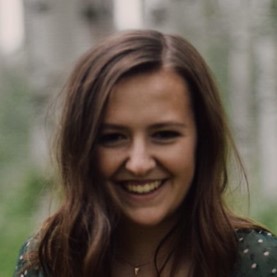 Maddy Harding
k18mh02@kzoo.edu
Hometown: Glenwood Springs, Colorado
Major: Biology
Minor: Psychology
Concentration: Neuroscience
Best Adjective to Describe You: Dependable
---
In 20 words or less, what is the best thing about being part of this department?
I love the interdisciplinary nature of the neuroscience department and how approachable all the faculty are.
What is your advice to first years and sophomores about getting connected to this department?
I think the biggest piece of advice I would offer to first years and sophomores is to get connected with the neuroscience department and reach out. Connect with myself or peers completing a neuroscience concentration and/or any member of the neuroscience faculty. One thing that is so important at K college is community and we have a great neuroscience community at K so I urge you to get involved with as many people as possible associated with the concentration!
What is the most valuable thing you've learned at K?
I think the most valuable thing that I have learned at K is to be adaptable and flexible. Especially during the last year, I have really gained perspective on how important it is to be able to adapt to whatever life throws you and try to make the most of every situation I am in.
What has been your favorite class at K? Why?
This is a tough question, there have been so many great ones! I think my favorite class at K so far has been Dr. Batsell's Physiological Psychology class. I think that is the class that I have learned the most from and really loved the way the material was presented and taught. Additionally, it was the first class where I learned neuroanatomy and physiology, which was fascinating to me.
How have you taken advantage of the open curriculum or experienced breadth in your education?
I think I have really been able to take advantage of the open curriculum specifically this past year by taking classes that interested me that maybe aren't necessarily required for my major, minor, or concentration. For example, I have taken a few community and global health classes because I am also very interested in public health. I have also had the chance to take an anthropology class and even a history class, that I most likely would not have been able to take without the open curriculum.
What experiential education opportunities have you participated in?
Some experiential opportunities I have been lucky enough to take advantage of during my time at K is that I have worked in three different professors' labs. Additionally, I was an RA during my sophomore year which I absolutely loved. I have been a part of a few different programs tutoring elementary and middle school children, one called Sisters in Science and the other through Refugee Outreach Collective. I have worked in a genetics research lab in Kalamazoo. Finally, I have been the president of Refugee Outreach Collective since my junior year, and will be the president of Health Professions Society next year.
What is your SIP?
For my SIP, I will be investigating the neuroprotective effect of two organically synthesized molecules in C. elegans.
What are your career aspirations/next steps after K?
I am currently on the pre-med track and hope to attend medical school after graduating from K College. I am planning on taking a gap year before going to medical school and doing something abroad since my study abroad got cancelled due to the COVID-19 pandemic.