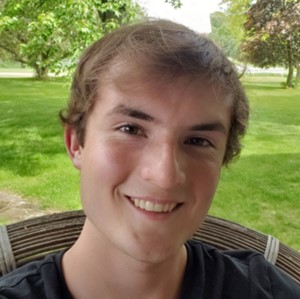 Sam VerHey
k17sv01@kzoo.edu
Hometown: Middleville, Michigan
Majors: Music and History
Best Adjective to Describe You: Irreverent
---
In 20 words or less, what is the best thing about being part of this department?
The music department gives you by far the least busywork; everything you do directly and clearly benefits you.
What is your advice to first years and sophomores about getting connected to this department?
Don't hesitate to talk to our faculty. They always have time for you, and if you're shy, I guarantee you won't be after talking to them.
What is the most valuable thing you've learned at K?
Your life is not limited to whatever degree you choose to pursue. If there is an experience you want to have, you are free (and most often able) to make it happen regardless of your education.
What has been your favorite class at K? Why?
Jazz Explorations with Dr. Tom Evans. This course will take you on a ride through jazz history, and teach you some basics of performance and songwriting while you're at it. Definitely take it if you have the chance.
How have you taken advantage of the open curriculum or experienced breadth in your education?
I'm currently pursuing two very different majors with relative ease, and I've learned to speak two new languages while at K. Need I say more?
What experiential education opportunities have you participated in?
I've previously served as president of K's College Republicans, and am currently a leader of the Swing Club.
What is your SIP?
I'm planning a senior recital on trumpet for Spring Quarter, 2021.
What are your career aspirations/next steps after K?
I plan to pursue a professional career as a freelance musician.