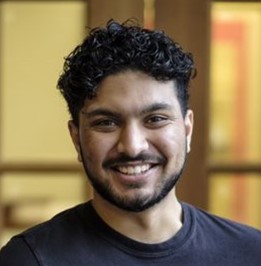 Rushik Patel
(he/him)
k18rp01@kzoo.edu
Hometown: Portage, Michigan
Majors: Music and Biology
Best Adjective to Describe You: Outgoing
---
In 20 words or less, what is the best thing about being part of this department?
The best part of the music department is the extensive opportunities to get involved, whether you choose to take classes, take Applied Music lessons, or join ensembles.
What is your advice to first years and sophomores about getting connected to this department?
Come check out a Music Department concert or simply sign up for a class that looks interesting – you never know how much you'll love studying music until you do!
What is the most valuable thing you've learned at K?
Facing adversity and struggle is to be expected as part of a college experience. The K community has helped me to learn how to face adversity with grace and get right back up.
What has been your favorite class at K? Why?
My favorite class at K has been Dr. Thomas Evans' "Jazz Explorations." It was a very accessible course regardless of one's musical background and covered quite interesting material. Dr. Evans clearly cares about and loves what he teaches, and that love for the subject is infectious.
How have you taken advantage of the open curriculum or experienced breadth in your education?
I've taken courses in a wide range of departments from Music to Biology to Spanish to Religion. Due to the open curriculum, I've been able to explore departments I otherwise would not have even thought about. Experiencing such a breadth of education has shown me the hidden connections between seemingly distant subject areas.
What experiential education opportunities have you participated in?
My experiential education opportunities include clinical medical experience working as an Emergency Room Medical Scribe, serving as a President's Student Ambassador, and working with the Office of Admissions.
What is your SIP?
My SIP is a reflection on the role of a Medical Scribe in the emergency medical setting.
What are your career aspirations/next steps after K?
After graduating from K, I hope to attend medical school and become a practicing physician.