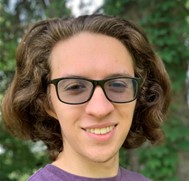 Xavier Silva
(he/him/his)
k20xs01@kzoo.edu
Hometown: Kalamazoo, MI
Majors: Mathematics and Computer Science
Study Abroad: Budapest
Best Adjective to Describe You: Kind
---
In 20 words or less, what is the best thing about being part of this department?
The best part about the math department is that the professors are great to work with!
What is your biggest piece of advice to first years and sophomores about getting connected to this department?
Come to weekly Wednesday tea time! It's a great way to causally connect with both other students and professors while enjoying snacks!
What is the most valuable thing you've learned at K?
The most valuable thing I've learned at K is that it is important to make connections with other people, both academically and socially.
What has been your favorite class at K?
My favorite class at K was number theory with Dr. Oloo. The class involved very little lecturing and instead involved working in small groups.
How have you taken advantage of the open curriculum or experienced breadth in your education?
The open curriculum has allowed me to take terms to focus solely on mathematics and computer science while also still having time to pursue nonacademic interests such as music.
What is your SIP?
My SIP will be research with Dr. Oloo to analyze the mathematical structure of icosahedral viruses and their deformations. We will also be collaborating with Dr. Dave in the physics department whose lab focuses on icosahedral viruses.
Generally speaking, what is your favorite thing about K?
My favorite thing about K is that the small campus allows me to make more meaningful one-on-one connections with other students on campus.
What is a random fun fact about you?
A random fun fact about me is that I play percussion and teach drumline at my old high school Portage Northern!