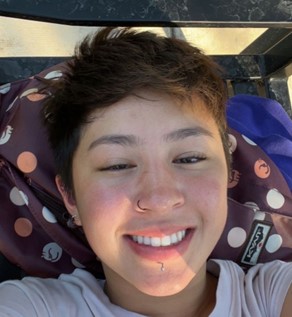 Mallory Dolorfino
(they/them/theirs)
k19md01@kzoo.edu
Hometown: Cadillac, MI
Majors: Mathematics and Computer Science
Study Abroad: Budapest, Hungary
Best Adjective to Describe You: Kind
---
In 20 words or less, what is the best thing about being part of this department?
The math, the professors, and departmental tea time!
What is your advice to first years and sophomores about getting connected to this department?
Go to tea time and all of your professors' office hours. Hang out in the MPC. Talk to peers in your department.
What is the most valuable thing you've learned at K?
Be authentic—only do things you're passionate about.
What has been your favorite class at K? Why?
A tie between Real Analysis 2 and Urban Religion. Real Analysis 2: We had a lot of opportunities to present, the material and problem sets were fun, and the professor created a good environment to do math in. Urban Religion: This was the first religion class I took at K. I didn't know what to expect but it was super fun, and I realized I'm super interested in studying religion. The professor created a fun environment for class discussions, and the assignments required a lot of creativity.
How have you taken advantage of the open curriculum or experienced breadth in your education?
I originally started as a chemistry major, and I didn't decide on a math major until just before I had to declare sophomore year, but I still had a lot of time to finish my math major, study abroad for two terms, and take fun classes outside of math!
What experiential education opportunities have you participated in?
I was able to participate in two different math REU internships (UMICH-Dearborn and Texas State University), and I participate in a lot of student organizations (ex. Sukuma and PASA!).
What is your SIP?
My SIP is on the research I conducted at Texas State University the summer after my junior year on the representation of finite groups.
What are your career aspirations/next steps after K?
I want to go to graduate school for math and hopefully work as a professor.
What is a random fun fact about you?
I really enjoy long boarding!