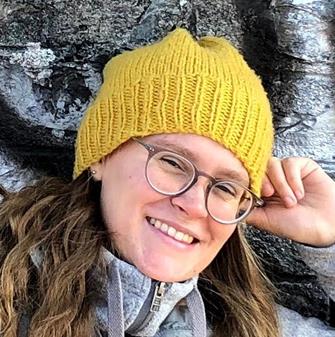 Madeline Ward
k16mw03@kzoo.edu
Hometown: Grand Rapids, Michigan
Major: Mathematics
Minor/Concentration: Latin, Environmental Studies
Study Abroad: Rome, Italy (American University of Rome)
Best Adjective to Describe You: Inquisitive
---
In 20 words or less, what is the best thing about being part of this department?
The community! Wednesday Tea Time, the MPC, professors, and Kristen are all there to help you not only learn but also find support within the department.
What is your advice to first years and sophomores about getting connected to this department?
Come to Tea Time or the MPC to talk to professors and students in a less formal setting. Also, many, if not all, of the professors would be open to talk one-on-one if you email to schedule a time. That is actually what I did as a first year!
What is the most valuable thing you've learned at K?
I have learned how to persevere and be proud of my accomplishments, even when my grade may not reflect that. College is hard and if you aren't cheering for your own team, it's not going to be very fun either. Be proud of what you can do and you will have motivation to do more.
What has been your favorite class at K? Why?
I have a close attachment to my first-year seminar, Our Shakespeare, Ourselves, but other than that probably Data Science with Dr. Nordmoe and Latin with Dr. Manwell. I have enjoyed these classes because of the skills I gained that translated to other aspects of my life, and also because they were fun!
How have you taken advantage of the open curriculum or experienced breadth in your education?
I am a math major but have taken MANY classes outside the math department. I am a Latin minor and studied abroad in Rome. I am also very involved in sustainability on campus through getting an Environmental Studies concentration and working as a sustainability intern. Branch out!!
What experiential education opportunities have you participated in?
I have had three summer internships through the Center for Environmental Stewardship. I am now an intern for the sustainability department.
What is your SIP?
I am doing a data science SIP using RStudio Shiny to create an interactive dashboard that displays energy data from the buildings on campus.
What are your career aspirations/next steps after K?
I am very interested in data science and sustainability and whatever intersections those may have. I'm still not exactly sure what I want to do right after graduation but I'm sure graduate school and lots of dogs are in my future somewhere down the line.