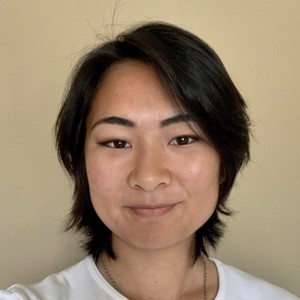 Lisa Johnston
k17lj01@kzoo.edu
Hometown: Birmingham, Michigan
Major: Mathematics
Minor: Japanese
Study Abroad: Tokyo, Japan
Best Adjective to Describe You: Tenacious
---
In 20 words or less, what is the best thing about being part of this department?
The community: professors, friends, the MPC, and the constant support from everyone.
What is your advice to first years and sophomores about getting connected to this department?
All the math professors are amazing so reach out and just talk to them about anything! Also don't miss out on Wednesday Tea Time where Kristen puts out the best snacks. Feel free to reach out to me too!
What is the most valuable thing you've learned at K?
Everyone is in this together and you're not alone. No matter how hard you try, you can't take on everything by yourself, and that's okay. So, don't be afraid to lean on others for guidance and support.
What has been your favorite class at K? Why?
It's hard to pick just one! All the upper level math classes have opened up a new realm of elegance and beauty in the world of math.
How have you taken advantage of the open curriculum or experienced breadth in your education?
K's open curriculum gave me the opportunity to take a whole year off from math to study abroad in Japan and still finish my major. I have also taken a variety of classes from different departments such as the Psychology and English department where I found new interests that I otherwise would have never discovered.
What experiential education opportunities have you participated in?
While in Japan, I partook in a "cultural internship" where I lived a monastic life at a Zen Buddhist temple for a month. At K, I have been a consultant at the Math-Physics Center (MPC) and will be a senior consultant this year.
What is your SIP?
The details of my SIP are still unclear, but it will be with the math department
What are your career aspirations/next steps after K?
After K, I plan to further my education in math through graduate school