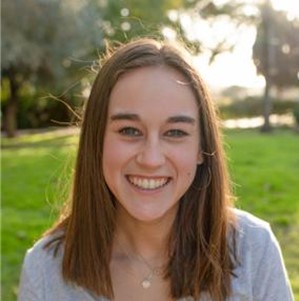 Audrey Honig
k17ah02@kzoo.edu
Hometown: Elmhurst, Illinois
Majors: English and Religion
Concentration: Jewish Studies
Study Abroad: Jerusalem, Israel
Best Adjective to Describe You: Enthusiastic!
---
In 20 words or less, what is the best thing about being part of this department?
Jewish Studies transport us to many time periods and all around the world. Come learn with us!
What is your advice to first years and sophomores about getting connected to this department?
"Being Jewish" is not a pre-requisite! In Jewish Studies classes at K, we enter the space from a variety of backgrounds and levels of knowledge. This diversity really does enhance our learning.
What is the most valuable thing you've learned at K?
I have learned that asking for help is empowering, and not a sign of defeat. My freshman year, I nervously walked into office hours and the writing center to ask for help with my papers. I have not stopped asking for help since, but now I ask with confidence. Instead of seeing myself as a "bad writer" because I ask for help, I can confidently say that I am a better writer thanks to my support system.
What has been your favorite class at K? Why?
My favorite class at K was Advanced Poetry. I believe in my heart that writing poetry can enhance the studies in any field one might enter. In addition, learning to write poetry helped me become a better listener, a more intentional writer, and even a more thoughtful friend.
How have you taken advantage of the open curriculum or experienced breadth in your education?
I try to take a class outside of my majors every quarter that I can. One of my favorite classes outside of my major was Philosophy of Law. Understanding secular understandings of law has even enhanced my understanding of Jewish law.
What experiential education opportunities have you participated in?
I have been passionately involved with Hillel and the Interfaith Student Leaders throughout my time at K. I also play flute with the KPhil and volunteer with the CCE's Young Adult Program. I feel so lucky to have a variety of communities at K to support me and help me grow.
What is your SIP?
I am writing my SIP in the Religion Department. It is an ethnographic study of OSRUI, my Jewish summer camp in Wisconsin. I focus on how counselors think about sacred space and Jewish identity at camp. (I'm having the best time!)
What are your career aspirations/next steps after K?
After I graduate, I plan to study at the Pardes Institute in Jerusalem for a gap year. After that, I hope to attend Rabbinical school at the Hebrew Union College.