Please contact the department to connect with the student advisor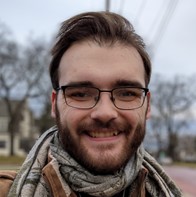 Mason Purdy
(he/him)
k20mp04@kzoo.edu
Hometown: Anderson, IN
Majors: Political Science and Religion
Concentration: Jewish Studies
Study Abroad: Rome, Italy
Best Adjective to Describe You: Diplomatic
---
In 20 words or less, what is the best thing about being part of this department?
How Jewish Studies overlaps with many different disciplines.
What is your biggest piece of advice to first years and sophomores about getting connected to this department?
Don't feel like you have to be Jewish or know anything about Judaism to take Jewish Studies. Lots of non-Jews take Jewish Studies classes and get a lot out of them. Also, all the classes are very accessible so you definitely do not need any prior knowledge.
What is the most valuable thing you've learned at K?
The most valuable thing I have learned at K is to not let perfect be the enemy of good. I have a strong perfectionist streak and this school can put a lot of pressure on you, so I had to learn to overcome that urge to be such a perfectionist. This has been so valuable for helping me manage my time and just generally become a better writer and student.
What has been your favorite class at K?
My favorite class I've taken at K is Introduction to American Politics with Dr. Berry. I have always been really into politics, but that class challenged my preconceived notions and completely reshaped the way that I thought about all of politics, American or not.
How have you taken advantage of the open curriculum or experienced breadth in your education?
K's open curriculum has been perfect for me because I am just so curious about many different things. Outside of my majors in Political Science and Religion, I have also taken lots of classes in other fields I'm interested in like Philosophy, Psychology, and International and Area Studies, among others.
What experiential education opportunities have you participated in?
I have been very involved in student organizations here at K, as I am the President of Model U.N., the Opinion Editor of our newspaper The Index, and the Vice President of Education for Hillel, our Jewish students' organization. Additionally, I have interned with the Michigan House Democrats, the City of Kalamazoo, and State Representative Julie Rogers while I have been at K.
What is your SIP?
As of now, my SIP is about the role of antisemitism in forming political identities in American and British politics.
What are your career aspirations/next steps after K?
I am hoping to make a career in law and politics, so I am planning on going to law school after I graduate from K.
What is a random fun fact about you?
I memorized every U.S. President in order when I was 4 years old.