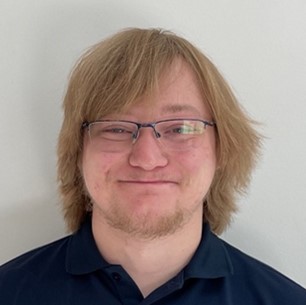 Stefan Nielsen
k19sn01@kzoo.edu
Hometown: Farmington, MI
Major: History
Minors: Political Science and Religion
Concentration: Jewish Studies
Best Adjective to Describe You: Erudite
In 20 words or less, what is the best thing about being part of this department?
The openness of the professors and their willingness to interact with students.
What is your biggest piece of advice to first years and sophomores about getting connected to this department?
It never hurts to try taking a Jewish Studies course, even if you're not sure about your degree path. Otherwise, talking with students who have already taken courses in the department is a great way to learn about them, even if it means sitting in on a class or looking over some of the course material.
What is the most valuable thing you've learned at K?
Time management has been, by far, the most important thing I've learned while at K. Everything from getting homework done to making time for leisure and eating meals revolves around keeping time. It will serve you incredibly well in the long run. Planning ahead will also alleviate large amounts of stress that might otherwise build up over the 10-week terms.
What has been your favorite class at K? Why?
My favorite class was definitely the Roman Army class I took my freshman fall. It was incredibly interesting both because of my affinity for ancient Rome and history in general, which being taught by the since-retired Dr. Haeckl made the class incredibly dynamic and exciting.
How have you taken advantage of the open curriculum or experienced breadth in your education?
My first year at K, I took a smattering of various English, history, religion, and political science classes, which by the end of that year pointed me in my desired direction. It has allowed me to figure out exactly what I want my undergraduate experience to be, while at the same time giving room for classes that I would not otherwise have been able to take.
What experiential education opportunities have you participated in?
I was given the opportunity last year to be on the board of Hillel, Kalamazoo College's Jewish organization. It not only let me connect with many of the Jewish students on campus and make lasting friendships, but learn more about Judaism and my own family's history, along with enjoying fantastic food and going on fun outings.
What is your SIP?
De-Splosion: Detroit's City Hall from the Late 19th to mid 20th Centuries.
What are your career aspirations/next steps after K?
I hope to go to graduate school for urban planning and potentially work for a city after I obtain my degree.
What is a random fun fact about you?
I am a civil war reenactor for the 17th Michigan Regiment Company E., located out of Greenmead Park, Livonia, Michigan.