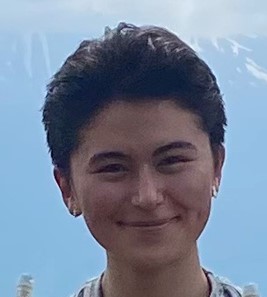 Robin Dudd
(they/them)
k19ed01@kzoo.edu
Hometown: Three Rivers, MI
Majors: East Asian Studies and Religion
Concentration: Women, Gender and Sexuality
Study Abroad: Waseda University, Tokyo, Extended Term
Best Adjective to Describe You: Determined
---
In 20 words or less, what is the best thing about being part of this department?
The kindness and inspiration of the teachers. The atmosphere that the Japanese department has is very motivating.
What is your advice to first years and sophomores about getting connected to this department?
If you have any interest in Japan – whether it be language, history, culture, anime, etc. – my advice would be to either dive right in and try some classes or come to some of the department-hosted events during the year!
What is the most valuable thing you've learned at K?
The most valuable thing that I have learned at K was the ability to study — how to focus and organize my notes and materials in order to effectively learn a second language.
What has been your favorite class at K? Why?
My favorite class at K was "Japanese Culture Through Film," which I took as a sophomore. I loved the different perspectives on historical events, ideology, etc. and every discussion that we had was so unique and fun. I discovered some of my favorite movies from that class – it's super cool!
How have you taken advantage of the open curriculum or experienced breadth in your education?
I really focused on approaching my studies through the lens of East Asian Studies (interdisciplinary). Within the requirements of the major, I personalized the classes and overall approach to focus on Japanese religion.
What experiential education opportunities have you participated in?
During my study abroad, I did three separate internships with the Iiyama Tourism Bureau in Nagano. It was a truly amazing experience to be able to work in a Japanese company.
What is your SIP?
I am looking at case studies of authoritative actors and institutions of religion in both pre-World War II Japan and in the modern-day United States.
What are your career aspirations/next steps after K?
After graduating from K, I would like to work in Japan. As of right now, and in the upcoming year, I will continue working to raise my Japanese fluency to make this possible.
What is a random fun fact about you?
I love sports! While in Tokyo, I got really into kickboxing, which is something that I've always been interested in trying out. Otherwise, catch me running around outside (mostly trails in the forest and/or mountains)!