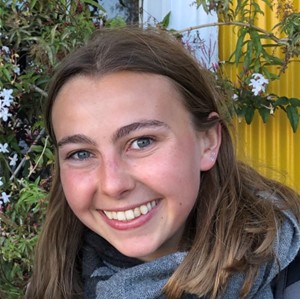 Reagan Shapton
k17rs01@kzoo.edu
Hometown: Grand Rapids, Michigan
Majors: IAS, Political Science, Spanish
Study Abroad: Valparaiso, Chile
Best Adjective to Describe You: Thoughtful
---
In 20 words or less, what is the best thing about being part of this department?
The interdisciplinary nature of IAS! Courses including languages, history, anthropology, and political science all can count towards your major!
What is your advice to first years and sophomores about getting connected to this department?
Go to office hours! Attend departmental events on or off campus if you are able. Form a study group of peers to prepare for exams but to also get to know new people in your classes. Talk to upperclassmen!
What is the most valuable thing you've learned at K?
The most valuable thing I've learned at K is to recognize an interest I have in something new and to pursue that interest. Although it is hard to branch out and try new things, it is so worth it!
What has been your favorite class at K? Why?
Intro to Women, Gender, and Sexuality with Dr. Stefatos was one of my favorite courses at K because the content was so new and interesting to me. The class also allowed me to get to know Dr. Stefatos, who introduced me to other courses she was teaching and the International & Area Studies Major!
How have you taken advantage of the open curriculum or experienced breadth in your education?
Yes! My freshman year I took courses ranging from Biology to Computer Science to Public Health. My sophomore year I declared my major in Spanish, Political Science, and IAS but I still was able to take an Anthropology course as well as Women, Gender, and Sexuality courses.
What experiential education opportunities have you participated in?
I am a swim coach and tutor for the CCE program, Swim for Success. I am also a Writing Center consultant. This summer I have taken on an internship position with Jon Hoadley's campaign.
What is your SIP?
While I was in Chile this past fall, the president of Chile, Sebastián Piñera, and his administration raised the price of public transportation. This price raise, yet small, sparked a social uprising that spread throughout the country. I will explore this social movement in my SIP.
What are your career aspirations/next steps after K?
Not sure yet, but I know I want to gain some work experience before deciding to go back to school. I am interested in potentially getting my degree teaching, Public Health or Public Policy.