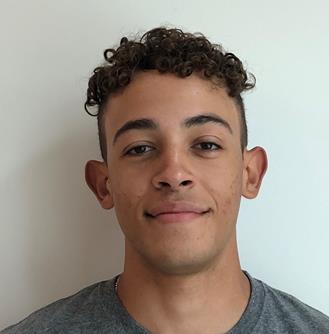 Faruq Schieber
k16fs01@kzoo.edu
Hometown: Kalamazoo, Michigan
Major: International and Area Studies – Latin America
Minor: Political Science
Study Abroad: Ecuador
Best Adjective to Describe You: Curious
---
In 20 words or less, what is the best thing about being part of this department?
In my opinion our department has the greatest breadth of liberal arts experiences that Kalamazoo College has to offer.
What is your advice to first years and sophomores about getting connected to this department?
My biggest piece of advice would be to start asking questions early on. IAS has several requirements including a more intensive language requirement and 6 months of study abroad. So if you're interested, it's best to start getting information early in order to plan well for your interests and completion of the major.
What is the most valuable thing you've learned at K?
The most valuable thing that I have learned during my time at K has been that the most necessary lessons came in complementary fashion to my education. Study Abroad was an excellent opportunity to learn about the culture and diversity of Ecuador. Additionally, the experience gave me a level of exposure to the Spanish language that I wouldn't have otherwise received. Even more than either of these, my personal growth through study abroad has been incalculable and I am truly grateful for that.
What has been your favorite class at K? Why?
It's hard to pick a favorite class at K but two of the most memorable classes I've taken have been Latin America in a Global Context and Religion in Latin America. Both of these classes have really good reading material that expanded my knowledge base on the area. Additionally, these classes were driven by diverse discussions that often challenged my frame of thought.
How have you taken advantage of the open curriculum or experienced breadth in your education?
In my time here at K, one of the classes outside of my major that I really enjoyed was West African Percussion. I had never really played an instrument before that class. It was very exciting to have the opportunity to get around people outside my department as well as the stresses of some of my other classes.
What experiential education opportunities have you participated in?
Since starting at K, I have had two internship positions and I have also been a peer leader. The summer after my first year, I had an internship with the Kalamazoo County Democratic party where I learned more about local politics and grass roots initiatives. This summer I had the opportunity to intern with the Green Gardens Community Farm and I've learned about what it truly means to be "farm to table" as well as how to own and operate a sustainable small business.
What is your SIP?
For my SIP I am researching the construction/re-conceptualization of immigrants as enemies of the state and how it affects their human rights (as non-citizens inside the country and of those trying to gain access) against the background of nationalist fervor, the military/industrial complex, and the US/Mexico Border.
What are your career aspirations/next steps after K?
I am considering Law School but also I am interested in consulting work regarding sustainable development both domestic and abroad.