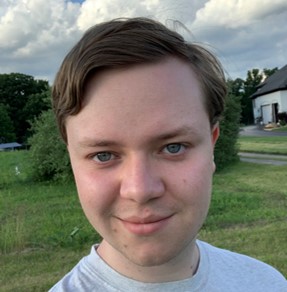 John Carlson
(he/him/his)
k19jc03@kzoo.edu
Hometown: Dexter, MI
Majors: International & Area Studies and Political Science
Minors: German and Theatre
Study Abroad: Erlangen, Germany (6 months)
Best Adjective to Describe You: Determined
---
In 20 words or less, what is the best thing about being part of this department?
Its interdisciplinary approach, its flexibility, and the close-knit nature of the students and facility.
What is your advice to first years and sophomores about getting connected to this department?
Start looking into the major and planning your classes early by looking at "Requirements for the Major in International and Area Studies"; if you wait too long, it's significantly harder to achieve the major. Make sure you know what Area you're planning on focusing on (it'll probably be related to the language you are learning, due to the Foreign Language proficiency requirement).
What is the most valuable thing you've learned at K?
Definitely how to write at a college level; the paper writing process and informing/persuading people is critical no matter what job you have. I was an okay writer in high school but now my writing skills are at a point where I can write eloquently and professionally, which is an important skill.
What has been your favorite class at K? Why?
I've really enjoyed every class I've taken at K, but my favorite class has got to be the International and Area Studies' Sophomore Seminar – IAST-290 Immigration Politics. It encapsulates everything that I appreciate about the major: a fascinating, multifaceted topic that makes you think critically, students who all cared about the material and voiced their opinions, and a professor who knows what she's talking about and values student participation.
How have you taken advantage of the open curriculum or experienced breadth in your education?
Not only have I taken advantage of the open curriculum, the major depends on that open curriculum. It lets you see connections between different fields and gives you another way to think about something. As a personal example, there was one trimester where I was taking a history class (The History of Modern Japan) and a German class (Intermediate German). Both talked about how citizens would emigrate from their home country (Japan/Turkey) and the struggles those migrants faced for wanting a better life for them and their families. Being able to compare and contrast across disciplines is one of the reasons I really love International and Area Studies and the open curriculum as a whole. As a side note, I'm a double major and double minor – I doubt I could pull that off if the curriculum wasn't as open as it is (especially my theatre minor).
What experiential education opportunities have you participated in?
There are three experiential education opportunities I'd like to highlight. First, before the 2020 election, I was an Area Captain for Washtenaw County Get Out the Vote, an initiative to increase and mobilize Michigan's absentee ballot voters. Second, when I was studying abroad in Germany in 2021-2022, I had an ICRP (Integrative Cultural Research Project) with Die Grünen/Grüne Liste Erlangen (Germany's Green Party) where I observed local committee, subcommittee, and Die Grünen/Grüne Liste meetings to better understand local German democracy and how it functions during a crisis (COVID). Lastly, I'm also co-president of Kalamazoo's Model United Nations club.
What is your SIP?
"To what extent was Germany's response to the 2022 invasion of Ukraine similar to Germany's response to the 2014 Ukraine Crisis?"
What are your career aspirations/next steps after K?
I'm not entirely sure. I'd love to have a job with the Department of State as an ambassador, but on the other hand, I'm also interested in US politics and the process of being elected. I'm hoping to use internships to gain a sense of what I'm interested in and to narrow down plans after college.
What is a random fun fact about you?
I have a second-degree black belt in Taekwondo (although I earned it when I was a kid so now I can't remember any of the moves or the forms).