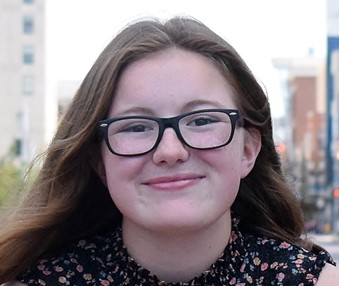 Meaghan Kelly
(she/her)
k19mh01@kzoo.edu
Hometown: Flint, MI
Major: History
Minor: Theatre
Concentrations: American Studies and Women, Gender &Sexuality
Best Adjective to Describe You: Motivated
---
In 20 words or less, what is the best thing about being part of this department?
The diversity of subjects! Taking classes within an area of history that interests you makes the class even more fun.
What is your advice to first years and sophomores about getting connected to this department?
Go to office hours. It's a great place to learn more about a specific topic you're interested in and your professors want to get to know you outside of the classroom.
What is the most valuable thing you've learned at K?
I learned I could be a historian! I never thought about history as a career path before I got to K and started talking to professors.
What has been your favorite class at K? Why?
My two favorite classes have been Historical Methods (HIST 299) and The Stuff of Everyday Life (HIST 391). Both of these classes made me think deeply about the way we write about history and helped me figure out what I want to do after K.
How have you taken advantage of the open curriculum or experienced breadth in your education?
I'm a Theatre minor and have participated in a lot of shows during my time here at K! I've really loved working as a Dramaturg, the show's historian or researcher. It has taught me how to apply what I've learned in my history courses in a very different way.
What experiential education opportunities have you participated in?
I work in the Rare Book Room in the library, which has allowed me to get hands on experience assisting with the curation of exhibits!
What is your SIP?
I'm looking at three women from the early 19th century and examining how they empowered themselves through physical spaces and material culture objects.
What are your career aspirations/next steps after K?
I'm hoping to go to grad school to study material culture, and then work in museums!
What is a random fun fact about you?
My favorite flower is Queen Anne's Lace!