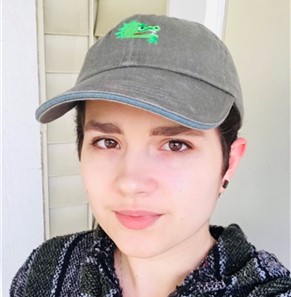 CJ Martonchik
k17cm01@kzoo.edu
Hometown: Brighton, Michigan
Major: History
Minor: Art History
Study Abroad: Aberdeen, Scotland
Best Adjective to Describe You: Equanimous
---
In 20 words or less, what is the best thing about being part of this department?
The history department has diverse offerings! History isn't all cut-and-dry chronology—classes can be niche and quirky..
What is your advice to first years and sophomores about getting connected to this department?
Visit your professors' office hours! The department faculty are here to help you succeed, and taking time to speak with them one-on-one about your interests is a great way to make an early impression. Reach out to upperclassmen, too! Upperclassmen were underclassmen not so long ago, and they can offer you lots of helpful advice, from planning for your degree requirements to choosing a Study Abroad program.
What is the most valuable thing you've learned at K?
The most valuable thing I've learned at K is critical listening. Whether you're listening to professors, fellow students, or what the sources you work with are telling you, critical listening has helped me learn to learn, even if I'm hearing something I didn't expect or want to hear. Opening myself to diverse worldviews has helped me grow both as a student and as a person.
What has been your favorite class at K? Why?
My favorite class so far has been "Greening the Black Atlantic," an African Studies class I took with Dr. Nielsen during Spring 2020. Even though we were learning from home, the intersection of environmental and social justice, both on the African continent and in the diaspora, really opened my eyes to the lived realities of racism and climate change, and helped me appreciate the broad range of issues a single subject can encompass.
How have you taken advantage of the open curriculum or experienced breadth in your education?
Lots of offerings across K's departments are cross-listed! Sure, that'll help you fill your requirements, but it's also encouraged me to explore new subjects and appreciate the fact that every subject has its own history. For example, I took German for my foreign language requirement, and ended up studying the experience of German-Americans during Prohibition for a class with Dr. Lewis. Both sets of knowledge informed my research, and they almost felt like one big class! History is compatible with everything from religion to biology, so don't let uncertainty stop you!
What experiential education opportunities have you participated in?
I am currently an Interfaith Student Leader, which has been the most enjoyable volunteer experience I've ever had! Learning about and from a group of people from diverse religious backgrounds and inviting community members from the Kalamazoo area to share their insights and experiences has further enriched my understanding of the world we live in and why we live in that world in particular ways. I was also a member of the History and Culture through Literature and Media Living Learning House (or 'the Lit' House). Our mission was to investigate historical phenomena through fictional case studies presented in short stories, books, films, movies, and games. It was a wonderful way to engage with unconventional sources and bring together a group of people from a variety of programs who were interested in the symbolic value of cultural objects.
What is your SIP?
My SIP is a hybrid History/Art History SIP exploring the intersection of battlefield photography with other media of visual culture during the American Civil War. My goal is to explore what the Union public was seeing in post-battle photographs, why the photographs looked the way they did, how other visual media responded to them, and how they impacted public understanding of the war and its consequences.
What are your career aspirations/next steps after K?
My next step will be applying for graduate school, where I hope to hone my skills as an educator and participate in museum justice programs.