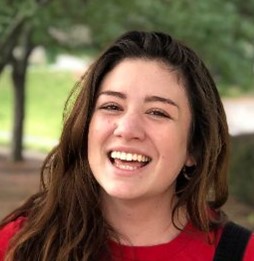 Fiona Holmes
(she/her/hers)
k18fh01@kzoo.edu
Hometown: Holland, Michigan
Major: History
Concentration: American Studies
Best Adjective to Describe You: Resolute
---
In 20 words or less, what is the best thing about being part of this department?
There is always time for laughter in classes, and the History professors will support your interests, wherever they may lie.
What is your advice to first years and sophomores about getting connected to this department?
Talk to your professors during their office hours or email them – they won't bite!!
What is the most valuable thing you've learned at K?
Your time at K isn't the end all be all, so make time for yourself outside of academics and off of K's campus. Additionally, pretty much everyone is just pretending to know what they are doing – overthinking everything is not worth the energy!
What has been your favorite class at K? Why?
This is a hard one, but if I had to choose just one class, it would be "Victorian America" with Dr. Boyer Lewis. It was fascinating to learn how various social and cultural constructions that remain with us to this day date back to the attempted Victorianization of America in the nineteenth century. The material was endlessly interesting, and we had the best class discussions.
How have you taken advantage of the open curriculum or experienced breadth in your education?
K's open curriculum has allowed me to access the eras I study through different mediums by taking courses that focus on the literature or philosophy of the era. I have also been able to take history classes outside of my concentration on early modern/modern Europe and Latin America that have shaped how I engage with historical scholarship and do research.
What experiential education opportunities have you participated in?
For the past year and a half, I have been working with a K alum to help prepare a biography on the architect A.A. Fischer entitled Building St. Louis. While Covid has put the necessary archival work on hold, I have done what research I can and edited portions of the text remotely.
What is your SIP?
Based on the premise that industrialization altered conceptions of time, I intend to analyze how time was conceived of, internalized, and consumed by women in their families from 1830-1880.
What are your career aspirations/next steps after K?
All I want to do is research and write, so I guess I am off to graduate school.