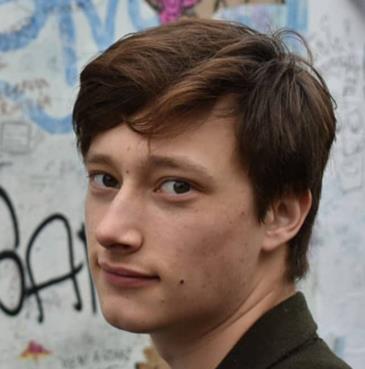 Matthew Flotemersch
k16mf01@kzoo.edu
Hometown: Goodrich, Michigan
Major: German
Minor: Philosophy
Study Abroad: Erlangen, Germany
Best Adjective to Describe You: Neat
---
In 20 words or less, what is the best thing about being part of this department?
The faculty is really engaged with students of all levels and have a real passion to teach!
What is your advice to first years and sophomores about getting connected to this department?
Come to the fests! The department puts on events for holidays like Maifest and they're a great way to get connected in the department, not to mention have some fun.
What is the most valuable thing you've learned at K?
The most valuable things I've learned at (through?) K were on study abroad. The move from high school to college brought its own level of independence and responsibility, but going abroad for a year really was something else. I also really valued getting the chance to hear the perspective of students from all over the globe (something you can also do at K!).
What has been your favorite class at K? Why?
Now that's a tough question, maybe my first year seminar- Stalin and the Art of Fear. It was very interesting examining the ways in which the Soviet government altered, controlled, and in some cases erased history, and at the same time see how its people dealt with it. I especially liked that we looked at the topic through a variety of media- not just nonfiction text but also fiction, music, and film.
How have you taken advantage of the open curriculum or experienced breadth in your education?
I took classes in eight departments in my first two years at K. Breadth really defined my approach so far. After study abroad, I'll be using my final year to pull everything together! It won't be possible to take all the classes you want to but K's system really gives you a chance to try new things and I encourage it.
What experiential education opportunities have you participated in?
During my study abroad, I had an internship at a Waldorf school. There I helped teach 4-8 year olds as well as worked with them on their social and conflict resolution skills. While at K, I've invested much of my free time into soccer and theater, but am interested in increasing my civic engagement in the coming year.
What is your SIP?
My SIP is still in its planning phase so stay tuned!
What are your career aspirations/next steps after K?
I am applying for a few fellowships to go abroad again after K including the Fulbright TA Fellowship, so fingers crossed I get to consider these options come graduation. Otherwise, there are a few MBA programs I'm considering further study in, principal among them Entrepreneurship.