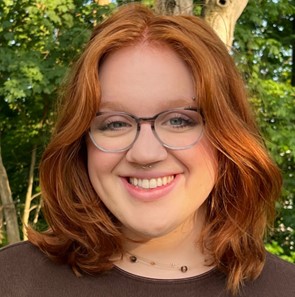 Teresa Lucas
(she/her)
k20tl01@kzoo.edu
Hometown: Mattawan, MI
Majors: German and Psychology
Study Abroad: Erlangen, Germany
Best Adjective to Describe You: Genuine
---
In 20 words or less, what is the best thing about being part of this department?
The department provides a supportive and close-knit community that I'll forever be grateful for.
What is your biggest piece of advice to first years and sophomores about getting connected to this department?
Attend Stammtisch and get to know your TAs! Both are such amazing ways to not only improve your language learning, but also meet new people!
What is the most valuable thing you've learned at K?
I have learned to advocate for myself more confidently and efficiently since attending K. This school has taught me that it is more than okay to ask for help!
What has been your favorite class at K?
I absolutely adored Dr. Manwell's Sophomore Seminar "Ancient Humans and Other Animals." I had never taken a Classics class before and I learned so much! Dr. Manwell is an incredible professor and I looked forward to her class each week.
How have you taken advantage of the open curriculum or experienced breadth in your education?
I went into college not knowing what I wanted to major in, so K's open curriculum really gave me the opportunity to explore different departments and get a feel for what I enjoyed! I have been able to take History, Classics, Japanese, and ANSO courses in addition to completing requirements for my major.
What experiential education opportunities have you participated in?
I have done two internships through K – one at Kalamazoo County Ready 4's and the other at Helen L. Fox Gospel Music Center.
What is your SIP?
I will be writing about my internship experience at Helen L. Fox Gospel Music Center which will include a reflection on what I learned about music education and adolescent development from their nonprofit work.
What are your career aspirations/next steps after K?
After K, I hope to go back abroad to Austria or Germany – either through Fulbright or another fellowship!
What is a random fun fact about you?
I have eight siblings! And I absolutely demolish each and every one of them in snowball fights.