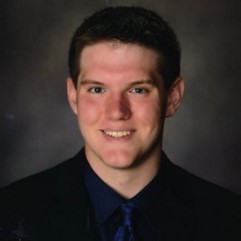 Christian Zeitvogel
(he/him/his)
k18cz01@kzoo.edu
Hometown: Beverly Hills, MI
Majors: German and Political Science
Study Abroad: Erlangen, Germany (extended program)
Best Adjective to Describe You: Zealous
---
In 20 words or less, what is the best thing about being part of this department?
The German department builds an interactive community between students and professors inside and out of the classroom.
What is your advice to first years and sophomores about getting connected to this department?
Seize every opportunity that presents itself, whether it be actively engaging in class, attending one of our public events such as Stammtisch and movie nights, or discovering something from German culture such as cuisine and music. The classes are academically stimulating while our extracurricular events are a lot more relaxed and provide a more casual opportunity to meet other students, practice the language, and learn something new (Often times there is food involved too).
What is the most valuable thing you've learned at K?
K helped me learn to be comfortable in my own skin. During my first trimester at Kalamazoo, I came out as gay, and opened up about my history with depression and anxiety that are often rooted in my insecurity about my sexuality. Especially as a football player, I struggled with my masculinity and felt like I could never be safe. Fortunately, Kalamazoo College provided an atmosphere where I was able to finally admit and accept my authentic self.
What has been your favorite class at K? Why?
My favorite class thus far has been in the political science department with Dr. Berry, "Race, Law, and US Politics." As an upper-middle class white man who was raised in a white-flight suburb of Detroit, I grew up in a privileged bubble that often was not confronted with critical questions regarding race. In taking this class, it was my first time really grappling with the concept of "race" as a social construct, its meaning, and consequences, both from a historical as well as contemporary lens by analyzing legal hegemony and theory about race in the United States. In my pursuit to become a better ally for traditionally marginalized populations, this course provided me with the fundamental context that frames modern discussions on race, especially in the turbulent era of Black Lives Matter and debates over the teaching of Critical Race Theory.
How have you taken advantage of the open curriculum or experienced breadth in your education?
Social studies were always my strongest subject in school. I love to study history and politics, and conversely, I knew that I was neither talented nor interested in math and science. K's open curriculum allowed me to jump straight into the subjects that I am passionate about and zoom in on complex themes such as the protean nature of antisemitism, contemporary political theories, or minority cultures and experiences in Germany, to name a few. I have never felt so fulfilled as a student as my time at K. Additionally, the student seminars are often interdisciplinary, promoting an educational osmosis such as my sophomore seminar that concentrated on everything revolving around bubonic plague (I might note that this was the trimester immediately before the outbreak of Covid, so it was inadvertently rather timely).
What experiential education opportunities have you participated in?
My first two years at K, I played college football. After I left the sport, I became more involved in civic engagement, working primarily in voter engagement and electoral campaigns. I served as the county representative for the Human Rights Campaign to organize phone-drives, voter registration drives, and a town hall event ahead of the 2020 Primary elections. Similarly, I worked for Eli Savit, a K alum, during his campaign for the Washtenaw County prosecutor.
What is your SIP?
During my study abroad, I was involved in an internship at the local city museum (ICRP). I am currently translating the museum's exhibits into English, and my SIP will discuss the pedagogical theory employed in deciding how to translate these exhibits.
What are your career aspirations/next steps after K?
I have recently experienced a change in my career aspirations and am not entirely certain what my future holds right now. My original plan was to eventually attend law school and pursue civil rights litigation; now I am considering options on how to build a life for myself in Germany. The next probable step is to apply for a Fulbright Scholarship and work somewhere in either Germany or Austria. Eventually, I think a career either with international civil service or with history and translations would be a good fit for me.
What is a random fun fact about you?
My last name, Zeitvogel, literally translates to "Time-bird" because my family heritage traces back to the Schwarzwald in Germany where we once made cuckoo clocks.