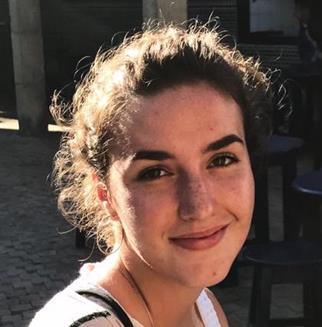 Julia Woods
k16jw01@kzoo.edu
Hometown: Holland, Michigan
Majors: French, History
Concentration: African Studies
Study Abroad: Dakar, Senegal
Best Adjective to Describe You: Determined
---
In 20 words or less, what is the best thing about being part of this department?
Outside the cheese they serve at the events, the faculty and their dedication toward students is the best part of the French department.
What is your advice to first years and sophomores about getting connected to this department?
Start speaking in French as frequently as possible, whether it be at events or with friends. There are only so many opportunities to speak French in the United States, so come to the events that the French department hosts!
What is the most valuable thing you've learned at K?
I have learned how to think critically from a variety of perspectives. Learning to think critically and asking dynamic questions was one of the most important things I could learn academically from my seminar classes. Going on study abroad helped me view the same questions from a variety of different perspectives.
What has been your favorite class at K? Why?
I thoroughly enjoyed History of the Modern Middle East. It was the first academic class I fell in love with, to be followed by classes like French 301 and the Colonization and the Decolonized. The subject matter was fascinating and investigated a variety of intersections in language, religions, and nationalities. From this, I learned that I wanted to study 20th century history.
How have you taken advantage of the open curriculum or experienced breadth in your education?
Absolutely! This is one of the best aspects of K. I've taken classes in English, Political Science, Judaic Studies, Religion, French, and Antiquities amongst other departments at K. Taking an open breadth is another way to see different perspectives on similar topics.
What experiential education opportunities have you participated in?
On campus, I have participated in student government or KCCSR, where I was a student representative for the Board of Trustees and the Experiential Education Faculty Committee. I had an internship the summer after my sophomore year at a design consultancy firm in Chicago, and after that I went abroad to Dakar, Senegal for six months. I am currently volunteering for Refugee Outreach Collective in Kalamazoo, working with refugees from Franco-African nations.
What is your SIP?
I am doing a joint-SIP between the History and French department on images of colonies displayed in Paris, primarily at museums, during the colonial exposition of the 1930's.
What are your career aspirations/next steps after K?
I want to go back abroad for another year, so I will be applying to TAPIF and Fulbright. After that, I am looking at working in museums or going to graduate school.