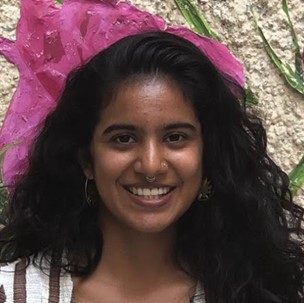 Avani Ashtekar
k17aa02@kzoo.edu
Hometown: Nagpur, India
Majors: French and International & Area Studies
Minors: Art History and Anthropology & Sociology
Study Abroad: Clermont-Ferrand, France
Best Adjectives to Describe You: Curious, Invested
---
In 20 words or less, what is the best thing about being part of this department?
There are so many small events to remain engaged with the department even when you are not taking a French class!
What is your advice to first years and sophomores about getting connected to this department?
Very typical but this is also very true: talk to your professors and your T.A.s. Ask for all kinds of help when you feel like you need it but also just remain involved!
What is the most valuable thing you've learned at K?
Learning is closely linked to compassion, and that is what makes learning worthwhile.
What has been your favorite class at K? Why?
I cannot possibly name one single class because there are so many favorites!
How have you taken advantage of the open curriculum or experienced breadth in your education?
I took classes that I felt excited about. I tried to plan and fit my requirements in each quarter along with the other classes I wanted to take. For example, I never thought I would learn Japanese or that I would enjoy history. Those were the classes that taught some skills that I think are of importance.
What experiential education opportunities have you participated in?
I am a program coordinator at the OSI, and an R.A. During the summer of my sophomore year, I worked as a research assistant with a professor in Greece. This work was primarily based on refugee experiences and their relationship with the spaces they live in – camps as well as cities.
What is your SIP?
My SIP is in the French department and I am interested in looking at the idea of space and place-making the (im)possibility of community (building) using a Foucauldian framework within migrant camps of Calais, which is in the north of France.
What are your career aspirations/next steps after K?
I want to study more about migration, displacement, and material culture in relation to border studies.