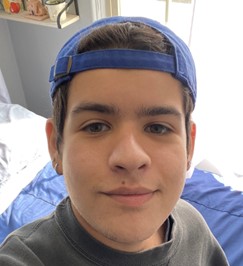 Juan Ibarra
(he/him/his)
k19ji01@kzoo.edu
Hometown: Los Angeles, CA
Majors: French and Anthropology & Sociology
Study Abroad: Strasbourg, France
Best Adjective to Describe You: Determined
---
In 20 words or less, what is the best thing about being part of this department?
The classes are dynamic and the professors are creative and passionate about their fields.
What is your advice to first years and sophomores about getting connected to this department?
Go to the French movie nights and the Café & Conversation events! Meet upperclassmen in the department who will practice speaking with you and give you advice on classes and study abroad programs!
What is the most valuable thing you've learned at K?
The most valuable thing I've learned at K is how to organize and prioritize my needs. I know what needs to be taken care of in order for me to succeed individually, despite all of the stress and tensions of life and the quarter system.
What has been your favorite class at K? Why?
My favorite class at K has been ANSO 357: Immigrants & Exiles. This course not only taught me so many things about the way society constructs the image of immigrants around the world, but also allowed me to relate course material back to my own life and family in such a powerful way.
How have you taken advantage of the open curriculum or experienced breadth in your education?
I've had a lot of room to explore and take classes in other departments. I've been able to start a 4th language as I hope to continue with German 102 in the Winter, and I've also started taking art classes which have been a great way to practice using my creative abilities.
What experiential education opportunities have you participated in?
I've tutored with El Sol Elementary both in-person and virtually since my Freshman year, and I've also worked with Read and Write Kalamazoo (RAWK) as a volunteer. I will be serving as the Assistant Director of the Writing Center in the library next year, which I started working at my sophomore year. I will also be serving as the Civic Engagement Scholar for the Kalamazoo County ID program through the CCE. I have also served as the treasurer for the Latinx Student Organization for 2 years. Finally, I contribute articles for the local Hispanic newspaper Nueva Opinión.
What is your SIP?
I will be analyzing the portrayal of French school systems in modern media such as books, films and TV shows and how they portray the experiences of immigrant students!
What are your career aspirations/next steps after K?
I want to be a teacher's assistant in France for a few years, and then come back to the US for grad school. After that, I hope to become either a language or a sociology professor.
What is a random fun fact about you?
I'm a massive hoarder. I collect books, CDs, posters, and my room is full of boxes.