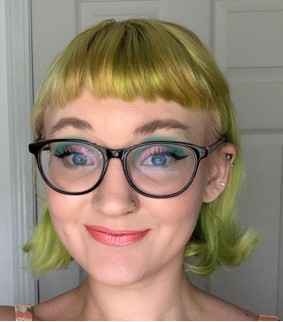 Kim Schmidt
k17ks02@kzoo.edu
Hometown: Ypsilanti, Michigan
Majors: Psychology and English
Study Away: New York Arts Program
Best Adjective to Describe You: Wacky
---
In 20 words or less, what is the best thing about being part of this department?
The best thing is being able to use films as a way to better understand life's problems.
What is your advice to first years and sophomores about getting connected to this department?
If you get the chance, take RTW: Classical Hollywood. It's a fun class, and it's a great chance to get to know Dr. Sinha. Additionally, at the major/minor fairs, take the time to walk around to all of the tables (I would have never really known about the film and media studies department if I didn't try to explore/see all of the tables), and don't shy away from picking up all the papers from departments that even mildly interest you. With K's open curriculum, it's rewarding and possible to take classes in different departments throughout your first year and still be able to complete multiple majors/minors/concentrations (if that's your goal). So take the chance to take a class from a department (or two or three) that interests you (including the film and media studies department!) instead of just focusing on what you believe your major is going to be. You may surprise yourself and find a new topic that you totally love!
What is the most valuable thing you've learned at K?
I've learned new ways to engage with the world. There are a lot of injustices in this world. Being a student at K, I've been exposed to different discourses, different ways of engaging in difficult topics, and ways to navigate the uncomfortable feelings that come with these topics. I've also been shown more ways to help and get involved than I knew about before.
What has been your favorite class at K? Why?
Electronic, Hypertext, and Multimedia Literature. It really altered my views of what literature can be and what it can do. Plus all the texts were really fun.
How have you taken advantage of the open curriculum or experienced breadth in your education?
I used the open curriculum to immediately start on my intended majors, which allowed me and is allowing me to complete three course sequences in the English department (fiction, literary criticism and theory, and poetry). It also allowed me to take classes in the film sequence and classes within the History department. Additionally, it allowed me to center my psych experience around classes that focus on individual narratives (as told through personal accounts, memoirs, documentaries, films, interviews, etc.) as a tool for understanding human psychology.
What experiential education opportunities have you participated in?
In NYC, I interned with the Franklin Park Reading Series, OR Books Publishing, and Bowery Poetry. I also participated in the creation of an independent short film. Additionally, I have helped to create/participated in panel discussions on PTSD, sex work, and the importance of LGBTQ+ labels (and the history of slurs). I have done volunteer work in helping younger children learn the importance of stories, film, and writing in all spheres of their lives. I have also been a TSA for an introduction to creative writing class. I am a co-leader of K's anime club and K's book club, A Novel Idea (which focuses on the importance of stories told in all ways, whether it be a novel, comic, film, tv show, movie, video game, etc.).
What is your SIP?
It is a research-based SIP on why and how authors write about trauma.
What are your career aspirations/next steps after K?
I currently plan on a career in the publishing industry. After K, I plan on going back to NYC to work with one of the places I interned with during my study away experience. While interning for them, they offered to hire me after I graduate (if the current state of the world allows it).