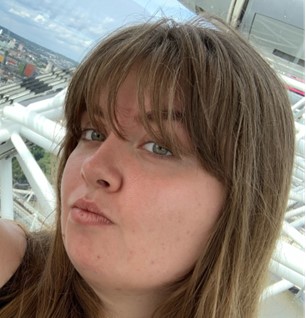 Mikayla Youngman
(she/her)
k19my01@kzoo.edu
Hometown: Toms River, NJ
Major: English
Minor: Philosophy
Concentration: Film & Media Studies
Study Abroad: London
Best Adjective to Describe You: Compassionate
---
In 20 words or less, what is the best thing about being part of this department?
You are always with people who are just as interested and curious as you to discuss and get involved.
What is your advice to first years and sophomores about getting connected to this department?
Don't be afraid to continue conversations outside and after class. Get in touch with a professor if there is more you want to discuss or if you have something personal to contribute. Your own interests can lead to great conversations. Peers and professors in the department alike are interested in what you have to say and are there for you if you ever need anything.
What is the most valuable thing you've learned at K?
Being at K you learn that you get out what you put in. That doesn't mean dedicating yourself entirely to intense studying either. Make sure to seize the moments you find joy in in class and on campus. Work can sometimes be play!
What has been your favorite class at K? Why?
My favorite class at K has been TV Production. I have not taken a more hands on course at the school. Being able to use real equipment is not only valuable but fun. The course allows for students to be incredibly independent but also heavily relies on teamwork and cooperation.
How have you taken advantage of the open curriculum or experienced breadth in your education?
I've been able to take an interesting amount of art history courses. I never expected to come to college as an English major and study art in any meaningful way. With the open curriculum I have been able to add some very interesting courses into my schedule that allow me to learn more about art.
What experiential education opportunities have you participated in?
During the year I work for Media Services as a part of work study. While this isn't really a part of my education or major, working in the Video Department has been so valuable and enjoyable to me.
What is your SIP?
As of right now I currently plan to incorporate both literary/film criticism and existential philosophy to write an analytical paper on one of my favorite television series, Fleabag. I hope to be able to also include some multimedia aspects into my project.
What are your career aspirations/next steps after K?
I hope to work with film or television in some way. I would also love to continue working in video and being able to film and/or edit media.
What is a random fun fact about you?
About 90% of my clothing is black. I feel like it is such a clean look. Many of my friends have started to ban me from buying black clothing when we are out.