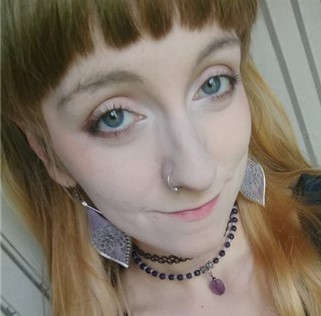 Brianne VanderBilt
(she/her)
k18bw01@kzoo.edu
Hometown: Kalamazoo, Michigan
Major: English
Minor: Japanese
Concentration: Film & Media Studies
Best Adjective to Describe You: Periphrastic
---
In 20 words or less, what is the best thing about being part of this department?
You'll always have somebody to talk to about the latest Netflix release.
What is your advice to first years and sophomores about getting connected to this department?
Your advisors are going to tell you this a million times, but don't be shy! Ask an upperclassman or visit your prof's office hours – I've never had a teacher who wasn't more than willing to work around my schedule and make time for even the most inane emails. Whether you're interested in expanding more on a conversation from class, or just confused and want clarification about something, it's great to have contacts all over campus.
What is the most valuable thing you've learned at K?
Whenever you think about 'budgeting your time,' you've got to consider allocating a decent chunk of your mental and physical resources for relaxation. College is stressful, and it's not going to get any easier after pulling an all-nighter: go take a nap!
What has been your favorite class at K? Why?
It would probably have to be Japanese Culture Through Film. Like a lot of the classes I've taken at K, there was such a wide variety of perspectives: some of the students were pursuing film studies, some studied the language, and others just enrolled because it sounded interesting. I've always loved that K's curriculum is broad enough to combine so many subjects and synthesizing my progress in interests I'd previously thought separate was such a great feeling!
How have you taken advantage of the open curriculum or experienced breadth in your education?
I was never involved in theater during high school, but I ended up enrolling in Lighting Design during my freshman year and Playwriting when I was a sophomore. I really hadn't expected to see these kinds of options in the courses that counted toward completing a Film and Media concentration, so I was excited (and a bit apprehensive!) to have a chance to engage with something I'd missed out on before. Lighting Design ended up being one of the most fun, involved classes I've taken at K – even without any prior knowledge, by the end of the semester, I had hands-on experience with gelling, rigging, and staging light fixtures, designing and drafting a light plot, and even using the programming booth in the Festival Playhouse to create my own lighting display to music. Just because you're interested in studying English doesn't mean you've got to read dense theory all the time: take the time to explore the course catalog and see what K's got to offer!
What is your SIP?
I'm working on a compilation of poetry, short essays, and translations. I've always been all about critical analysis, but working through the poetry craft sequence has undoubtedly refined my creative impulses and fostered a belief in my own abilities. I'm really looking forward to using this project as a way of expressing the progress I've made!
What are your career aspirations/next steps after K?
I hope to pursue a career as a translator or an editor in the publishing industry.