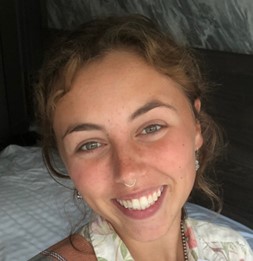 Bella Kirchgessner
(she/they)
k19ik01@kzoo.edu
Hometown: Grand Rapids, MI
Major: Anthropology/Sociology
Minor: Political Science
Concentrations: Environmental Studies and Public Policy & Urban Affairs
Study Abroad: Thailand
Best Adjective to Describe You: Passionate
---
In 20 words or less, what is the best thing about being part of this department?
I appreciate how many different avenues and pathways weave into the Environmental Studies Concentration.
What is your advice to first years and sophomores about getting connected to this department?
Reach out to professors and upperclassmen who are involved in the concentration or related activities. Go to events from related organizations like Center for Environmental Stewardship, Outdoor Programs, Just Food Collective…. etc.
What is the most valuable thing you've learned at K?
Don't be afraid to put yourself out there. Try things that are out of your comfort zone or outside of what you usually do. Know that establishing a community and network can be hard at times but it is so important and rewarding!
What has been your favorite class at K? Why?
One of my favorite classes I've taken at K has been "Experiential Pathways in Food and Farming Justice" with Amy Newday. I liked how intimate and discussion-based the class was. I feel like I had the opportunity to really push my perspective in how I thought about the U.S. food system. For my final project, I worked with my grandma developing a family recipe book. It is so special knowing that is something we will have together and that can be passed down to future generations.
How have you taken advantage of the open curriculum or experienced breadth in your education?
After college, I hope to go into education, so I really see the value in a multidisciplinary approach to learning and building critical thinking skills. In my time at K, I've been focused on blending politics and law, environmental science and farming, and anthropological theory into how I conduct my education. I really encourage students new to K to take classes that are outside of your major or you don't know much about. I just took "Issues in Public Health" with Professor Brumblay and loved it. Even though I hadn't really thought much about how public health tied into my field, I learned so much about a global perspective to health and was able to dive deeper into topics that I was passionate about.
What experiential education opportunities have you participated in?
Tutor and after school assistant at Woodward Elementary, Just Food Collective member (and CES for next year), Center for Environmental Stewardship Summer Fellow (2), Internship at Lisu Cultural Heritage Center, Outing Club/Outdoor Programs member (2022 Landsea leader), Teacher's Assistant for Experiential Pathways in Food and Farming Justice
What is your SIP?
My SIP, currently, is focused around applying seed activist Vandana Shiva's ideas around "reclamation of the commons" to what Kalamazoo College seed work could look like and ethical guidelines to follow in the future.
What are your career aspirations/next steps after K?
After undergrad, I want to take some time to do more world traveling and work towards a career in education (either in academia or non-profit work) focused around Food/Farming Anthropology.
What is a random fun fact about you?
I've worked on a cherry farm, hemp farm, and organic vegetable farm. Currently, I work with a couple in Kalamazoo doing native plant restoration and landscaping.