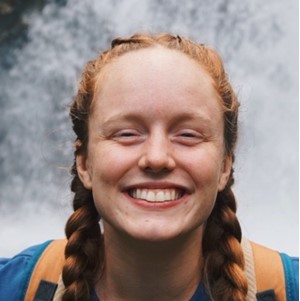 ---
In 20 words or less, what is the best thing about being part of this department?
The best part of the Environmental Studies department is the community it has built. The passion of students and faculty alike extend far beyond the traditional classroom.
What is your advice to first years and sophomores about getting connected to this department?
The best piece of advice I can give is to never be afraid to ask questions. The faculty and students in this department are incredible and have so much knowledge they are willing to share with you. Do not hesitate to contact me with any questions you may have!
What is the most valuable thing you've learned at K?
Through my time at K, I have learned that it's okay to be wrong, to fail, and to be uncomfortable. Kalamazoo College has taught me that you learn the most when you allow yourself to be uncomfortable and you embrace your failures.
What has been your favorite class at K? Why?
My favorite class at K was Roots in the Earth (my first-year seminar) with Amy Newday. Roots in the Earth brought together students with similar passions and introduced me to my best friends. This course also introduced me to new concepts and authors that really resonated with me and sparked my interest in environmental studies.
How have you taken advantage of the open curriculum or experienced breadth in your education?
The open curriculum has allowed me to take classes outside of my major to gain a more wholistic education. I have enjoyed taking various art and religion courses that extend my education beyond that biology/environmental studies, making me a more well-rounded student.
What experiential education opportunities have you participated in?
During my sophomore year, I was a part of the Eco-Justice Living Learning House that worked to bring campus awareness to environmental and social justice issues. Additionally, last summer, I was given the opportunity to intern at Antea Group, an environmental consulting firm, and gained first-hand experience with real world environmental field testing. Furthermore, while abroad, I interned at the Chiang Mai Breath Council where I learned about grassroots activism in the context of air pollution.
What is your SIP?
I am doing entomology research at Michigan State University's Berry Crops Entomology Laboratory. My SIP will be focused on researching various insect pests in commercial blueberries and raspberries farms.
What are your career aspirations/next steps after K?
I am very passionate about sustainability and environmental justice. After college, I plan to follow these passions to with a career in climate action.