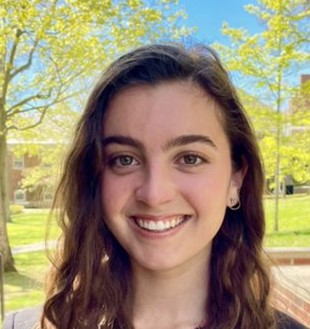 Kayla Carlson
(she/her)
k18kc04@kzoo.edu
Hometown: Hastings, Michigan
Major: Economics
Minor: Anthropology and Sociology
Concentrations: Environmental Studies and Public Policy & Urban Affairs
Best Adjective to Describe You: Determined
---
In 20 words or less, what is the best thing about being part of this department?
With several pathways to achieve the concentration, I love how multidisciplinary the department is.
What is your advice to first years and sophomores about getting connected to this department?
Don't be afraid to reach out to learn more about the department even if you are on the fence! You never know what you may learn and we will always connect you to someone who has the answers if we don't have them.
What is the most valuable thing you've learned at K?
The most valuable thing I have learned at K would be learning how to ask for help and to always ask questions.
What has been your favorite class at K? Why?
My favorite class at K has been my Climate Change and Policy Seminar because it has been the most applicable class to "real life" I have ever taken, but also the most related to what I want to do in the future.
How have you taken advantage of the open curriculum or experienced breadth in your education?
I took classes that purely interested me my first two years at K and realized that I could get 2 concentrations with one-two more courses. I think over the course of my first year I took 9 classes in 8 different departments. I naturally acquired my concentrations because K allowed me to dabble in many different departments.
What experiential education opportunities have you participated in?
Civic Engagement Opportunities:
K-Votes Leader – Rock the Vote Ambassador
CBI Intern for the City of Kalamazoo – Sustainability and Climate Intern
Woodward Elementary Worker
Other/Jobs:
Core Leader for the Center for Environmental Stewardship
Center for Environmental Stewardship Summer Fellow
Office of Admissions Student Worker
Student Registrar Assistant
K-Team Leader
What is your SIP?
I am planning on turning my summer fellowship as the sustainability and climate intern for the City of Kalamazoo to be my SIP.
What are your career aspirations/next steps after K?
Since I was unable to study abroad due to COVID-19, my goals/aspirations after K are to participate in some type of international fellowship where I would be able to explore my environmental interests.