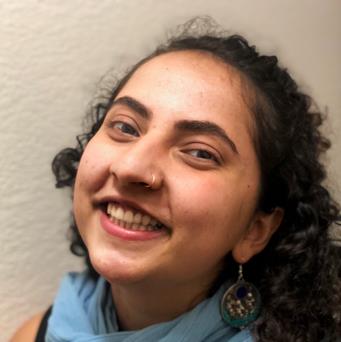 Yasi Shaker
k16ys02@kzoo.edu
Hometown: Tehran, Iran
Major: Psychology
Minor/Concentration: ANSO, Environmental Studies
Study Away: Chicago
Best Adjective to Describe You: Compassionate
---
In 20 words or less, what is the best thing about being part of this department?
The Environmental Studies department has a diverse curriculum which allows students to think critically about environmental issues in an interdisciplinary way.
What is your advice to first years and sophomores about getting connected to this department?
There are so many kind and amazing professors at K. Get to know them and ask them thoughtful questions. K offers a lot of resources so take advantage of them. Make sure you step out of your comfort zone. Try new things and meet new people. Feel free to reach out to me!
What is the most valuable thing you've learned at K?
I have learned to take advantage of the resources that K has to offer me. There are so many amazing spaces outside of the classroom where you can learn new things. Attending different organizations' events, Arcus's workshops and different departmental talks have opened my mind to new ideas and perspectives and made me the person I am today.
What has been your favorite class at K? Why?
Political Ecology of Waste with Dr. Luthra was my favorite class at K. This course introduced me to the realities of the waste system. This class is a true transdisciplinary course in which you learn to see waste as a complex economic, racial, political, environmental, public health and cultural "problem". Also Dr. Luthra is an absolutely amazing professor and he has so much radical knowledge and wisdom to share.
How have you taken advantage of the open curriculum or experienced breadth in your education?
My first quarter at K, I took Fundamentals of Acting which really helped me to be confident and assisted my public speaking abilities. I also have taken a variety of classes in different departments such as Chemistry, Theatre, Biology, Psychology, Anthropology and Sociology, and Math.
What experiential education opportunities have you participated in?
Through K to the Windy City sustainability track, I was able to network with many environmental organizations in the city of Chicago and that led me to be an intern at the Sweet Water Foundation. I have been an Interfaith Leader in the Office of Religious and Spiritual Life since my second quarter at K. I have also led the Land/Sea program twice. In addition, I have been a Founder of Environmental Conservation Organization, Felon Dancer and Choreographer, Event Coordinator of Environmental Justice Living Learning House, Member of The Lillian Anderson Arboretum Advisory Board, Member and co-leader of Just Food Collective, Treasurer and Member of Kalamazoo Outing Club and a Member of The International Student Advisory Board.
What is your SIP?
I am doing a quantitative and qualitative SIP in Environmental Studies about Food & Farming Justice at K: Experiences of People of Color with Environmentalism and Food Systems in Kalamazoo College.
What are your career aspirations/next steps after K?
I am hoping to go straight to graduate school after my undergrad to further my education in the intersection of the environmental studies and sociology studies. After that, I intend to start my own organization focused on social justice, food justice, and environmental reform. I want to advocate in a way that is accessible to those people whose knowledge of land and food is deeply ancestral, while also positioning it in a scholarly framework that is opposed to dominant narratives. Importantly, while I feel studies and academia are of the utmost importance, they too are part of the hegemony, and so I must take the knowledge I will gain and use it to implement change, and not simply recycle the knowledge through the system.