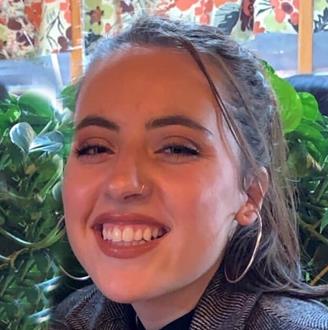 Emiliana Renuart
k16er02@kzoo.edu
Hometown: Richland, Michigan
Major: English
Minor: Anthropology/Sociology
Study Abroad: Rome, Italy
Best Adjective to Describe You: Intuitive
---
In 20 words or less, what is the best thing about being part of this department?
How the courses speak to each other. You're able to build a toolbox of theory, analytical tools, and creative strategies that will bridge across many courses.
What is your advice to first years and sophomores about getting connected to this department?
If you're unsure about majoring or minoring in English, but are curious about the types of classes the department offers, take a Reading the World course! They serve as a good introduction into the different types of essays you might have to write and are molded by different professors according to their research/scholarly interests so there are a variety of topics offered. Also make sure to check out the Introduction to Creative Writing classes to develop your skills in different forms of writing and discover what track you may want to follow in the major.
What is the most valuable thing you've learned at K?
Relationships take effort. If you are willing to cultivate and put time into your professional and academic relationships by going into office hours, participating in class, taking time to make connections, getting involved, collaborating with other students expressing your interests, etc. — it will help you long-term when you're looking for recommendation letters, professional networks, job/internship connections, or even just suggestions for reading or research material. Take advantage of the opportunities you have at a small school to make connections, whether for professional and academic reasons or just because you want to meet cool people with cool ideas!
What has been your favorite class at K? Why?
My favorite class I've taken at K is Advanced Poetry Workshop. We worked on pairing both the creative and technical aspects of the craft, building off of knowledge gained during Intro to Creative Writing and Intermediate Poetry Workshop. During the course, I was guided towards really helpful resources (reading suggestions, prompts, essays, individual feedback) and I was able to shape the projects and assignments to align with my personal writing goal, which at the time, was to start preparing for my SIP.
How have you taken advantage of the open curriculum or experienced breadth in your education?
My major and minor are English and Anthropology/Sociology, but my main academic investment is in storytelling overall. I have been able to take courses that approach storytelling in various ways in different departments, such as Art, Art History, History, and Women/Gender/Sexuality Studies. These classes varied in subject and discipline, which allowed me to find new lenses through which to examine and explore my interests.
What experiential education opportunities have you participated in?
I've had internships in the Education Department at Planned Parenthood Kalamazoo and at Read and Write Kalamazoo, two organizations which align with my professional interest in providing accessible education. On campus, I've served as a Peer Leader during Orientation, worked at the Arcus Center for Social Justice, and acted as a TA for three English classes.
What is your SIP?
I am creating a hybrid SIP, which will contain both a poetry collection and a critical essay. I am writing place-based poetry which explores concepts of self- and communal-construction of one's own identity, rurality, and memory. My critical essay will use theory about place in poetry to analyze contemporary rural poets.
What are your career aspirations/next steps after K?
I will be applying to MFA (Master of Fine Arts) programs this fall and am hoping to pursue an MFA in poetry. After that, I am considering pursuing a PhD or applying for jobs in the publishing, teaching, or non-profit sectors.