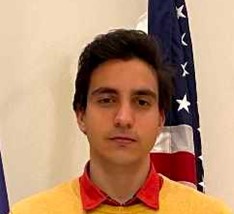 Blagoja Naskovski
(he/him/his)
k20bn01@kzoo.edu
Hometown: Skopje, Macedonia
Major: Economics
Minor: Art History
Study Away: Washington, DC
Best Adjective to Describe You: Curious
---
In 20 words or less, what is the best thing about being part of this department?
The best thing about the Economics Department is that it consists of faculty mentors who are great academics, pedagogical mentors, resourceful instructors, and scholars who always encourage students to participate in every activity.
What is your biggest piece of advice to first years and sophomores about getting connected to this department?
Be curious. Ask many questions as you learn. Do not be afraid of saying that you do not understand some of the material. Be proactive. Ask always for feedback.
What is the most valuable thing you've learned at K?
Success comes from hard work and curiosity.
What has been your favorite class at K?
ECON306: Intermediate Macroeconomics, ECON360: Econometrics and Math265: Intro to Data Science. I have been always eager to learn the quantitative aspect of the Economics. Since we live in a data driven world, I had the chance to learn the important steps to analyze the insights behind every data set.
How have you taken advantage of the open curriculum or experienced breadth in your education?
I have always been passionate for taking many different academic courses during my educational growth here at K. The Liberal Arts environment has opened many opportunities to take not only Economic classes but also classes in the Art History, Political Science, Theatre and French departments.
What experiential education opportunities have you participated in?
During the past two summers, I got the chance to be more engaged in the local communities here in Kalamazoo through the Community Building Internship program offered by the Center for Civic Engagement. During the summer 2021, I was interning as a Program Development Intern at Kalamazoo Youth Development where I had the chance lead a youth advocacy initiative. During my previous summer, I had the chance to work for the City of Kalamazoo at their Community Planning and Economic Development Department as a Housing Strategy Intern. Besides my civic engagement experience, I have been also active doing my on-campus activities. During my sophomore and junior year, I have worked as a Teaching Assistant for two econ courses, Marketing Intern for the CCPD, and Reference Student Librarian.
What is your SIP?
My SIP will be experiential, based on my current summer internship at Morningstar as a Product Management Intern for one of their Licensed Data products.
What are your career aspirations/next steps after K?
On the job career level, I would like to continue my professional career in the investment research industry while in the academic aspect I see myself as a potential candidate for a doctoral degree in Economics.
What is a random fun fact about you?
I have been playing guitar for 10+ years. I love reading books, academic papers and listening to podcasts…. and watching Breaking Bad.