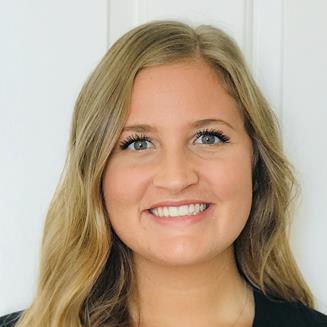 Caryn Hannapel
k16ch02@kzoo.edu
Hometown: Middleville, Michigan
Majors: Economics, Political Science
Study Abroad: Perth, Australia
Best Adjective to Describe You: Compassionate
---
In 20 words or less, what is the best thing about being part of this department?
The best thing about being a part of the Economics department is the broad array of topics that professors specialize in. Because our department is so large, with both Economics and Business majors, we have access to professors with a variety of interests, which in turn can help us find our own niches.
What is your advice to first years and sophomores about getting connected to this department?
Don't be afraid to ask questions and try something new! I think the best way to get connected in our department is to take a variety of intro level courses to expose yourself to new topics and the professors that teach them. Getting to know our professors is the best way to learn about what's going on.
What is the most valuable thing you've learned at K?
The most valuable thing I have learned at K is to manage my time efficiently. K's culture can be very intense when it comes to academics, many extracurricular activities, and other obligations. Balancing these commitments is difficult, but remember that having fun with friends is an important thing to do too!
What has been your favorite class at K? Why?
It is really difficult for me to pick one class… If I had to pick, "Economic Development & Growth" with Dr. Hultberg and "Law & Economics" with Professor Stull. Both classes exposed me to new ways of thinking and new topics that I am interested in. Economic Development incorporated many issues, including health, education, political and legal institutions, and the role they play in the development of countries. Law and Economics also reaffirmed my decision to go to law school in the future.
How have you taken advantage of the open curriculum or experienced breadth in your education?
The opportunity to explore a variety of areas at K is something that should not be taken for granted! By taking courses in a variety of departments, such as Philosophy and ANSO, I have been exposed to areas I did not realize that I had an interest in prior to taking the classes. It is amazing to see the connection between different areas of study when trying to understand certain concepts!
What experiential education opportunities have you participated in?
Prior to becoming a DSA, I have been a consultant at the Kalamazoo College Writing Center and will continue this through my senior year. I have been a member of the Kalamazoo College Council of Student Representatives (KCCSR) and served as the Communications Chair. I am a student representative on the Community Council and Educational Policies Committee (EPC), which involves providing staff and faculty with a student perspective. While studying abroad, I also had the opportunity to intern with Curtin University's Advancement team and Curtin University Stadium doing marketing.
What is your SIP?
My SIP will analyze how the Kalamazoo Promise has been utilized as a promise-type scholarship program in order to inspire economic development in local communities. I hope to understand potential underlying factors that contribute to different demographic groups' outcomes in attendance and degree completion. I will be interviewing members of the Promise Board, researchers at the Upjohn Institute, past and present school board members, teachers, students, and parents of students that have experienced the impact of the scholarship in some way, in order to gain a deeper understanding.
What are your career aspirations/next steps after K?
After K, I plan to continue my education. I am currently studying for the LSAT and will be applying to law schools this year. My goal is to become a lawyer and deal with cases involving businesses, where I can apply the valuable things I have learned from my time at K as well. I hope to make a positive difference in people's lives.