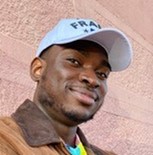 Chilotam Urama
(he/him/his)
k19cu01@kzoo.edu
Hometown: Nigeria
Major: Economics
Study Abroad: France (Strasbourg)
Best Adjective to Describe You: Positive
---
In 20 words or less, what is the best thing about being part of this department?
Through the classes and activities offered, the Economics department instills in students well-rounded approaches to viewing the world.
What is your advice to first years and sophomores about getting connected to this department?
Assume that you know nothing and with an open mind, give Economics a chance to take you by the hand and lead you into its never-ending wonders.
What is the most valuable thing you've learned at K?
If you really want it, you can have it.
What has been your favorite class at K? Why?
I have enjoyed many of my classes, but I really enjoyed taking Econ and Law with Charles Stull. I thought it was interesting to interpret our policies and laws from an Economists standpoint.
How have you taken advantage of the open curriculum or experienced breadth in your education?
I am an Economics major, yet in my three years of studying at K, I have been able to take classes from many other seemingly unrelated disciplines like Psychology, Music, Political Science, English, etc. It's always been fascinating to me how I am still able to apply some of the ideologies from my Economics classes in these other classes, and vice versa.
What experiential education opportunities have you participated in?
As a freshman, I was part of the student government. I also tutored at Woodward elementary school. As a sophomore, I became a Resident Assistant, the Vice president of Kalama-Africa (an organization for African and Caribbean students on campus). During the summer, I interned as a Life Belonging Specialist at Goodwill Industries. Junior year, I continued as an RA, became the President of Kalama-Africa, and a Teaching Assistant for Microeconomics. I also got an internship with Nomura Securities- an investment bank in New York – and a Place-Based Policies Internship position at the Upjohn Institute.
What is your SIP?
I am currently a Global markets summer analyst intern at Nomura. My SIP would be a summary of my learnings and experience here.
What are your career aspirations/next steps after K?
Right after graduating, I intend to work in sales and trading of an investment bank. In the long run, I intend to get a team together and startup a business.
What is a random fun fact about you?
I sing!