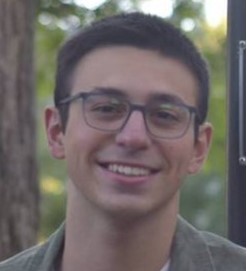 Mihail Naskovski
(he/him/his)
k18mn01@kzoo.edu
Hometown: Skopje, Republic of North Macedonia
Majors: Economics and International & Area Studies
Study Abroad: Lyon, France
Best Adjective to Describe You: Curious
---
In 20 words or less, what is the best thing about being part of this department?
The department's professors have been resourceful instructors, dedicated mentors, and motivated scholars who spark a deep collaboration with a student.
What is your advice to first years and sophomores about getting connected to this department?
Always feel free to reach out to faculty whenever you are curious to learn something more, and of course… I am always here for your questions!
What is the most valuable thing you've learned at K?
Adapt and thrive, even during a worldwide pandemic. The virtual teamwork with students during classes, the academic growth from the deep cooperation with faculty, and the active civic engagement work in the community enabled me to learn how to stay creative and resilient in times of changes.
What has been your favorite class at K? Why?
Favorite classes have changed with every new area of interest I have had so far at K, so I will present one area now. As I was extremely curious to learn more about global, regional, and national macroeconomic processes, the classes on Economics of Development and Growth, International Trade, and Fiscal and Monetary Policy have been some of my many favorite academic experiences.
How have you taken advantage of the open curriculum or experienced breadth in your education?
With the opportunity of an open curriculum, my interest for global economic processes and development has been broadened by my second major, International & Area Studies. I have taken classes that have closely looked on international relations, intergovernmental political and economic systems, development policies and their impact on local communities around the world… I have been also learning French and I will go on a study-abroad program in Lyon, France.
What experiential education opportunities have you participated in?
I have been constantly involved in the work of the Center for Civic Engagement as one of the Civic Engagement Scholars for coordinating the Woodward Elementary Tutoring Program. I have been part of K's Community Building Internships Program for three summers now. During my first summer, I was an intern in Kalamazoo Loaves and Fishes, a non-profit food bank organization that aims to reduce the food insecurity present in the Kalamazoo area. I spent my previous summer interning in the Kalamazoo Youth Development Network, where I coordinated the organization's food equity strategies, planned youth advocacy events, and supported implementing the organization's Summer Learning Program Quality Assessment. In summer of 2021, I am interning in Foundation for Excellence, where I focus on researching Child Savings Account programs and other aspirational community projects relevant to the Foundation's goal of improving the communities in Kalamazoo.
What is your SIP?
Econometric research about the macroeconomic impact of remittance inflows in the developing world.
What are your career aspirations/next steps after K?
Even though I do not have a concrete path of career steps, as a future economist I would like to use my knowledge and experience from the field to participate in the process, taken by also many other individuals, for realizing how the economy can help a society undergo an ecologically sustainable, socio-economically inclusive and just development.