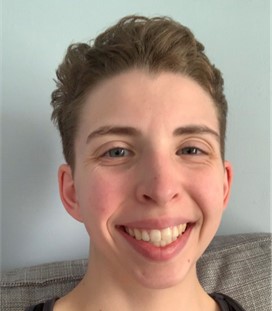 Jordan Gray
k17hg01@kzoo.edu
Hometown: Quincy, Massachusetts
Major: East Asian Studies
Study Abroad: Beijing
Best Adjective to Describe You: Quirky
---
In 20 words or less, what is the best thing about being part of this department?
It's small, so I've gotten pretty close with the profs and other students!
What is your advice to first years and sophomores about getting connected to this department?
Take a funky class if you have space! If you don't have space and have chutzpah, chat up a prof or one of the students. If you don't have chutzpah but have time, look up the book lists for the lit or history classes and read one of them! Something will light a fire in you!
What is the most valuable thing you've learned at K?
Passion and drive are important, but they're certainly no substitute for balance! Take a nap! Get to know your profs and your classmates! The books will still be there when you get back, I promise!
What has been your favorite class at K? Why?
Umm, geez. That's not fair. 20th Century Urban China was really good! But honestly, I'd probably have to go with Occupiers and Occupied in East Asia with Dr. Frost.
How have you taken advantage of the open curriculum or experienced breadth in your education?
Oh, I've taken so many classes outside of my major, just because I could. I've taken some CGHL courses, a computer class, WGHS course, a couple of history courses… I really don't feel like I've been stuck in my major at all.
What experiential education opportunities have you participated in?
I'm the president of the MMA club (hit us up!!!), but I don't do a whole lot other than that, which is honestly a shame. I really wish I'd been more engaged on campus, but I also feel really strongly about not burning out, so rock and a hard place, I guess.
What is your SIP?
I don't have a title yet, but it's going to be on the accessibility of rebuilding post-disaster in 20th century China! I'm very excited!!!
What are your career aspirations/next steps after K?
Ooph, well that's a hard question. COVID really got us all, didn't it?