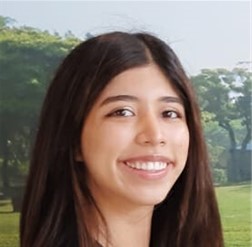 Angela Hernandez
(she/her/hers)
k19ah01@kzoo.edu
Hometown: Brownsville, TX
Major: East Asian Studies
Minor: Political Science
Study Abroad: South Korea
Best Adjective to Describe You: Determined
---
In 20 words or less, what is the best thing about being part of this department?
The advisors in this department support their advisees no matter the number of times one re-tweaks their four-year plan.
What is your advice to first years and sophomores about getting connected to this department?
Even though it may seem that completing this major might give you limited options for your future plans, getting in touch with the head of department and reaching out to the CCPD will help you realize that there are many opportunities out there.
What is the most valuable thing you've learned at K?
While being at Kalamazoo, I have learned to constantly think outside of the box whether it is how to tackle assignments or creating back-up plans for potential unexpected challenges.
What has been your favorite class at K? Why?
Taking the Manga/Anime & Gender Mod. Japanese course was not only enjoyable, but it also allowed me to learn about Japanese society's social and political issues over the decades through a creative format.
How have you taken advantage of the open curriculum or experienced breadth in your education?
Not knowing at the beginning of freshmen year what I wanted to study was overwhelming, but with the open curriculum I was able to explore what departments were not a fit and slowly found where my interests are.
What experiential education opportunities have you participated in?
I was able to study in South Korea for sixteen weeks during the Spring term my junior year.
What are your career aspirations/next steps after K?
After K I hope to be able to do a fellowship in South Korea to apply the skills obtained from my courses and fall internship.
What is a random fun fact about you?
I can change my voice to sound like Stitch or the tomato character from Veggie Tales.