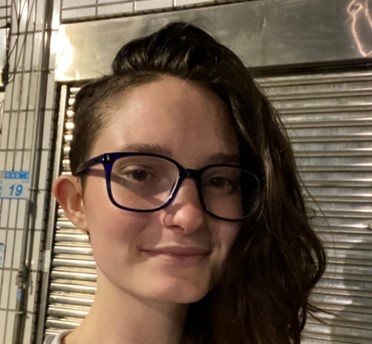 Indigo Corvidae
(she/her)
k20ic02@kzoo.edu
Hometown: Detroit, MI
Major: East Asian Studies
Minors: Mathematics and Studio Art
Study Abroad: Taiwan
Best Adjective to Describe You: Ineffable
---
In 20 words or less, what is the best thing about being part of this department?
The friends I've met and the way it changes the way I view the world.
What is your biggest piece of advice to first years and sophomores about getting connected to this department?
Since K has many courses that are taught every other year, I would make sure to check which of the electives you are most interested in and prioritize them as you may only have one chance to take them because of going abroad or other time conflicts.
What is the most valuable thing you've learned at K?
Take all of the opportunities you can. If you have a chance to study abroad, do it. If you have a research idea, or a project you want to do, apply for funding. If you don't know if something is possible, reach out to your teachers, advisors, and fellow students. There's no harm in trying even if you're not sure it'll work and we're all here to support you.
What has been your favorite class at K?
I think my favorite class has probably been Modern Japanese Literature in Translation with Dr. White. It was a fun class with unique engaging projects and the readings really opened my eyes to how much the way we view the world has changed over time and how drastically literature interacts with and affects changes in the world.
How have you taken advantage of the open curriculum or experienced breadth in your education?
I am an East Asian Studies major and have a Statistical Mathematics and a Studio Art minor. I've tried to explore all of the areas I'm interested in. I've made time so that I can also explore other subjects in my senior year.
What experiential education opportunities have you participated in?
For me, the biggest one has probably been working at K's library in the Archives and the Rare Book Room. I will also have an internship Fall 2023. I also have worked in the leadership of Cirque du K and the Chinese Language and Culture Club.
What is your SIP?
I am doing research on bookbinding and book history in East Asia. I will be hand binding several books and putting together an exhibit in the Rare Book Room based on my research.
What are your career aspirations/next steps after K?
I would love to go into bookbinding professionally. I'll try to take opportunities towards that end for a few years while I figure out the best next steps afterwards.
What is a random fun fact about you?
I'm a crafts person. I have dabbled in so many different hobbies: crochet, knitting, sewing, bookbinding, embroidery, painting, etc. … If you ever want a new hobby or need suggestions on where to start, feel free to reach out to me. I've probably got some materials or advice on how to start or would just love to spend time with other crafters!