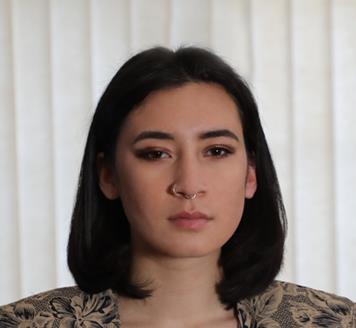 Hanna Jeung
k16jj04@kzoo.edu
Hometown: Clarkston, Michigan
Majors: Philosophy, WGS
Minor/Concentration: History, Critical Theory
Study Abroad: Bonn, Germany
Best Adjective to Describe You: Perspicacious
---
In 20 words or less, what is the best thing about being part of this department?
The comradery for systematic change.
What is your advice to first years and sophomores about getting connected to this department?
Don't let the words sit on the page. Bring them to the streets. Bring them beyond academia. Critical Theory bloomed from praxis and must continue to be ground in our material and historical reality. As an interdisciplinary education, it's best learned in conjunction with field experience, organizing, and volunteering.
What is the most valuable thing you've learned at K?
Academic language and buzzwords won't save us. Learn for those who cannot, and then disperse the knowledge to them.
What has been your favorite class at K? Why?
Art and Gender. The class is what first infatuated me with Critical Theory, articulating relationships between gender, sexuality, race, imperialism, and the nation State. It gave me words for truths I've long felt. Space, architecture, motifs, and images carry a history which will transform how you experience them.
How have you taken advantage of the open curriculum or experienced breadth in your education?
I've only been able to obtain such an interdisciplinary and personalized education (of my burning questions) because of the open curriculum!! It allowed me to take political science, German, antiquity, art history, history, East Asian studies, WGS, and philosophy courses. It's enthralling to see the different curriculum interweave and respond to each other. Critical Theory demands you master multiple methodologies, connecting questions of oppression and liberation across and beyond classrooms.
What experiential education opportunities have you participated in?
Asian and Pacific Islander Student Association VP, Campus Racial Climate qualitative researcher and coder, Eliminating Racism and Celebrating/Claiming Equality, Gender Equity Department sex educator, History Department researcher, Psychology Department researcher, Lansing State Representative intern, UN Women volunteer, National German Women's Art and History Museum intern, SRF civic engagement, environmental justice ballot initiative organizer, Philosophy TA
What is your SIP?
My philosophy SIP will integrate Lacanian psychoanalysis with Franz Fanon's decolonization analysis to grapple with the legal re/production of the Asian American diaspora.
What are your career aspirations/next steps after K?
After K, I plan to enter a joint PhD and JD program for critical race theory and immigration law. As well, if I'm ever satisfied with my words, I intend to send out my fermenting poetry for publication.