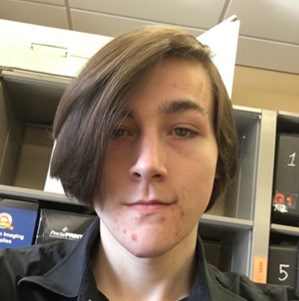 Max Fitzell
k17mf04@kzoo.edu
Hometown: Plainwell, Michigan
Majors: Philosophy and Political Science
Concentration: Critical Theory
Study Abroad: Bonn, Germany
Best Adjective to Describe You: Skeptical
---
In 20 words or less, what is the best thing about being part of this department?
Critically examining the oppressive institutions of society and government that we assume we're stuck with – WE AREN'T; THEY CAN CHANGE!
What is your advice to first years and sophomores about getting connected to this department?
Actually attend office hours.That's the one thing I really wish I would have done more of during my first two years at K. When you're a freshman it can feel a bit nerve-wracking to talk to your professors one-on-one, but letting your professors get to know you is one of the best parts of the K experience and can really create a lot of opportunities for you, both in that department and in terms of post-K career prospects.
What is the most valuable thing you've learned at K?
The most valuable thing that I learned at K has been how to articulate and intelligently express my opinions in open dialogues. K College has many events and forums on campus, often student organized, that are intended to start a dialogue on some important issues. You can really grow by attending these, genuinely listening to others, and learning how to articulate your own view appropriately. So that… or Kant's 'Transcendental Deduction of the Categories' – that's pretty neat too.
What has been your favorite class at K? Why?
18th Century Philosophy. Who doesn't love Kant's Critique of Pure Reason, am I right? I really KANT say anything bad about the course! Seriously though, having an entire course dedicated to analyzing what is arguably the most influential philosophical text ever written was great because it showed me the process of really engaging with and struggling with a text.
What experiential education opportunities have you participated in?
During my sophomore year, I lived in a living-learning house. This enabled my housemates and me to coordinate events around campus relating to anti-capitalism and social justice – the two really do go hand in hand. Also, I worked as an intern for the City of Chicago Department of Buildings after my sophomore year, which will hopefully be the springboard to a career in government (never a politician though).
What is your SIP?
Here's the question I want to answer: Given that external, identity-constituting factors are seemingly present in all domains of life and contribute largely to the construction of individual subjects – be they through the psychoanalytic concept of the Other or socio-historical forces of power impressing upon the subject's behavior – to what extent and how, if at all, are we able to actively engage, or exercise our agency, in the self-construction of our subjectivities or identities?
What are your career aspirations/next steps after K?
Your guess is as good as mine! I would like to try to get another summer internship in a governmental office – hopefully in D.C., but probably in Lansing – immediately after graduation. I will then urgently scour the public sector job market for anything before my student loan grace period wears off… some real high stakes stuff.