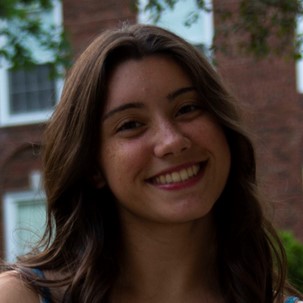 Josephine Hosner
k17jh01@kzoo.edu
Hometown: Vicksburg, Michigan
Majors: Mathematics and Computer Science
Minor: Chinese
Study Abroad: Shanghai, China
Best Adjective to Describe You: Thoughtful
---
In 20 words or less, what is the best thing about being part of this department?
The CS department is a very uplifting community of students and faculty who want each other to succeed in CS and in life.
What is your advice to first years and sophomores about getting connected to this department?
Getting stuck and falling behind with homework can be a lonely, disheartening experience. My biggest piece of advice to students is, if you find yourself in this position, ask for help! Professors and Teaching Assistants are excited to get to know students and are more than happy to help you. Furthermore, the Collaboration Center is not only a great place to receive help, but it is a good opportunity to meet other CS students.
What is the most valuable thing you've learned at K?
The importance of having confidence in and staying true to yourself, even in the face of adversity.
What has been your favorite class at K? Why?
Probability and Data Structures have been my two favorite classes. I liked Probability, because I like the idea of calculating the likelihood of certain events, sometimes in a clever way. I liked Data Structures because I love to code. It was in this class that I really felt myself improving as a programmer.
How have you taken advantage of the open curriculum or experienced breadth in your education?
During my freshman year, I took a variety of courses to decide which topics I wanted to focus on and pursue in the future. I also take various language courses for fun when I have space in my schedule.
What experiential education opportunities have you participated in?
I have been a volunteer for Girls Who Code and Sisters in Science. I am a Computer Science Teaching Assistant at K, and I was a web-development intern last summer (2019) in Shanghai, China.
What is your SIP?
I am not sure what exactly my SIP will be as of now. It will involve my summer internship experience as a software developer.
What are your career aspirations/next steps after K?
I would like to continue my education and go to graduate school for something within the fields of math and/or computer science. I would like to have a career related to those fields.