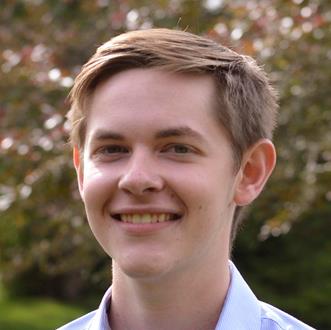 Josh Gibson
k16jg02@kzoo.edu
Hometown: Mattawan, Michigan
Majors: Computer Science, Music
Study Abroad: Quito, Ecuador
Best Adjective to Describe You: Focused
---
In 20 words or less, what is the best thing about being part of this department?
The Computer Science faculty are really helpful and CS students love helping each other learn new skills and concepts.
What is your advice to first years and sophomores about getting connected to this department?
Go to collaboration center hours! You'll get a chance to meet and work alongside CS majors and minors from all years.
What is the most valuable thing you've learned at K?
One of the most valuable things I've learned is how to manage my time. It's easy to find a lot of different things to commit your time to. Learning how to balance them and pick them wisely has been an important skill.
What has been your favorite class at K? Why?
I really enjoyed my Software Development class. The course was project based so we split up into teams and got to spend the majority of the quarter building a working prototype for a local non-profit. It was really enjoyable to plan out a project and a final project by the end of 10 weeks.
How have you taken advantage of the open curriculum or experienced breadth in your education?
The open curriculum has not only allowed me to have two majors (CS and Music) but has allowed me to take various classes outside of both disciplines and study abroad in Quito, Ecuador.
What experiential education opportunities have you participated in?
In my Software Development class, we planned out a project in collaboration with Kalamazoo Loaves and Fishes. Being a member and student leader of the Kalamazoo College Model United Nations club has also taught me a lot about public speaking, presenting, and leading.
What is your SIP?
For my SIP, I am building a web application that will be a rehearsal tool for musicians. I am very excited to be able to use skills from both of my majors.
What are your career aspirations/next steps after K?
After graduating, I hope to work as a software developer in a potentially music adjacent role.