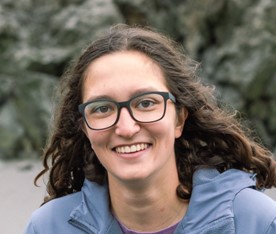 Kate Haywood
(she/her/hers)
k19kh02@kzoo.edu
Hometown: Hastings, MI
Majors: Computer Science and Biology
Best Adjective to Describe You: Adventurous
---
In 20 words or less, what is the best thing about being part of this department?
Everyone in the Computer Science Department is incredibly welcoming and helpful.
What is your advice to first years and sophomores about getting connected to this department?
Come to Tea Time and the CS Collaboration Center to make friends and get extra help if needed! I really have enjoyed my time with everyone in the department.
What is the most valuable thing you've learned at K?
If your plans or opportunities change, either by choice or not, make the best of it and try new things! I have found some of my most valued experiences through trying different and unexpected things.
What has been your favorite class at K? Why?
It's pretty difficult to pick, but one of my favorites was Science and Social Justice my first year. We had an amazing classroom community. I really enjoyed forming friendships with fellow classmates.
How have you taken advantage of the open curriculum or experienced breadth in your education?
I have and truly enjoyed all of the different classes I have taken. I actually didn't take a Computer Science class until the spring term of my first year. I took Computer Science 107 Pictures and Sounds initially as a breadth class, then decided that I enjoyed it enough to major in it!
What experiential education opportunities have you participated in?
I have participated in the following: Student Conservation Association internship at Arches National Park, YMCA of Barry County community outreach programs, Teaching Assistant for the CS Department, Swim for Success and Sisters in Science.
What is your SIP?
I am doing a 1-unit summer SIP. The SIP will include a write up of my internship at Arches National Park through the Student Conservation Association.
What are your career aspirations/next steps after K?
No clue! At this point, I really enjoyed working for the National Park Service and would like to continue. I am also considering going to graduate school in the near future.
What is a random fun fact about you?
I have been to all 50 states!