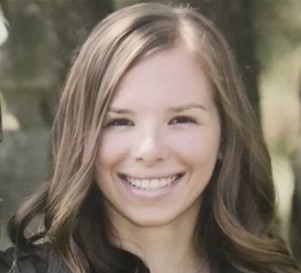 Marissa Lewinski
(she/her/hers)
k18ml03@kzoo.edu
Hometown: Shorewood, Illinois
Major: Computer Science
Minor: Mathematics
Best Adjective to Describe You: Determined
---
In 20 words or less, what is the best thing about being part of this department?
It's a relaxed department with both compassionate and enjoyable professors, and reliable peers that are always there to assist you.
What is your advice to first years and sophomores about getting connected to this department?
Don't be afraid to reach out to anyone here! I can promise that we aren't scary; everyone in the computer science department (including the professors) is laid back and we are always willing to answer any questions you have. Don't be afraid to try it, either. Computer science is scary at first, but there are a variety of tools to help you learn. I took my first CS course with 0 previous experience since they had never been offered at the small private school I went to. Don't be afraid to try something new! This last bit can go to any field: don't get discouraged if it's hard. You're learning. It's going to be hard. Be patient with yourself and do your best to have fun with it!
What is the most valuable thing you've learned at K?
I went to a private high school where teachers would often call you stupid, or get frustrated with you when you asked for help. If you were struggling, it was your fault because obviously you were not paying attention. Because of this, I think the most valuable thing I learned at Kalamazoo is that it's okay to ask for help. It's okay to struggle. The professors that I have encountered at Kzoo have been nothing less than patient and happy to help me in whatever I needed. I have always struggled with math and computer science did not come easy to me. Imagine thinking that you could figure it out on your own and the pride you feel when you do, only to realize that what took you 4 hours on your own could have been done in 20 minutes with a professor or even a colleague of yours. If you've always been the kind of person to not ask for help, I'd advise you give it a shot. It's okay if you don't understand it on your first try. I think this is why I love the computer science department so much.
What has been your favorite class at K? Why?
I have taken a LOT of awesome courses at Kzoo and it's hard to choose which one I love most. Non-CS related, I think it has to be my sophomore seminar, Romans R Us. Small story: I had been wanting to go on study abroad, but was too nervous about going and I felt stressed about the number of classes I needed to take. I would have been fine! I was anxious. Ultimately, didn't think I was going to even apply. The professor (whom I absolutely adore and I wish I had been able to take more classes with before she retired) eventually convinced me to apply. I got in but Covid came. I decided I wasn't meant to go anyway. Not only did she manage to convince me to apply, she also had a relaxing class environment and loved to have fun.
How have you taken advantage of the open curriculum or experienced breadth in your education?
I adore psych classes. I've learned that I also really enjoy classics classes. I was thrilled to be able to freely add these into my schedule at my own leisure! I have also been taking CS courses since freshman year. I came to K unsure of what I would major in and decided to try a psych course and a computer science course my first term. Being able to choose what I want helped me to figure out what my major would be, and it also saved me from taking classes that I normally wouldn't be as interested in.
What is your SIP?
I am programming a video game on my own. I will be spending the summer working on both the digital art aspect, as well as the actual coding aspect of said game. I want it to be stardew valley-like style wise, but in my own universe in which you can do a lot more. I think stardew-valley + sims mixed would be a good way of putting it, although that might be a bit too ambitious for me to do on my own. It will definitely not be completed by the time I turn it in, but I will have something to show for it, and I will likely try to get it finished even after I graduate, since I'm already rather excited with how the art pieces have been turning out.
What are your career aspirations/next steps after K?
My current plan is to go to another university to get my master's degree in some computer science field. I think that I am going to try to go into the video game field, but if that doesn't work out for any reason, I might try to go into computer security or even app development. There is an internship for graduated college students with the FBI relating to that field. I want to apply to that internship and see what the job would consist of doing. I also really enjoyed the mobile computing class that was taught my junior year. I can see myself doing something with the UI. Honestly, everything is up in the air right now and I'm not entirely sure what the future will hold. I do know that there will be a lot of opportunities for me once I graduate! I just want to find a good job that I'll also enjoy.