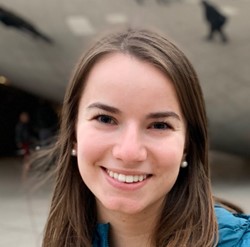 Elle Ragan
(she/her)
k19ir01@kzoo.edu
Hometown: St. Louis, MO
Majors: Classical Civilization and Religion
Minor: Latin
Best Adjective to Describe You: Compassionate
---
In 20 words or less, what is the best thing about being part of this department?
How passionate everyone is about the study of Classics and how friendly everyone is!
What is your advice to first years and sophomores about getting connected to this department?
Ask about outside experiences you can be involved in and start taking your languages early.
What is the most valuable thing you've learned at K?
To not take yourself too seriously –– life is more fun when you put yourself out there to do fun things you wouldn't otherwise do because of a fear of judgment!
What has been your favorite class at K? Why?
From Alexander to Constantine. It was my first Classics and Religion course ever during the fall of my freshman year. I was the only freshman and I was terrified. Everyone ended up being super friendly and I had multiple older students take me under their wing. It really showed how kind and welcoming everyone at K is, and the class itself was fascinating. That's when I knew I wanted to study both Classics and Religion!
How have you taken advantage of the open curriculum or experienced breadth in your education?
I have taken a variety of classes outside of my intended major, from Art History to Anthropology. I love how there's so many cross listed classes, so you can step out of your comfort zone slowly. I became a Religion major by taking a Classics course that was cross listed with a Religion course. It's so easy to try new things at K!
What experiential education opportunities have you participated in?
Steel Partners Communications Internship (Summer 2022), Building Blocks volunteer work, President's Student Ambassador (2022-2023)
What is your SIP?
My SIP is on Divinatory/Prophetic material culture within modern religion and spirituality.
What are your career aspirations/next steps after K?
I plan on either continuing on in academia, heading to Law School, or continuing with Communications. I have a summer full of informational interviews and an internship to help me decide!
What is a random fun fact about you?
I love mystery novels and tv shows!