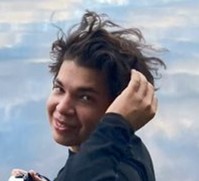 Egan Vieira
(he/him/his)
k19ev02@kzoo.edu
Hometown: Lansing, MI
Major: Economics
Minor: Mandarin
Best Adjective to Describe You: Chaotic
---
In 20 words or less, what is the best thing about being part of this department?
As with anything incredibly challenging, once you get the hang of it, the language is incredibly rewarding.
What is your advice to first years and sophomores about getting connected to this department?
Go to office hours and practice Mandarin with anyone who wants to. I suppose that's very cliché advice, but the truth is nobody actually goes to office hours and it makes a difference.
What is the most valuable thing you've learned at K?
To be more social and outgoing. Embracing small interactions and encounters is important and you should make the most of them. Making friends only gets harder the older you get and you never know where that brief conversation you had with someone might lead to down the road.
What has been your favorite class at K? Why?
My sophomore seminar Combat, Conflict, and International News. Mark McDonald is an amazing professor who has designed an incredibly interesting course. The material was incredibly interesting and designed in a very atypical way. Mark is focused on not only making sure you learn and become a better writer, but also a better person. It was a breath of fresh air from most current academic trends with hyper fixation on assignments and grades. Learning and enjoyment was paramount, which is something I appreciated greatly. I never felt like I was actually in class when I was in that class.
How have you taken advantage of the open curriculum or experienced breadth in your education?
I haven't taken advantage as much as I would like to, as I transferred and I am still trying to get up to speed with all things K. So far, I have been trying to find classes outside of my major that I can pursue to explore my interest and passing fascinations, such as photography and fashion. It also makes life a bit easier for me in a way. Even though it's more work, I can take breaks from studying for thinking about my core classes with my classes for breadth, as I try to focus on things I am incredibly passionate or curious about.
What experiential education opportunities have you participated in?
I completed an 8-month fellowship with the National Outdoor Leadership School before transferring to K. Between participating in the Student-Trustee conversation and accepting this position, they are my first leadership positions within the school. I tend to do a lot of civic engagement in my free time through volunteer work with youth organizations such as the boys and girls club.
What are your career aspirations/next steps after K?
I am most likely going to take some time off then continue doing some seasonal work such as international tour guiding or teaching English abroad. Ultimately, I would like to become involved in the luxury goods/high fashion industry. I am hoping to use my experience at K to get into the industry as the Chinese middle class is the largest consumer of luxury goods in the world.