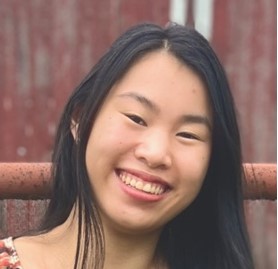 Zoe Gurney
(she/her)
k19zg01@kzoo.edu
Hometown: Ann Arbor, MI
Major: Economics
Minors: Chinese and Math
Concentration: Community & Global Health
Study Abroad: Costa Rica
Best Adjective to Describe You: Playful
---
In 20 words or less, what is the best thing about being part of this department?
All the professors in this department are so friendly and passionate about what they teach.
What is your advice to first years and sophomores about getting connected to this department?
All the classes taught by the professors in this department are interesting. Both professors are wonderful people and amazing instructors. The cultural classes taught in the Chinese department are so interesting; some are only offered occasionally, so if you see a course that interests you, take it!
What is the most valuable thing you've learned at K?
Push yourself to be your best, not somebody else's best.
What has been your favorite class at K? Why?
My favorite class at K has been Dr. Leihua Weng's CHIN-300 Advanced Chinese class. I've taken the class twice already and will take the class for a third time in Fall 2022 since this class can be retaken up to three times for credit. Dr. Weng is such a kind, considerate, passionate professor who is genuinely interested in her students and conveying knowledge.
How have you taken advantage of the open curriculum or experienced breadth in your education?
The open curriculum allows me to take classes that I am interested in across a variety of fields rather than be forced to endure general education classes that have nothing to do with my personal or academic interests. This allows me to play to my strengths and be my best rather than someone else's best.
What experiential education opportunities have you participated in?
In the Summer of 2020, I participated in two summer internships based in Memphis, TN regarding youth and early childhood health and education. Currently, I am one of the co-leaders for Sukuma OU, and I will begin my duties as a choreographer for the Kalamazoo Dance Team (KDT) starting in Fall 2022.
What is your SIP?
I am expanding a course paper I completed in the Winter of 2022 from ECON-360 Econometrics. My paper investigates the impacts the One-Child Policy had on Chinese population trends from the 1960 until 2010 to observe the degree of "success" the policy had on controlling (e.g., decreases in fertility rate and birth rate), as well as any unintended consequences the policy led to, such as sex selection with a preference for male over female children, increased migration from rural to urban population, and an increase in the age-dependency ratio of elderly people.
What are your career aspirations/next steps after K?
After graduating from K, I plan on pursuing an M.S. in Biostatistics. I apply to grad schools this fall and await to see where I'll be in the future.
What is a random fun fact about you?
I love bubble tea with all my heart, but I prefer to drink fruit slushes or fruit punches without actual tea in them.