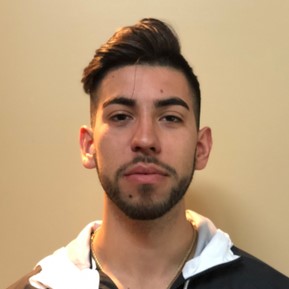 Daniel Mota-Villegas
k17dm01@kzoo.edu
Hometown: Long Beach, California
Majors: East Asian Studies, Political Science, Psychology
Study Abroad: Tainan, Taiwan & Beijing, China
Best Adjective to Describe You: Ambitious
---
In 20 words or less, what is the best thing about being part of this department?
Challenging oneself to learn one of the most difficult languages builds long lasting friendships between students and professors.
What is your advice to first years and sophomores about getting connected to this department?
It was a bit nerve racking to enroll in a Chinese class my first year because I had no idea of what to expect and since all my Latino friends took Spanish or French instead. At K, we have the opportunity to explore any interests we have (get your K-Plan), so don't let your predispositions, family or friends prevent you from taking classes or participating in clubs you are interested in.
What is the most valuable thing you've learned at K?
Networking, Networking, and Networking. Make friends with everyone in every department. Baristas in the Book Club, RAs and Area Coordinators in Res Life, staff in Dining Services, people in the CCPD and CIP, etc. These friendships and relationships will let you access greater resources to achieve your goals and support others.
What has been your favorite class at K? Why?
The First-Year Seminar: Life with Two Languages has been my favorite class at K because it explored the dynamics of growing up with two languages. Learning about the ways Spanish and my Mexican culture affect my identity and the ways I am perceived in society was valuable. If y'all speak two or more languages, I highly recommend it.
How have you taken advantage of the open curriculum or experienced breadth in your education?
I came into college with a plan to study psychology and go to grad school for forensic psychology. Although, I also was interested in philosophy, politics, and Chinese so I took courses in these fields and my career and plans for my future changed. Make sure you take classes that cover material you're interested in early on because you might think you know what you want to do until you take a class that makes you change your mind! Like, why am I the DSA for Chinese? I could not have told you in high school that I wanted to learn Chinese, so follow your instincts. My homie was set on a chemistry major, but he also has a soft spot for history, so he double majored. Everything is possible! Talk with your advisor and upperclassmen and fit those classes in your K-Plan, that's why people come to K!
What experiential education opportunities have you participated in?
Taiwan-US Sister Alliance Global Ambassador, Resident Assistant, Men's Soccer Team, President Student Ambassador, Goodwill Adult Literacy Program CES, Afro Fiesta Desi Sol (AFDS) Committee Manager, K Baile Co-Founder, The Space Treasurer, Long Beach City Prosecutor Office Intern
What is your SIP?
My SIP will investigate a Taiwan perspective of the Cross-Strait relationship between Mainland China and Taiwan by conducting qualitative interviews with Taiwanese college students. Interviews will be conducted in Mandarin Chinese and focus on the current COVID-19 pandemic to speculate future developments of the Taiwan-China relationship.
What are your career aspirations/next steps after K?
I plan on returning to Taiwan or Mainland China to attend graduate school for a degree in Cross-Strait relations.