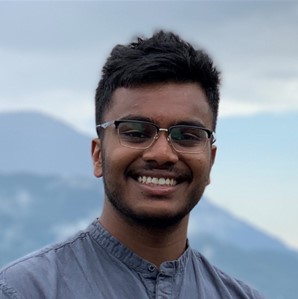 Avika Jayatilaka
k17aj01@kzoo.edu
Hometown: Portage, Michigan
Major: Chemistry
Concentration: Biochemistry
Study Abroad: Perth, Australia
Best Adjective to Describe You: Collaborative
---
In 20 words or less, what is the best thing about being part of this department?
The professors, every professor in the chemistry department is supportive, welcoming and always willing to give advice.
What is your advice to first years and sophomores about getting connected to this department?
Attend the multitude of events such as alumni talks, SIP presentations and the Dow Open while also joining groups such as American Chemical Society (ACS), Higher Level Education in Dow (HLED) and SUKUMA Dow to engage with your fellow peers and meet like-minded people in the sciences.
What is the most valuable thing you've learned at K?
Collaboration and building a supportive community makes experiences in classes and extracurriculars much more rewarding.
What has been your favorite class at K? Why?
Cellular and Molecular Biology with Dr. Amanda Wollenberg. Her teaching style paired with the engaging content of the class helped me learn many new things about cells and research techniques.
How have you taken advantage of the open curriculum or experienced breadth in your education?
I've taken many biology classes as chemistry and biology often go hand in hand. I also try and take at least one non-stem class each quarter to learn new things from some of the great professors in other departments on campus.
What experiential education opportunities have you participated in?
I've participated in an internship at FFL labs in Kalamazoo, at the Australian Alzheimer's Research Foundation while studying abroad and am currently conducting organic chemistry research in Dr. Tresca's organic lab. I'm the vice president of HLED and a member on Dow Council. I also regularly TA or SI for biology and chemistry courses at K.
What is your SIP?
Determining the Antibiotic Properties of Novel Synthetic Peptoid Coumarin Hybrids.
What are your career aspirations/next steps after K?
I hope to take a gap year and do a post bac research program while applying to graduate school for biochemistry or medicinal chemistry.