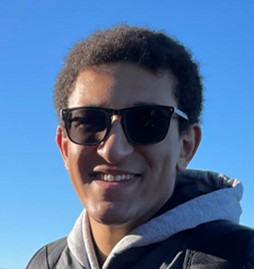 Caelan Frazier
(he/him/his)
k19cf01@kzoo.edu
Hometown: Kalamazoo, MI
Major: Chemistry
Minor: Computer Science
Study Abroad: Northern Ireland
Best Adjective to Describe You: Altruistic
---
In 20 words or less, what is the best thing about being part of this department?
The staff in the chemistry department are not only amazing at teaching and helping students, they are amazing people too!
What is your advice to first years and sophomores about getting connected to this department?
Just get to know your professors a bit. Ask questions, be interested! The more you talk to your professors, the more you can feel confident to ask about future advice or research planning.
What is the most valuable thing you've learned at K?
Go out of your comfort zone a bit! If you never go out of your comfort zone, you will never learn new things about the world or about yourself.
What has been your favorite class at K? Why?
Lighting Design: I took it during my first term ever at K and it was an incredible class. It allowed for a lot of creative freedom with designing set lighting without any help or limitations from the professor.
How have you taken advantage of the open curriculum or experienced breadth in your education?
I have been able to test the waters in a lot of different departments like theatre, philosophy, environmental studies, and more. It is because of the open curriculum that I was able to find out that I liked computer science and wanted to be able to use it in the future.
What experiential education opportunities have you participated in?
I have done research with Dr. Bartz and Dr. DAR as well as while studying abroad in Northern Ireland. I have also helped the CIP with readying students studying abroad next year in Northern Ireland.
What is your SIP?
I am doing research on photoactive complexes with Dr. DAR! I am mainly synthesizing and characterizing these complexes in the hopes that they can be useful with things like solar energy production.
What are your career aspirations/next steps after K?
After K, I hope to go to grad school and continue to study chemistry, specifically either inorganic or analytical chemistry. After that, hopefully I will be able to work in a lab to make life better for the next generations and the world!
What is a random fun fact about you?
My favorite Pokémon is Dragonair!