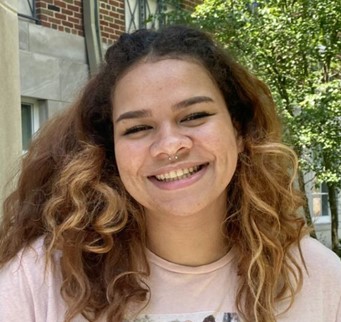 Annie Tyler
(she/her)
k18tt01@kzoo.edu
Hometown: Kalamazoo, Michigan
Majors: Chemistry and Religion
Best Adjective to Describe You: Passionate
---
In 20 words or less, what is the best thing about being part of this department?
It feels like one big family of scientists and everyone is willing to help you.
What is your advice to first years and sophomores about getting connected to this department?
Don't be afraid to talk to your professors, SI leaders/TAs, and upperclassmen. We're here to help you and we want you to feel like you have a home here at K and in the chemistry department, because you do!
What is the most valuable thing you've learned at K?
Sometimes, taking care of yourself means starting your homework, projects, or chores early… because then you can relax later instead of stressing out, and do not be afraid to reach out! Your friends, professors, and family want to help you. Don't struggle alone.
What has been your favorite class at K? Why?
My favorite class was actually my freshman seminar, Bad Religion. It was the class that made me fall in love with the field of religious studies! Learning about religion in context of other religions and out of the context of church really changes how you think about it. Seeing how it brings people together, tears them apart, and how interfaith relations operate is my favorite thing to discuss.
How have you taken advantage of the open curriculum or experienced breadth in your education?
The open curriculum allowed me to become a religion major as well as major in chemistry. I get to experience both STEM and humanities very in depth while here.
What experiential education opportunities have you participated in?
I have TAed and been an SI leader in the chemistry department across multiple classes, TAed for Form and Function, and I am part of the executive board of BSO.
What is your SIP?
I am doing antibiotic research with Dr. Williams! I am focusing on synthesizing and characterizing indole-pyrroline hybrids in hopes that they show antimicrobial activity.
What are your career aspirations/next steps after K?
I am currently contemplating grad school in chemistry or taking a gap year in order to prepare to apply to medical school. Right now, I'm very much leaning towards the latter.