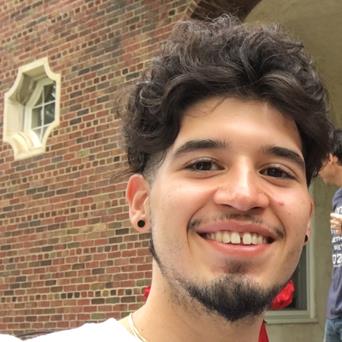 Leo Sota
k16ls02@kzoo.edu
Hometown: Chicago, Illinois
Major: Chemistry
Best Adjective to Describe You: Faithful
---
In 20 words or less, what is the best thing about being part of this department?
The support from the chemistry department has been the determining factor when deciding my major.
What is your advice to first years and sophomores about getting connected to this department?
Most professors are on our side and want to see us excel and understand what they teach, so I encourage seeing them outside of class as well to get to know them a bit more. It will make asking for help easier. I encourage students to see their professors as humans too because at times we can lose sight to that being in their classes.
What is the most valuable thing you've learned at K?
The most valuable thing I've learned at K has been the importance of community. Community is difficult to find especially being away from Chicago, so helping construct and actively engage in communities on campus has been valuable. I have met lifelong friends, created amazing memories, and met some amazing individuals from all over the world.
What has been your favorite class at K? Why?
My favorite class outside of my major was Art Entrepreneurship with Adam Schumaker. This has to be my favorite class because my passion is cooking, so the entirety of this class revolved around making a business, an online presence, and creating a portfolio for myself. I am a chemist on paper, but a chef at heart, so the final project was debuting my business idea and creating a 5-course meal for 10-12 invited guests. It was the best experience I've had in a class because it was a real-world application to something I enjoy doing.
How have you taken advantage of the open curriculum or experienced breadth in your education?
Being a chemistry major and staying on campus during the abroad period allowed me to test the waters in different disciplines on campus. The curriculum that the chemistry department has built revolves around study abroad folks, so I have been able to enjoy art and anthropology/sociology classes. For the most part, they have been enjoyable classes. I've been able to learn new interest and think critically of human behavior and consumption.
What experiential education opportunities have you participated in?
During my first year, I was able to join Latinx Student Organization (LSO) and Young Men of Color (YMC). Both of these student organizations have been vital to creating and experiencing new opportunities. LSO took a group of members to Chicago for a conference called United States Hispanic Leadership Institute (USHLI). The conference had many seminars revolving around STEM, business, and a career fair. As for YMC, it has brought a lot of growth to me. It has been a platform for me in terms of leadership because I have now had 2 years on the executive board and going on to the third. YMC has given me new experiences that are resume builders, but I never saw it until someone pointed it out. I coordinated the Spring Block Party which brings local vendors, student organizations, volunteers, and the community together at K College. These opportunities and programs have helped me grow and mold as the leader I'm still becoming.
What is your SIP?
My SIP is in the Chemistry Department with Dr. Bartz in his laser lab. We are working this summer on the Photo dissociation of N, N-Dimethyl nitrosamine at 380 nm, which hasn't been done here at the college.
What are your career aspirations/next steps after K?
My current aspirations for time after K is working either in a chemistry industrial job or a food science career. I want to combine my passion for cooking with my love for chemistry.