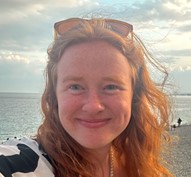 Ella Kelly
(she/her)
k20ek01@kzoo.edu
Hometown: Grand Rapids, MI
Major: Chemistry
Minors: French and Math
Study Abroad: Strasbourg, France
Best Adjective to Describe You: Kind
In 20 words or less, what is the best thing about being part of this department?
The staff is the best thing about the department, everyone there truly wants you to succeed and you can tell.
What is your biggest piece of advice to first years and sophomores about getting connected to this department?
Don't be afraid to reach out to your professors or upperclassmen. Even if you aren't struggling, you can still reach out to talk, ask questions about the department, or ask about chemistry in general.
What is the most valuable thing you've learned at K?
At K, I've learned the importance of good communication in both my academic and personal relationships. I learned that a lot of the problems that I had could be solved or at least made better by reaching out and talking with people.
What has been your favorite class at K?
My favorite class at K, was my Sophomore Seminar, Seed Stories & Sovereignty. This was my favorite class because I took it not really expecting anything, but I ended up learning a lot about the history while also learning hands on applicable gardening skills which I found very cool.
How have you taken advantage of the open curriculum or experienced breadth in your education?
I have been able to explore some random classes along the way that on the surface don't have a whole lot to do with chemistry. For example, I have been able to take an art history course, a political science course, an English course, and enough French courses to add it as a minor.
What experiential education opportunities have you participated in?
I am doing lab based REU this summer with Northwestern University. I do research in Dr. Furchak's lab, and I briefly played soccer at K.
What is your SIP?
Investigating the effect of crystallinity on interactions in organic mixed conductors.
What are your career aspirations/next steps after K?
Graduate School.
What is a random fun fact about you?
My go to TV show is Brooklyn Nine-Nine.