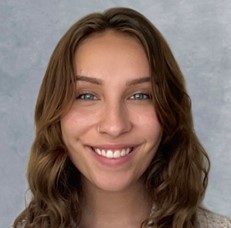 Olive Smith
(she/her/hers)
k19os01@kzoo.edu
Hometown: Kalamazoo, MI
Major: Biology
Concentration: Community & Global Health
Best Adjective to Describe You: Enthusiastic
---
In 20 words or less, what is the best thing about being part of this department?
We are supportive of your aspirations and will go out of our way to make sure you reach your goals!
What is your biggest piece of advice to first years and sophomores about getting connected to this department?
Enroll in CGHL courses, always do the readings, and ask questions! Clarity on anything is always going to be a worthwhile question.
What is the most valuable thing you've learned at K?
The most valuable thing I've learned at K has been that my worth is not measured by what I want/wish to do, but rather what I enjoy and feel accomplished with.
What has been your favorite class at K? Why?
My favorite class has been CGHL210 Introduction to Epidemiology because it made me realize how awesome of a concentration CGHL is and helped me in understanding the world events around us.
How have you taken advantage of the open curriculum or experienced breadth in your education?
It's allowed me to have passions outside of what I'm studying and helps me grasp a larger understanding of how interconnected studies are. I've also been able to see what works or doesn't work for me.
What experiential education opportunities have you participated in?
I've been a CBI Intern for Building Blocks of Kalamazoo in the Summer of 2022, where I was able to help the community with beautification and repair of houses or structures in the 5 core neighborhoods of Kalamazoo.
What is your SIP?
I'm working on a literature review of neighborhood and built environments as a social determinate of health.
What are your career aspirations/next steps after K?
I plan on having a gap year after graduating to get some work experience within my major, and then to pursue grad school in Public Health, or get my credentials to become a medical laboratory technician.
What is a random fun fact about you?
I find four leaf clovers wherever I am!