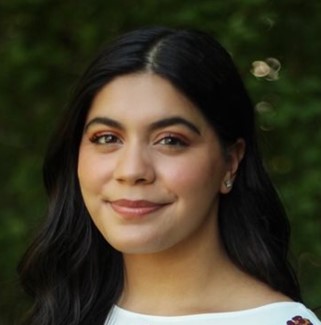 Kushi Matharu
(she/her/hers)
k18hm01@kzoo.edu
Hometown: Portage, Michigan
Majors: Political Science and Psychology
Concentration: Community and Global Health
---
In 20 words or less, what is the best thing about being part of this department?
The community and global health concentration urges students to examine structural, biomedical, and social determinants of health, ensuring a holistic view of healthcare.
What is the most valuable thing you've learned at K?
Kalamazoo College has taught me about passion in a way that nothing else has. The students, my peers, constantly amaze me with the time, effort, and ability put into both academic and extracurricular work. Academically, K students work incredibly hard. You're always going to find someone at the library working tirelessly on an assignment. In regard to extracurricular work, K students put in so much effort in organizing student organizations, vigils, events, and more that work to better our community. Thus, coming to K has taught me that passionate people do the best work. If you are doing something you truly care about, your work will reflect it.
What has been your favorite class at K? Why?
Health Psychology has been my favorite class because it deeply impacted me and solidified my interest in healthcare. Touching on political, social, and economic determinants of health, this course taught me how health is disproportionally distributed within our own Kalamazoo community. This course had a variety of elements, such as a presentation in front of the Kalamazoo City Commission and a volunteer position with the YWCA childcare center, that worked to define health disparities and why they occur. I highly recommend taking this class!
How have you taken advantage of the open curriculum or experienced breadth in your education?
I took some advantage of the open curriculum at Kalamazoo College, especially my freshman year when I was still determining what I wanted to study. In fact, I had randomly signed up for a Psychology course during the first trimester of my first year, and now it is one of my majors and I aim to be a Clinical Psychologist in the future!
What experiential education opportunities have you participated in?
I truly think that education is only complete with experience. Thus, since my first year, I have aimed to obtain experience in the fields I am majoring and concentrating within. In regard to Political Science, I spent the first three years of my college experience working on a variety of local and federal campaigns. For Psychology, I have worked twice as a research assistant looking at addiction and climate change. Finally, in regard to Community and Global Health, I am currently interning at the YWCA in Kalamazoo as a SANE (Sexual Assault Nurse Examination) supportive. Some of these experiential opportunities were presented to me by my professors or department at Kalamazoo College, and others I actively sought out. Feel free to reach out to me at any time if you want to have a conversation about setting up some experiential educational opportunities!
What is your SIP?
Oof! I am still figuring this out. I will let you know when I have a more concrete idea, but my SIP will encapsulate salient issues in the fields of psychology, political science, and community and global health.
What are your career aspirations/next steps after K?
After I graduate from Kalamazoo College, I aim to go to grad school and then later obtain my PhD in Clinical Psychology. I aspire to be a therapist working specifically with children.