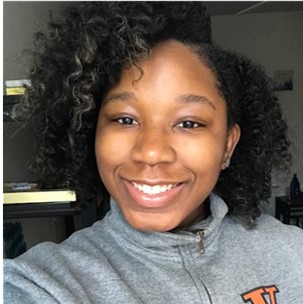 Aisat Oladokun
k17ao02@kzoo.edu
Hometown: Chicago, Illinois
Major: English
Concentration: Community & Global Health
Study Abroad: Costa Rica
Best Adjective to Describe You: Determined
---
In 20 words or less, what is the best thing about being part of this department?
Everything is connected! You get to meet many people across career fields who will inspire you to make an impact.
What is your advice to first years and sophomores about getting connected to this department?
The best advice I would give students is to search for Alison Geist and also search for the experiences they could be a part of within the department.
What is the most valuable thing you've learned at K?
The most valuable thing that I have learned is to always introduce yourself to people. You never know what you will learn from them or what they will learn from you.
What has been your favorite class at K? Why?
My favorite class at K was my Constructing Blackness class. This class has opened my eyes even more to my identity and the many communities who identify as Black. In addition, I started to dive deeper into the history of Blackness and the ill history of Black identity that is still impacting communities today.
How have you taken advantage of the open curriculum or experienced breadth in your education?
I have taken advantage of the open curriculum by always seeking opportunities and shadowing experiences to learn beyond the classroom.
What experiential education opportunities have you participated in?
I am a part of the Helping Youth through Personal Empowerment (HYPE) Program through civic engagement. I and a few other students go to the Juvenile Center to facilitate workshops for the youth. I have also had experience in Fort Collins, Colorado. I was able to shadow a University professor exploring Human Sexuality and a Master's in Public Health.
What is your SIP?
My SIP is in the department (CGHL) Community and Global Health concentration. I will be exploring the effect COVID-19 has on prisons across the United States. I will expose the health disparities among the incarcerated.
What are your career aspirations/next steps after K?
My current aspiration is to go to graduate school to get a master's in Public Health. I plan on possibly getting a master's in Healthcare administration or Public Policy. I want to work directly with communities and those who make plans so I can ensure that vulnerable populations' health is not forgotten.