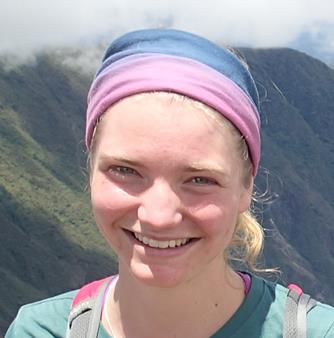 Amy Cazier
k16ac02@kzoo.edu
Hometown: Wheat Ridge, Colorado
Major: Biology
Concentration: Community and Global Health
Study Abroad: Ecuador
Best Adjective to Describe You: Curious
---
In 20 words or less, what is the best thing about being part of this department?
CGHL's holistic approach on informing health issues the world faces and potential ways they can be addressed, both systemically and locally.
What is your advice to first years and sophomores about getting connected to this department?
As an interdisciplinary concentration, CGHL has a wide array of classes that fall under the concentration, take full advantage of them, it may help inform you on what you might want to major or minor in. Also, start early!
What is the most valuable thing you've learned at K?
I have learned to not only make connections across seemingly dissimilar areas of study but have come to appreciate and seek the insights those connections yield. While we take classes that are obviously organized and sorted into one subject area, my time at K through both my professors and peers have shown me how to extrapolate what we learn in the classroom to the world around us.
What has been your favorite class at K? Why?
Spanish 205: Hispanic Health/Disease, my professor was not only incredibly passionate about helping students develop their language skills so that we could effectively interpret in a medical setting but also showing us how different cultures and traditions can inform how best to approach a patient's case.
How have you taken advantage of the open curriculum or experienced breadth in your education?
I have taken classes outside of both my major and concentration that have provided a stronger base of knowledge to further build upon. Some of my favorites include an art history, a classics, and post WWII America history class. These classes taught me to approach learning differently than my normal biology classes which has helped me learn more effectively in all my classes. All of these classes also helped to show me the importance of understanding the past in order to best address the present which is very applicable in many facets of public health.
What experiential education opportunities have you participated in?
I have been involved with Students for Reproductive Freedom where we worked to educate ourselves and the community on reproductive justice, the avenues in which reproductive oppression occurs, and working on ways to eliminate/decrease their influence, Sisters in Science where I mentored a local 4th grader and conduced weekly science experiments to inspire girls from a young age to pursue a college education and empower them to explore a career in STEM, and I have also been a Supplemental Instruction (SI) leader for introductory biology classes.
What is your SIP?
I am looking at the plant-pollinator interactions at Kalamazoo College's Lillian Anderson Arboretum, with a special interest in native wildflowers with higher conservation values.
What are your career aspirations/next steps after K?
I am honestly not sure, at the moment I am exploring multiple options including looking into different fields of public, ecological research, and applying for the Fulbright Scholar Program.