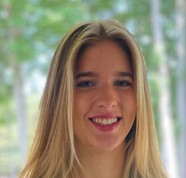 Sydney Pickell
k20sp01@kzoo.edu
Hometown: Thompsonville, MI
Major: Business
Minor: Psychology
Best Adjective to Describe You: Energetic
---
In 20 words or less, what is the best thing about being part of this department?
Being able to learn in a hands-on way from passionate and extremely knowledgeable professors.
What is your biggest piece of advice to first years and sophomores about getting connected to this department?
Put yourself out there! When taking your first few business courses, don't be afraid to speak up, talk about your ideas and connect with others. It may be a little daunting at first, but it is the best way to kickstart your learning and confidence, all while making genuine connections with professors and the other business students. If I could go back to my first year, it's definitely something I wish I would have done sooner.
What is the most valuable thing you've learned at K?
Learning that asking for help is not a bad thing. At K, balancing all of the aspects of being a student can be hard. Being involved in athletics, clubs, jobs or whatever you are a part of in addition to academics can be a lot, so learning how to take a bit of the pressure off and reaching out when appropriate has been huge for me. I have grown a lot since I have started reaching out more!
What has been your favorite class at K?
This is a hard question, as a lot of the business classes I have had here have been great, but my favorite class at K has to be Principles of Marketing with Professor MacMillan. Getting to work directly with a local business to help them reach their goals was such a great experience, and I grew a lot in terms of collaboration, public speaking, problem-solving and more. Plus, it was really fun working with our group's business, the AACORN Community, because we got to visit the farm as a part of class!
How have you taken advantage of the open curriculum or experienced breadth in your education?
Although I have taken a lot of classes related to my major and minor, I have also branched out to classes that I did not know much about or was unsure that I would enjoy. In fact, my SIP is expanding a paper in a class that I thought I would never take. I have been able to lead different groups and be involved in a lot of projects that high-school me would never have thought would be possible with the open curriculum at K. It has made my academic experience very interesting and I've been able to branch out and tailor it to a variety of my interests more wholly.
What experiential education opportunities have you participated in?
I am the captain of the women's golf team and a SAAC representative for my team. In addition to this, I worked in the CCPD as a Marketing Intern, acted as a facilitator for peer support groups in the Psychology department and have a social media marketing internship for the second year outside of school.
What is your SIP?
I am expanding a course paper that I wrote in Industrial Organization and Public Policy about the structure of the global wine industry.
What are your career aspirations/next steps after K?
I would love to work in the marketing, advertising or consulting fields after K.
What is a random fun fact about you?
A lot of people call me "Pickle"!