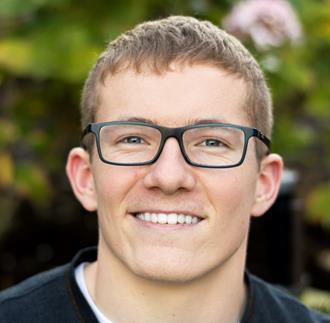 Greg Kearns
k16dk01@kzoo.edu
Hometown: Howell, Michigan
Major: Business
Minor: Political Science
K-Trek: K to the Bay (San Francisco, CA)
Best Adjective to Describe You: Introspective
---
In 20 words or less, what is the best thing about being part of this department?
The department excels at building life-long learners that can market themselves and transition into their career with confidence.
What is the most valuable thing you've learned at K?
If you aren't uncomfortable, you aren't growing. Getting the most out of K requires you to challenge yourself with new obstacles; if you want to be the best version of yourself, you have to say yes to new opportunities and embrace the unknown.
What has been your favorite class at K? Why?
That is a tough question, but at this moment, it has to be a tie between Principles of Management with Professor MacMillan and Voting, Campaigns, and Elections with Dr. Berry. The first course does an excellent job of making you more comfortable publicly speaking on complex topics and the second helps develop one's ability to consider and understand the decision-making process of others, both universally useful skills.
How have you taken advantage of the open curriculum or experienced breadth in your education?
The open curriculum has allowed me to find my passion in political science and political theory and to find courses outside of my department that I feel can hone in my strengths and shore up my weaknesses. Not every class is directly related to what I want to do with my post-grad life, but I can confidently say that every class helps me to become a more well-rounded individual.
What experiential education opportunities have you participated in?
I have interned at a law firm and a marketing firm as well as grown my role in my family's mechanical contracting business as a consultant. Also, I was lucky enough to participate in the K to the Bay Trek this past year which I couldn't recommend the experience more for others to look into if they have any interest in the tech industry. I'm not sure if athletics are included, but I feel as though my soon to be 4 years spent playing football at K has also helped me become who I am today.
What is your SIP?
My SIP is centered on sentiment analysis, a relatively new data analysis technique, and the factors that most directly influence a firm's decision to adopt or avoid the practice. There exists a gap between academia's confidence in the practice and the wide-spread adoption of it into business operations, so I hope to illuminate that gap with my research.
What are your career aspirations/next steps after K?
My current plan post-graduation is to continue working with sentiment analysis-focused products, likely in a business-to-business sales position.