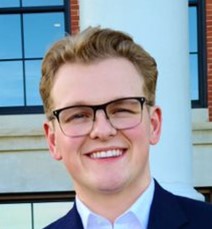 Samuel Tagget
k18st01@kzoo.edu
Hometown: Frankenmuth, Michigan
Major: Business
Study Away: The Philadelphia Center
Best Adjective to Describe You: Resourceful
---
In 20 words or less, what is the best thing about being part of this department?
Without a doubt, the overwhelming support of my professors and connections who have contributed to my development and success.
What is your biggest piece of advice to first years and sophomores about getting connected to this department?
Go to every seminar, panel meeting, guest speaker, town hall, what have you, that the Business Department and CCPD put together. Networking with students, faculty members, and alumni within the business major is an excellent way to make connections and open endless opportunities.
What is the most valuable thing you've learned at K?
Never wait for someone else to make the first gesture. Send that email, make that phone call, introduce yourself first. The answer will always be no until you ask.
What has been your favorite class at K? Why?
I had a phenomenal time in Patrik Hultberg's Negotiation & Persuasion course, the skills and tactics learned in that course are invaluable in the business world and aid the student through everyday conversation as well as facilitate in building social confidence.
How have you taken advantage of the open curriculum or experienced breadth in your education?
While I will always advocate for taking as many business courses as possible, it is important to occasionally have a breather. I took courses in the Religion Department to open my mind, English courses to increase my writing proficiency, and theater arts to bolster my speaking; always find a way to make a connection to what you are looking to progress in.
What experiential education opportunities have you participated in?
I spent my freshman fall and winter as a volunteer after school supervisor at the Woodward School for Technology and Research mentoring and tutoring K-5 students and the summer of my junior year I interned as a Builder Sales Representative for Whirlpool Corporation.
What is your SIP?
I will be taking Professor Apps's BUSN-595 SIP Coursework class in the winter of 2022.
What are your career aspirations/next steps after K?
Upon the time I am writing this, I am currently working for Whirlpool and securing a full-time position with them is my top priority. Continuing along the path of sales and marketing is a dream of mine and I hope one day it leads me to Salt Lake City, Utah. An MBA is not out of the question but will be considered at a later date.