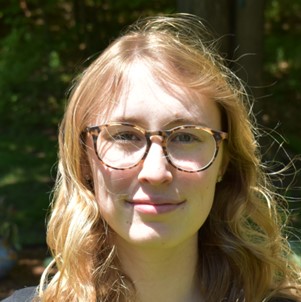 Sage Ringsmuth
k17sr01@kzoo.edu
Hometown: Traverse City, Michigan
Major: Business
Minors: Chinese and Spanish
Study Abroad: Beijing, China
Best Adjective to Describe You: Thoughtful
---
In 20 words or less, what is the best thing about being part of this department?
In the Business Department, oftentimes you get to step out of your comfort zone and be creative with your work.
What is your biggest piece of advice to first years and sophomores about getting connected to this department?
I would advise first year and sophomores who want to get connected to the Business Department to take classes that they are interested in but are not a department requirement. It will give you a feel for smaller classes and topics that professors are really excited about.
What is the most valuable thing you've learned at K?
Making connections here isn't hard. Friends, faculty, administrators, all are people who you will see frequently around campus. K has taught me through these connections that the future is now. You could be meeting someone who will be your future partner, your best friend, or even your employer without realizing it every day.
What has been your favorite class at K? Why?
Rarely have I taken a class that I disliked at K, so picking my favorite is difficult. Principles of Marketing opened up a whole new way to look at the world for me however, so it is probably that class. In these days it is so important to understand how you are being marketed to because we are surrounded by advertisements everywhere, and the knowledge I got from Principles of Marketing helped me analyze my advertising environment.
How have you taken advantage of the open curriculum or experienced breadth in your education?
Not only have I taken classes in two different languages, but I have also taken classes in the Art, Philosophy, Political Science, and Math Departments. K's depth and breadth in their curriculum not only allows you to experience other subjects but also to realize that you might be in exactly the right department if the classes you most enjoy are in your major.
What experiential education opportunities have you participated in?
I have served on the board of K's student government my first and sophomore year, getting to interact with faculty and staff on a day to day basis. Over the past two summers I have interned in two different places. The summer of 2019, I interned at a family law attorney's office and this past summer I had a paid internship through The Monroe-Brown Foundation at Treystar, a real estate brokerage company in downtown Kalamazoo.
What are your career aspirations/next steps after K?
After I graduate this year, I'm looking to get either my MBA or go to law school. K has taught me critical thinking skills that make both of those options very appealing to me.