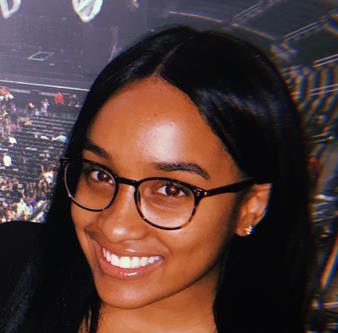 Madisyn Mahoney
k16mm01@kzoo.edu
Hometown: Los Angeles, California
Major: Biology
Minor: Psychology
Study Abroad: San Jose, Costa Rica
Best Adjective to Describe You: Joyful
---
In 20 words or less, what is the best thing about being part of this department?
The department acknowledges that it's not perfect and actively collaborates with students to find ways to build a stronger community.
What is your advice to first years and sophomores about getting connected to this department?
Get connected by going to Dow Open, Dow BBQ, Dow Council events, and other events that are held by Dow faculty throughout the school year in order to connect with your professors and classmates. Making those connections outside of the classroom environment can often times make in-class experiences more comfortable. Make sure to attend SI sessions so that you can collaborate with your classmates with the help of very qualified TAs that can share great wisdom and tips for success. I would also suggest getting to know your Biology professors every quarter by going to office hours and scheduling lunches with them.
What is the most valuable thing you've learned at K?
There are a lot of people in the world that share different experiences and backgrounds than us and it's important to not let those differences keep you from connecting with them. Celebrate and learn from each other. We will never know in what ways we could connect with someone unless we begin those conversations with people we normally wouldn't automatically reach out to. Being able to interact with people different than yourself is a skill that will take you far in life especially after graduation and going into the workforce.
What has been your favorite class at K? Why?
Cell and Molecular Biology taught by Dr. Moore has been my favorite class at K because it was so challenging, but the material was taught so well that I wanted to fight until the very end to get it down, and I did. Dr. Moore teaches in a way that I've never experienced before, because he took the complex processes and pieced it together like a puzzle. Having my professor acknowledge that the class is rigorous, but also believe in all of his students positively impacted my experience in the course.
How have you taken advantage of the open curriculum or experienced breadth in your education?
The openness allowed me to explore different classes and from that I discovered my interest in psychology. I came into college only being interested in Biology, but K's curriculum pushes you to try new things and I'm so happy I was able to. I've experienced breadth in my education by taking classes in two different departments. I also was able to study abroad because of the flexibility that comes with K's curriculum. Studying in Costa Rica was a life changing experience that I only got because of K.
What experiential education opportunities have you participated in?
I participate in the civic engagement program called HYPE, led the Health Professions Society for a year, and have been a part of the leadership board for Dow Council these past two years. All three have helped my professional and personal development in many different ways.
What is your SIP?
I will be working with Dr. Adler at a research foundation in Southern Los Angeles, CA called LA BioMed. We will be exploring the effects of various dialysate concentrations on the peritoneal membrane of rats.
What are your career aspirations/next steps after K?
I currently aspire to be a Physician Assistant, working in a hospital in an underserved community in Los Angeles, CA. I want to dedicate my career to giving back to underrepresented people that need and deserve quality healthcare.