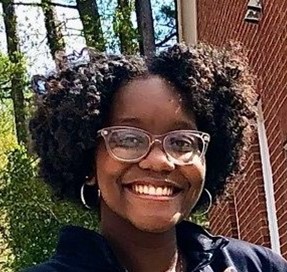 Michaela Peters
(she/her/hers)
k18mp01@kzoo.edu
Hometown: Stone Mountain, Georgia
Majors: Biology and Spanish
Best Adjective to Describe You: Gregarious
---
In 20 words or less, what is the best thing about being part of this department?
The supportive biology majors working together to help each other succeed.
What is your advice to first years and sophomores about getting connected to this department?
Talk to everyone! You never know who you may meet that could help you achieve your goals. It may be a student, TA, or professor but don't be afraid to put yourself out there.
What is the most valuable thing you've learned at K?
Never compare yourself to others. Always be thirsty for knowledge and hard work pays off.
What has been your favorite class at K? Why?
Human Physiology with Dr. Kyle Morrison. His love for physiology makes it so easy to fall in love with the subject and the labs were amazing!!
How have you taken advantage of the open curriculum or experienced breadth in your education?
Besides being a Biology major, I am also a Spanish major and I have taken my 1st year and 2nd year seminar within the Anthropology/Sociology and English departments.
What experiential education opportunities have you participated in?
Association of College Unions International (ACUI) summer leadership conference, Residential Assistant, Dow Council, Sukuma Dow, Teachers Assistant (TA) and Grader.
What is your SIP?
The impact and prevalence of obesity to lower back and knee rehabs, following a motor vehicle accident.
What are your career aspirations/next steps after K?
After K, I aspire to become a medical doctor and I will be attending a post-bacc program.