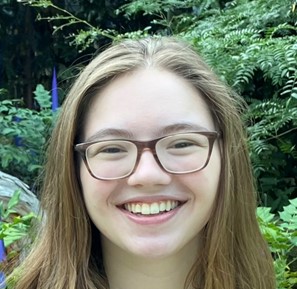 Abby Barnum
(she/her/hers)
k19ab02@kzoo.edu
Hometown: Byron Center, MI
Major: Biochemistry
Minor: German
Study Abroad: Erlangen, Germany
Best Adjective to Describe You: Energetic
---
In 20 words or less, what is the best thing about being part of this department?
The community that students and professors build really makes you feel supported.
What is your biggest piece of advice to first years and sophomores about getting connected to this department?
Just ask! All the professors and upperclassmen are always happy to answer any questions you may have.
What is the most valuable thing you've learned at K?
Needing help and asking for it is okay.
What has been your favorite class at K? Why?
My favorite class was ANSO-103. Being at K has allowed me to try classes in lots of different fields, and this survey course of anthropology and sociology really broadened my perspective on how people from other social, economic, and cultural groups experience life.
How have you taken advantage of the open curriculum or experienced breadth in your education?
I've been able to study abroad and minor in German, which has really expanded my worldview, as well as participate in theatre productions and choir on campus.
What experiential education opportunities have you participated in?
I've participated in the Young Adult Program and Sisters in Science, as well as doing research in Dr. Tresca's lab and being a TA for general chemistry.
What is your SIP?
My SIP will focus on peptoid synthesis and the impact of urea addition on peptoid conformation.
What are your career aspirations/next steps after K?
I plan to take a gap year and then go to medical school.
What is a random fun fact about you?
My knees are double-jointed!