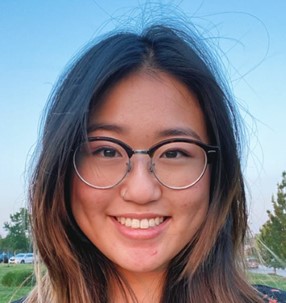 Hannah Hong
(she/her)
Hometown: Denver, Colorado
Major: Biochemistry
Best Adjective to Describe You: Caring
---
In 20 words or less, what is the best thing about being part of this department?
Despite the major being fairly new, all of the faculty are already so supportive and excited to grow the Biochemistry major!
What is your biggest piece of advice to first years and sophomores about getting connected to this department?
Try not to be afraid to reach out to anyone – the professors have interacted with so many students that they will always have some advice or experience to give. I was in your position just a couple years ago and I definitely went through my own struggles, confusion, and questions that I hopefully would be able to relate to you on some level and offer some advice or plan of action.
What is the most valuable thing you've learned at K?
Invest as much time to your support system and circle of loved ones as you do to your academics. Balance is key in everything.
What has been your favorite class at K? Why?
My favorite class at K has been Jazz Explorations taught by Dr. Evans. It was really relaxing and so much fun to learn about jazz and interact with jazz music in a way that I didn't know how to before.
How have you taken advantage of the open curriculum or experienced breadth in your education?
Because of the way that the sequence works for a lot of the majors, I oftentimes find myself with one extra class I can take each quarter to be filled with topics that I was always interested in but hesitant to fully commit to with a major or minor. I took advantage of having time in my fall quarter to take Calculus II and General Psychology which really pushed me out of my comfort zone and helped me go more in-depth into math and psychology as a subject!
What experiential education opportunities have you participated in?
I am an SRA for Crissey and serve as one of the leaders for Sukuma Dow. I also recently had the privilege to research my SIP at K through the Sherman Fairchild Research Grant under the guidance of Dr. Tresca.
What is your SIP?
My SIP is exploring the synthesis of different diyne monomers through the process of deprotection for peptoid synthesis!
What are your career aspirations/next steps after K?
I plan on taking a gap year after K to apply for medical schools and spend time with my family. As a career, I hope to become a pediatrician, ER physician, or a trauma surgeon!