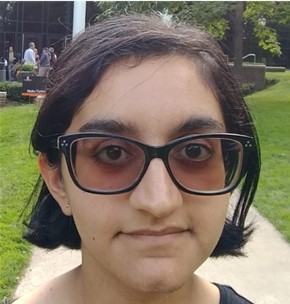 Meera Patwardhan
k17mp01@kzoo.edu
Hometown: Long Grove, Illinois
Majors: Business and Chemistry
Best Adjective to Describe You: Optimistic
---
In 20 words or less, what is the best thing about being part of this department?
There's an interesting blend of knowledge that results from taking the classes of this concentration.
What is your biggest piece of advice to first years and sophomores about getting connected to this department?
The benefit of attending a school like Kalamazoo College is that the professors' primary concern is teaching us. Talk to them and utilize their office hours, and don't be afraid to get to know them.
What is the most valuable thing you've learned at K?
Since attending Kalamazoo College, I've learned to become more outgoing and confident in myself. This is the result of living on my own for the first time and learning that ultimately, I am the best person who will advocate for myself.
What has been your favorite class at K? Why?
My first-year seminar, Telling Queer Stories. I was coming to terms with myself at that time, so it was wonderful to start at Kalamazoo College having people that I knew I could go to regarding this.
How have you taken advantage of the open curriculum or experienced breadth in your education?
Originally, I was only going to major in Chemistry. However, I was able to explore classes outside STEM and discovered in particular how interesting the classes in the Business Department were. This eventually led to the decision to double major in Chemistry and Business.
What experiential education opportunities have you participated in?
I've been a teaching assistant for the Chem 110 lab since my sophomore year. I've been President of Kaleidoscope and Treasurer of the Multicultural Association of Pre-Health Students (MAPS) since my sophomore year. During the summer before my junior year, I did research at the Chemistry Department of Southern Illinois University as part of the Research Experience for Undergraduates (REU).
What is your SIP?
Consumer behavior regarding plant-based diets.
What are your career aspirations/next steps after K?
My goal is to eventually work in the healthcare field.