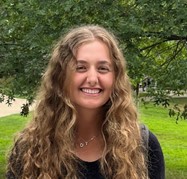 Ella Szczublewski
k20es04@kzoo.edu
Hometown: Troy, MI
Major: Biochemistry
Minor: Psychology
Best Adjective to Describe You: Empathetic
---
In 20 words or less, what is the best thing about being part of this department?
The professors that make up the chemistry and biochemistry department have to be the best thing about the department.
What is your biggest piece of advice to first years and sophomores about getting connected to this department?
Take advantage of the incredible opportunities within the department to build connections and actively participate, as the professors are not only remarkable and empathetic individuals. They are genuinely invested in the success of your future, no matter your aspirations.
What is the most valuable thing you've learned at K?
The most valuable thing I have learned at K is the importance of stepping out of my comfort zone and forming friendships with individuals who may not share many common interests. This will lead students to gain the most out of their four years at Kalamazoo College.
What has been your favorite class at K?
My favorite classes at K have been Biochemistry I and II primarily because of the exceptional professor, Dr. Truss. Under her guidance, I discovered my depth of knowledge and was able to excel in various assessments and strengthen my confidence in the subject matter. The class itself involved engaging lectures, thought-provoking discussions and a warm supportive atmosphere that fostered not only learning but also created lasting memories filled with laughter.
How have you taken advantage of the open curriculum or experienced breadth in your education?
I have taken advantage of the open curriculum/experienced breadth in my education by exploring a breadth of subjects beyond my major. I have enrolled in classes that pique my interest, even if they are not directly related to my major. This has allowed me to broaden my horizons and develop a well-rounded education that extends beyond the confines of a single discipline.
What experiential education opportunities have you participated in?
I am a part of the Women's Golf Team, co-leader of Sisters in Science, was a SURF student at Wayne State University, a TA grader for biostatistics, volunteered at Reading and Writing Kalamazoo, created a peer support group, created a pickle ball club, played indoor and outdoor IM volleyball, and was a volunteer with First Tee.
What is your SIP?
I am working at a pharmaceutical company this summer as a compounding technician. Based on the company's policies, I will see if I am able to write my SIP on this. If not, I will be researching in Dr. Tresca's lab continuing on peptiod and urea synthesis.
What are your career aspirations/next steps after K?
My current career aspirations after K is to take a gap year between medical school. In that gap year, I hope to build my resume, continue hospice volunteering, become a MA or scribe, and spend some time traveling and exploring.
What is a random fun fact about you?
A random fun fact about me is when I was younger I was scuba certified.