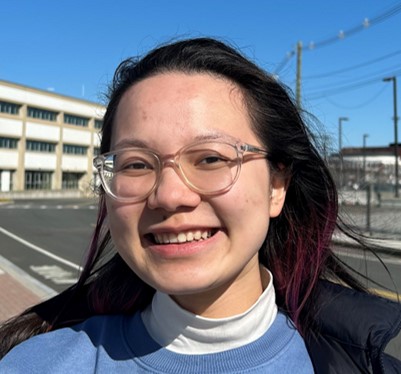 Jenny Nguyen
(she/her/hers)
k21nn01@kzoo.edu
Hometown: Hanoi, Vietnam
Major: Biochemistry
Concentration: Biological Physics
Best Adjective to Describe You: Smiley
---
In 20 words or less, what is the best thing about being part of this department?
Best thing about my department is that you can see the same biological system in different perspectives.
What is your biggest piece of advice to first years and sophomores about getting connected to this department?
My biggest advice to you is to reach out and talk to professors more, especially Dr. Wilson (he's amazing!!). Our department is not the biggest department but we have quality over quantity!
What is the most valuable thing you've learned at K?
The most valuable thing I've learned at K is knowing my limit and when to stop (and not overwork myself)!!
What has been your favorite class at K?
Biophysics (PHYS-205) with Dr. Wilson is definitely my favorite class at K. Not just because I am the Biophysics DSA, but also because the class has the right amount of challenge. The material was hard but also incredibly interesting at the same time. With Dr. Wilson's patience and encouragement, I learned a lot from that class!!
How have you taken advantage of the open curriculum or experienced breadth in your education?
Being at K allows me to branch out of my major and balance both the science and art parts of my life. Besides being a biochemistry major with a biological physics concentration, I've also participated a fair amount in the Theater department as the stage manager for a few shows.
What experiential education opportunities have you participated in?
At K, I've been a general chemistry tutor, a member of the International Student Advisory Board, and also a member of Dr. Furchak's lab.
What are your career aspirations/next steps after K?
Right now, my plan is to pursue a Ph.D. in Biochemistry and/or Biological Physics after K.
Generally speaking, what is your favorite thing about K?
My favorite thing about K is its people.
What is a random fun fact about you?
A random fun fact about me is that my legal first and last name are the same in English: Nguyen Nguyen!