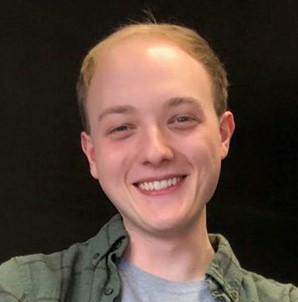 Adam Decker
k17ad03@kzoo.edu
Hometown: Kalamazoo, Michigan
Major: Physics
Study Abroad: Budapest (Cognitive Science)
Best Adjective to Describe You: Iconic
---
In 20 words or less, what is the best thing about being part of this department?
You get to study science using a lot of different perspectives.
What is your advice to first years and sophomores about getting connected to this department?
Take a lot of different classes and find things that you are most interested in. Also, ask Dr. Dave to see his 3D models. He never stops talking about them.
What is the most valuable thing you've learned at K?
Promoting diversity allows for unique perspectives and a more affirming environment when trying to solve problems. This is necessary for any type of progress.
What has been your favorite class at K? Why?
Biological Physics with Dr. Dave because it focuses on personal and academic growth as opposed to test scores. I find myself coming back to many of the topics that we focused on in this course and describing the labs to my peers. I've also enjoyed organic chemistry, differential equations and thermodynamics.
How have you taken advantage of the open curriculum or experienced breadth in your education?
I have to take advanced classes in chemistry, biology, math and physics. I have been able to accomplish this in addition to taking fun humanities classes.
What experiential education opportunities have you participated in?
I've been involved in on-campus research projects with Dr. Wilson. I was accepted into an NSF REU program at Lehigh University in membrane biophysics. I intend to do this program after graduating.
What is your SIP?
My SIP will be looking at the physical behavior and characteristics of icosahedral viruses in order to better understand how we can manipulate these organisms.
What are your career aspirations/next steps after K?
I would like to pursue a PhD in biological physics or biochemical engineering. I am currently interested in programs that have a focus in synthetic biology and single molecule physics.