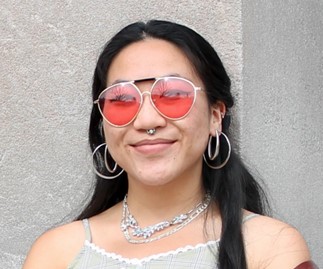 Cam Zdziarski-West
(she/they)
k19cz01@kzoo.edu
Hometown: Oak Park, IL
Major: Art & Art History
Study Away: New York Art Program
Best Adjective to Describe You: Casual
---
In 20 words or less, what is the best thing about being part of this department?
The best part about the Arts Department is being able to create and investigate new mediums with insight from amazing artist professors.
What is your advice to first years and sophomores about getting connected to this department?
One of the best ways to be connected to your department is by simply talking with professors and participating in department program events.
What is the most valuable thing you've learned at K?
One thing I've learned at K is to get involved and not be afraid to try new things or branch out! Participating in the school will help you find your niche and new ways to be connected to the campus community; take advantage of opportunities and events!
What has been your favorite class at K? Why?
One of my favorite classes at K was Ceramics with Sarah Lindley. I love being in the studio and being able to bounce creative ideas off other classmates, as well as receive constructive feedback.
How have you taken advantage of the open curriculum or experienced breadth in your education?
I have taken a range of courses outside of my intended major/minor, such as: ANSO, philosophy, religion, African Studies, and a few others. These classes helped expand my perspective and the ways in which I understand different subjects and in teaching about parts of life I otherwise would have had limited education on.
What experiential education opportunities have you participated in?
While participating in the NYAP, I had two internships. One internship was with Borinquen Gallo, a multi-media artist, whom I aided in her upcoming projects (research, creating, contacting fabricators, etc.). My second internship was at Wave Hill, a non-profit public garden and cultural center. There I helped with art open houses, archival organization, inventory, taking photos, etc. I'm part of SJP as well and participate in a student-organized mutual aid group for the school where we set up a food pantry biweekly, crowd fund, and organize ways to support students.
What is your SIP?
I plan to do my SIP in ceramics and will likely create sets of functional pieces.
What are your career aspirations/next steps after K?
After K, I hope to be involved in some sort of community non-profit art organization, working with other artists; I also would enjoy learning what it's like to work in an art institution (such as a museum or gallery).
What is a random fun fact about you?
I love taking photos, especially candid shots.