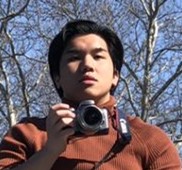 Jorence Quiambao
(they/them/theirs)
Hometown: Kalamazoo, Michigan
Major: Studio Art and Art History
Study Away: New York Arts Program
Best Adjective to Describe You: Quirky
---
In 20 words or less, what is the best thing about being part of this department?
You are always surrounded by the creativity and imagination of your peers which will allow your work to grow and evolve.
What is your advice to first years and sophomores about getting connected to this department?
Build a relationship with your professors and always ask questions.
What is the most valuable thing you've learned at K?
Diverge into different paths and take risks. There are many ways to solve your problems and questions..
What has been your favorite class at K? Why?
My Object Investigation class was a great environment where all the students relied on each other's ideas and thoughts. The class was difficult but taught me so many skills that have helped my work evolve.
How have you taken advantage of the open curriculum or experienced breadth in your education?
The open curriculum experience allowed me to become more involved with theater and has given me another outlet of creativity and expression.
What experiential education opportunities have you participated in?
I was a peer leader my sophomore year and for the next two years I was the Program Assistant for Orientation Week here at K.
What is your SIP?
I will be doing an Art SIP in painting.
What are your career aspirations/next steps after K?
I want to create change.