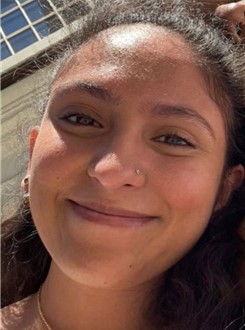 Maya Nathwani
(she/they)
k19mn02@kzoo.edu
Hometown: Ann Arbor, MI
Majors: Anthropology/Sociology and Biology
Best Adjective to Describe You: Supportive
---
In 20 words or less, what is the best thing about being part of this department?
You never stop learning and growing! Everyone, both the faculty and other students, are so supportive!
What is your advice to first years and sophomores about getting connected to this department?
Go to office hours!! Even if you don't have many questions, talking to the professors is one of the best ways to connect with the department! Also, attend ANSO events to get to know your peers in the department!
What is the most valuable thing you've learned at K?
I've learned the importance of balancing work and self-care. While academics are important so is taking care of yourself and prioritizing your well-being! Don't be afraid to ask for help if you're struggling!open in my classes.
What has been your favorite class at K? Why?
One of my favorite classes at K was ANSO-103: Intro to Society & Culture. This class introduced me to the department and the field, and I will never forget all that I learned while taking this course. It really changed the way that I thought about things and was the class that garnered my interest in ANSO!
How have you taken advantage of the open curriculum or experienced breadth in your education?
I entered K as a pre-med student, so I have taken my fair share of STEM classes, however I've been able to explore other interests by taking ANSO courses, psychology courses, and English courses! I've also taken my freshman and sophomore year seminars in the religion and history departments.
What experiential education opportunities have you participated in?
I have been on the KDesi eBoard since my sophomore year and will be the President this year! I also was on the eBoard for the Multicultural Association for Pre-Health students (MAPS) my sophomore and junior years and was a Supplemental Instruction (SI) Leader for EvGen my junior year!
What is your SIP?
I am doing a qualitative research SIP on the South Asian expulsion from Uganda.
What are your career aspirations/next steps after K?
I plan on taking a gap year after K and then possibly pursuing a master's in public health! I think my main aspirations for my career would be to combine my interests in medicine with ANSO in some way!
What is a random fun fact about you?
I love watching Bollywood movies!! If you ever want recommendations, let me know!