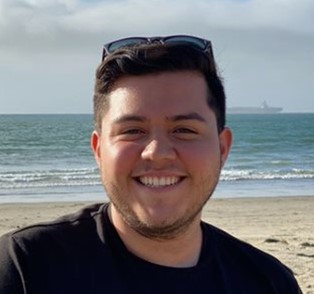 Mauricio Guillén
(He/Him/His)
k18mg02@kzoo.edu
Hometown: Ensenada Baja California, México
Majors: ANSO and Biology
Best Adjective to Describe You: Realistic
---
In 20 words or less, what is the best thing about being part of this department?
You will not see the world the same after taking ANSO 103, HOLD ON BECAUSE YOU'RE HERE FOR A RIDE! In the best way possible.
What is your advice to first years and sophomores about getting connected to this department?
Go to office hours with professors, it's so much fun to talk with them and learn with them! Talk to your classmates, we're all excited to meet each other and willing to help! Attend ANSO events, they're so much fun and so so interesting which will spark much more interest in different topics! FEEL FREE TO ASK ME ANY QUESTIONS.
What is the most valuable thing you've learned at K?
I learned to be myself and learned the value of expressing your fully unique self during class. I learned the value of being vulnerable and more open in my classes.
What has been your favorite class at K? Why?
My favorite classes have been Theory in Action and Sex and Sexualities. These classes completely transformed how I saw myself in the world and allowed me to learn so much more about myself. There are lectures in these classes that I will never forget and I will always think back to these experiences that have allowed me to grow.
How have you taken advantage of the open curriculum or experienced breadth in your education?
Well… I entered Kalamazoo College my freshman year wanting to apply to medical school and majoring in Chem and Spanish… fast forward three years and I am a Biology and ANSO major who wishes to become a farmer. Having the opportunity to explore different subjects and classes truly allowed me to realize my passion.
What experiential education opportunities have you participated in?
I will hopefully have the opportunity to be on the Latinx Student Organization E-board for the third year since my sophomore year, and I was the representative of the Multicultural Association of Pre-Health Student my sophomore year. I was also a TA for the Social Research for Social Change ANSO class.
What is your SIP?
I will be conducting a qualitative ethnographic ANSO research project in Ensenada BC, México. I am interviewing local farmers of Maneadero, drought experts from the local college, and field irrigators to have a conversation about the sustainability of different farming and irrigation methods used in Maneadero.
What are your career aspirations/next steps after K?
I want to become a farm worker activist, a sustainable farmer, a medical anthropologist, maybe teach at Universidad Autónoma de Baja California Ensenada. I am not sure of what the next step is but I know I want to be a farmer in Ensenada, and that you can find me in Ensenada after K College!