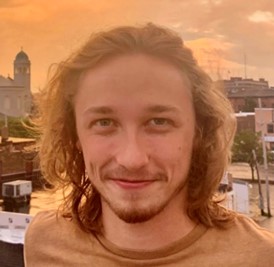 Keegan Sweeney
(he/him)
k20ks01@kzoo.edu
Hometown: Jackson, MI
Major: Anthropology/Sociology and English
Minor: Philosophy
Study Away: Washington, DC
Best Adjective to Describe You: Thoughtful
---
In 20 words or less, what is the best thing about being part of this department?
The best thing about being a part of ANSO is that everyone is working to better themselves and the world around them in some way.
What is your biggest piece of advice to first years and sophomores about getting connected to this department?
Regardless of their department or focus, I would tell any first-year or sophomore to take ANSO-103. Everyone I have talked to has gleaned something from ANSO-103, and many have wanted to go deeper into the rest of the department's offerings. Office hours with ANSO professors have also always been the most insightful discussions I have had at K.
What is the most valuable thing you've learned at K?
The most valuable thing I've learned at K is the necessity to remain open while recognizing the importance of listening to others. I've learned that we can always learn from one another's experiences but must constantly work on being open and humble enough to do so.
What has been your favorite class at K?
My favorite class at K was Religion and Capitalism, a 300-level ANSO class. While exploring two topics that are pretty different from one another, we learned how inextricably linked they are and how personal they are to our own lives.
How have you taken advantage of the open curriculum or experienced breadth in your education?
I have allowed myself to explore classes partly on intuition, choosing new courses that served me well at the time. Luckily, these classes ended up serving as the foundation for my two majors and minor. I have also taken classes outside of my majors and do not regret it at all as they helped me to hone in on what I want to study.
What experiential education opportunities have you participated in?
I have written and edited for The Index, edited The Cauldron, sing in the College Singers choir, was a Landsea leader, and did a study away internship with Pasquines, a news organization committed to covering the US territories.
What is your SIP?
I am doing a qualitative Summer-Fall ANSO departmental SIP on the dispossession of the Gullah-Geechee people from their land in South Carolina. I am interviewing chefs and artists on how they preserve their culture amid rapid gentrification and development in the South.
What are your career aspirations/next steps after K?
After K, I want to either study English or continue with Sociology in grad school and would like to teach writing courses while pursuing my own career in research and journalism.
What is a random fun fact about you?
I keep a long list of serious and funny band names.