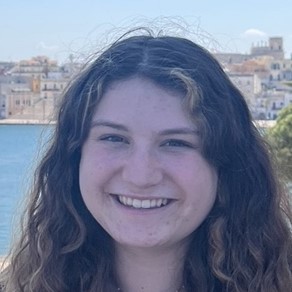 Lauren Crossman
(she, her)
k19lc01@kzoo.edu
Hometown: Charlotte, MI
Major: Political Science
Minors: History and English
Concentration: American Studies
Study Abroad: Madrid, Spain
Best Adjective to Describe You: Caring
---
In 20 words or less, what is the best thing about being part of this department?
American Studies is a great concentration because you can earn the credits from so many different departments.
What is your advice to first years and sophomores about getting connected to this department?
Get to know the professors! Aside from being helpful with coursework, they love knowing about your other interests and what else you have going on. They also It is worth checking out the American Studies concentration because you can earn the credits from different classes in arts, history, English, political science, psychology, sociology, and religion. It is a great way to understand American culture on a wider scale.
What is the most valuable thing you've learned at K?
K has taught me that I am capable of much more than I thought like completing certain assignments in classes or studying abroad. K can pose many challenges to students, but we come out stronger when we tackle them.
What has been your favorite class at K? Why?
One of my favorite classes at K was U.S. Women's History Since 1870 with Dr. Boyer Lewis. I loved this class because it challenged me to become a better reader and writer while also learning about an important group in American history that is commonly only brushed over.
How have you taken advantage of the open curriculum or experienced breadth in your education?
I've been able to take a variety of courses that match my interests or have helped me discover new ones. The great thing about the American Studies concentration I think the American Studies concentration is a perfect example of how I have taken advantage of the open curriculum at K because it required me to explore other subject areas outside of my major. I ended up adding my two minors because of the classes I took to earn my American Studies concentration.
What experiential education opportunities have you participated in?
I studied abroad in Madrid, Spain during the Spring term of my junior year. I had an internship with a local business that will be part of my SIP.
What is your SIP?
I will be writing about an aspect of my summer internship where I will be working to help businesses in Kalamazoo create more sustainable practices.
What are your career aspirations/next steps after K?
I hope to find a job that combines politics (policy or activism) and my passion for sustainability after graduating in June 2023.
What is a random fun fact about you?
I have been to 11 national parks/monuments/lakeshores in the past five years.