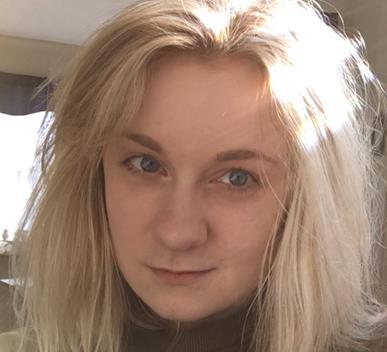 Addie Dancer
k16ad01@kzoo.edu
Hometown: Portland, Michigan
Majors: English, History
Concentrations: American Studies, Media Studies
Study Abroad: Aberdeen, Scotland
Best Adjective to Describe You: Sincere
---
In 20 words or less, what is the best thing about being part of this department?
It encourages an interdisciplinary approach to the subject and attracts students across a variety of majors to join the conversation.
What is your advice to first years and sophomores about getting connected to this department?
Take a class with Dr. Boyer Lewis, and then you'll already know the most important person in the department! But whether or not you know her, you are always more than welcome to contact me with questions.
What is the most valuable thing you've learned at K?
K has taught me to keep everything in perspective; both my proudest and my most disappointing moments have been a result of personal, educational, and professional opportunities I've had because of K, and I wouldn't trade those experiences for anything.
What has been your favorite class at K? Why?
I took U.S. Women's History to 1870 as a first-year student and it both empowered me personally as well as convinced me to follow my passions and study history. I also got to know some amazing people through the class!
How have you taken advantage of the open curriculum or experienced breadth in your education?
I love K's open curriculum – I couldn't be in the process of completing two majors and two concentrations without it! My concentrations, while being rooted in my majors, also encourage me to seek variety across subjects – the American Studies concentration in particular provides me with opportunities to study other fields, like political science, anthropology, and religion.
What experiential education opportunities have you participated in?
The summer after my first year at K, I participated in a two-week externship with K alumna and nonfiction author Ginger Strand, performing archival research in Hartford, Connecticut and New York City. I was an editor for The Index and The Cauldron as a sophomore, and I completed an independent history project with the University of Aberdeen archives while studying abroad in Scotland this past year. As a senior, I'm going into my third year as a consultant at the Writing Center and my first year as a President's Student Ambassador. I will also be Co-Editor-in-Chief of The Index.
What is your SIP?
My SIP is going to be studying the experiences of American women from 1945 – 1960, specifically how their access to contraception and abortion before the introduction of the birth control pill impacted their day-to-day lives.
What are your career aspirations/next steps after K?
I'd really like to expand on the archival experience I've gained through past experiential education opportunities, hopefully as part of a graduate program!