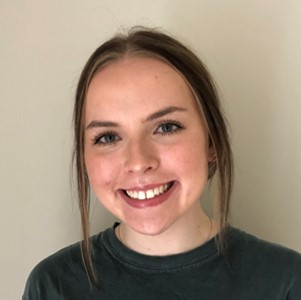 Marie Kohrman
(she/her/hers)
k18mk01@kzoo.edu
Hometown: Lansing, Michigan
Major: History
Minor: English
Concentration: American Studies
Best Adjective to Describe You: Driven
---
In 20 words or less, what is the best thing about being part of this department?
The variety of courses offered in different subject areas.
What is your advice to first years and sophomores about getting connected to this department?
Get to know the professors! Aside from being helpful with coursework, they love knowing about your other interests and what else you have going on. They also provide great recommendations for other classes or materials that match your interests.
What is the most valuable thing you've learned at K?
Everyone is at different stages in their life, even your friends, and you should never compare your work or accomplishments to theirs. You'll never succeed by comparing yourself to others.
What has been your favorite class at K? Why?
There have been so many! I'd have to say my sophomore seminar, "Exceptional America?" with Dr. Lewis. I loved all of the material and learning about attitudes of American exceptionalism during the last 250 years.
How have you taken advantage of the open curriculum or experienced breadth in your education?
I've been able to take a variety of courses that match my interests or have helped me discover new ones. The great thing about the American Studies concentration is that most of these courses, despite being in different departments, still fulfill the requirements.
What experiential education opportunities have you participated in?
During the summer of 2019, I interned at the National Archives in Washington D.C as an Education and Public Programs Intern. I got to create my own interactive activities using actual documents that visitors can still participate in today!
What is your SIP?
I'm interning at Mount Vernon in Virginia as an exhibition intern, so I'll be turning my experience into my SIP.
What are your career aspirations/next steps after K?
Right now, I'm planning on taking a year between undergrad and grad school to work and gain more experience. I'd love to work as a director of a museum or do historical work for the government in the future.