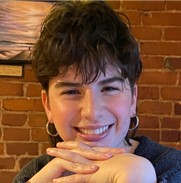 Rachel Molho
(she, her)
k20rm03@kzoo.edu
Hometown: Oak Park, IL
Major: Anthropology and Sociology
Concentration: American Studies
Study Abroad: Wollongong, Australia
Best Adjective to Describe You: Reserved
---
In 20 words or less, what is the best thing about being part of this department?
American Studies encompasses a broad spectrum of topics. There's truly something for everyone!
What is your advice to first years and sophomores about getting connected to this department?
Take a class in the department! See what we are all about! Email me or one of your professors about questions! (My natural habitat is Dewing, so you can almost always find me there)
What is the most valuable thing you've learned at K?
Take advantage of the relationships you build with your professors, peers, and other K mentors. These relationships can last a lifetime, but you have to put in the work!
What has been your favorite class at K?
My favorite class at K has been Food and Farming Justice taught by Amy Newday. This class introduced me to the realm of food justice and the relevance it holds in our community. The class also led me to begin my work in K's Hoop House; a place where students can actively engage with food sustainability on our very own campus!
How have you taken advantage of the open curriculum or experienced breadth in your education?
I have tried to challenge myself to take a class or two every year that have nothing to do with my major, or that is just out of my comfort zone. As of recent, I have taken a class on Gender in Colonial Latin America as well as a New Media Art History course. While I came into both of these classes feeling like I had little understanding of the subjects, I ended both of the classes with newfound understanding and interest in the topics.
What experiential education opportunities have you participated in?
I have gotten the opportunity to work as both as Community Engagement Scholar for the Just Food Collective, as well as work as a TA for the course Seed Stories and Seed Sovereignty. Working with my K peers on campus and in the community has been super important to my time at K.
What is your SIP?
My SIP will be a collection of oral histories from small Western Michigan growers and farmers. I hope to reveal stories, lessons, and skills from these community members. I endeavor to learn more about our community members who have intimate relationships with the land.
What are your career aspirations/next steps after K?
Like many of my peers, my post-K plans are hazy…but I'm interested in continuing to pursue food justice and food sovereignty work. I have enjoyed my time working hands on with the land, so I see myself perhaps working on a sustainable farm for a while. I'm interested in pursuing further education whether that be more school or by simply pursuing my interests outside of academia.
What is a random fun fact about you?
I have at least once (perhaps twice, could be pushing it though) walked from the bottom of Academy to the top without stopping.