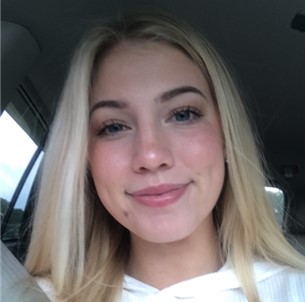 Grace Kraft
Hometown: Clarkston/Warren, Michigan
Major: Physics 3/2
Minor: Applied Mathematics
Best Adjective to Describe You: Plucky
In 20 words or less, what is the best thing about being part of this department?
The courses build on each other seamlessly and the close-knit community of 3/2 students is helpful and supportive.
What is your advice to first years and sophomores about getting connected to this department?
The biggest pieces of advice I could give to those thinking about joining 3/2 Engineering would be to ask lots of questions, plan ahead, and make use of the MPC (Math/Physics Center) as much as possible! There are so many resources and friendly people willing to help navigate the 3/2 track, which can be confusing at points. Dr. Askew is very knowledgeable about the program so I would definitely recommend asking him to be your advisor.
What is the most valuable thing you've learned at K?
Take some time to get to know yourself better! Change and growth are inevitable during college, and it's important to be proud of the person you are becoming. Also, forming meaningful relationships with friends and faculty has been one of the most impactful contributions to my experience at K. Having a large support system makes this time in your life so much more manageable and fulfilling.
What has been your favorite class at K? Why?
My favorite class at K was Relativity/Quantum Physics with Dr. Cole because it was really engaging and collaborative. The class was a great introduction to the world of quantum physics. I also really enjoyed Electronics/Electromagnetism with Dr. Askew because it gave a glimpse at what electrical engineering would be like as a future career and it was really exciting to learn about real-life applications of electricity and electromagnetism during the weekly labs.
How have you taken advantage of the open curriculum or experienced breadth in your education?
Despite the 3/2 program being accelerated, I still have lots of room in my schedule to take classes in other subjects. Taking classes outside of my comfort zone has been a great learning experience and has made me a more well-rounded individual.
What experiential education opportunities have you participated in?
I have interned with a biomedical engineer that worked with prosthetics and with an electronics engineering and manufacturing firm last summer. Having hands-on experiences with engineering has made me excited to think about my future possibilities in the field.
What are your career aspirations/next steps after K?
After my three years at K, I hope to transfer to another college to finish getting my second degree as outlined in the 3/2 track. My future career has the potential to be in many different fields of engineering, but my hope is to work with prosthetics or mechanical engineering. I also hope to stay well connected to Kalamazoo, as it is one of my favorite cities.