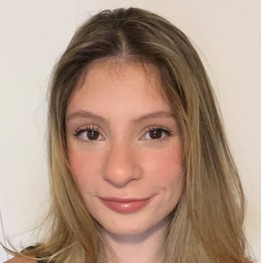 Lesly Mares Castro
(she/her)
k21lm04@kzoo.edu
Hometown: Kalamazoo, MI
Major: 3/2 Engineering
Minors: Spanish and Math
Best Adjective to Describe You: Hard-working
---
In 20 words or less, what is the best thing about being part of this department?
How supportive everyone is in the department. Everyone wants to see you succeed.
What is your biggest piece of advice to first years and sophomores about getting connected to this department?
Reach out to anyone in the physics department! We are all here to help and it's never too late to join or ask questions about your classes or what the next steps are. You can ask students or staff, but everyone is supportive and wants to help you!
What is the most valuable thing you've learned at K?
How crucial a support group is both academically and socially. The smaller classroom sizes make it less daunting to ask peers for help and to make those crucial study group sessions. It is so much easier to go through classes with a group than on your own like in high school.
What has been your favorite class at K?
Thermal physics (PHYS 360)- Dr. Wilson provided a collaborative work environment. He also gave us a connection to both the math behind the physics and real-world applications.
How have you taken advantage of the open curriculum or experienced breadth in your education?
I have taken a variety of classes outside my major. This has made me a more well-rounded scholar.
Generally speaking, what is your favorite thing about K?
How inviting and supportive everyone is on campus. Everyone looks out for each other and supports everyone in their aspirations.
What is a random fun fact about you?
I love gardening!