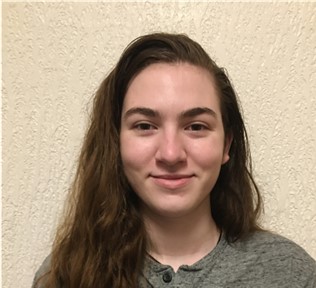 Sam Ewald
(they/she)
k20pe01@kzoo.edu
Hometown: Holland, MI
Majors: Chemistry and Chemical Engineering
Minors: Physics and Math
Best Adjective to Describe You: Hardworking
---
In 20 words or less, what is the best thing about being part of this department?
The ability to learn more about physics while being able to connect with good professors. always satisfying and the collaborative environment makes physics majors a very tight knit group!
What is your advice to first years and sophomores about getting connected to this department?
Reach out to the professors through email or come to office hours. They are good sources of information and want to connect with you as well.
What is the most valuable thing you've learned at K?
I have learned how to how to properly schedule and manage time by balancing studies, work, extracurriculars, and free time.
What has been your favorite class at K? Why?
Differential Equations (Math 280). Dr. Barth created a laid back and productive work environment and the material was both fun and interesting to learn.
How have you taken advantage of the open curriculum or experienced breadth in your education?
I have really focused on taking the classes that interest me and have enjoyed the opportunity to further broaden my understanding of those fields.
What experiential education opportunities have you participated in?
I am a part of a chemistry research project lead by Dr. DAR. I am also the Student Shop Master, in the Festival Playhouse scene shop.
What are your career aspirations/next steps after K?
After K, I am planning to go up to Michigan Tech for my last 2 years of undergrad.
What is a random fun fact about you?
I like swimming and rock climbing.